Brazil Private Tours and Travel Packages
Just click on the map to see travel packages, accommodation and information display for each travel region. We are happy to offer you one of our Brazil group travel on your desired date as a private trip as well.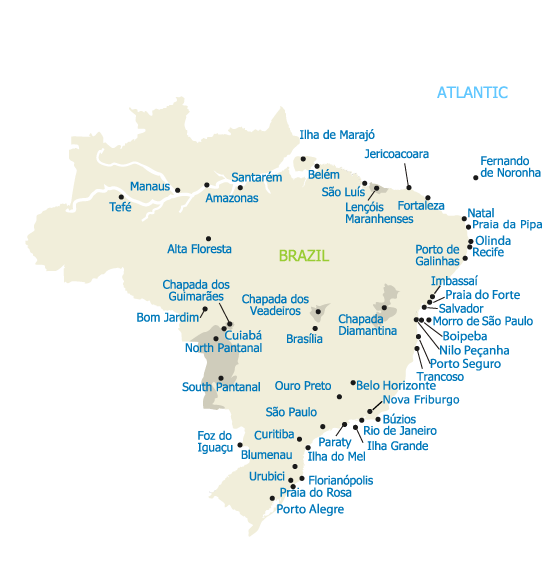 Brazil is pure pleasure and features an incredible variety. The most populous and largest country in South America covers almost half of the continent and is home to nearly two hundred million people. The cultural activities and the number of cities and landscapes to discover on a trip to Brazil are extensive. From ultra-modern cities like Brasilia or Sao Paulo to primordial jungle regions with indigenous populations, the country has it all. In Brazil, you connect with the vastness of the Amazon, fantastic beaches, the Sugar Loaf in Rio de Janeiro, carnival and samba. In addition, Brazil is complex. Nature and culture are very different from the north to the south of the country. This is naturally reflected in the ethnic range as well. The Brazilian population was born by Indian, African and European influences. Brazil is a melting pot of different races and cultures, which are reflected in the traditions, religion, and not least in the tasty cuisine of each region. In summary: An individual Brazil trip is worthwhile for everyone!
A must for any travelers in Brazil is the visit of the vibrant metropolis of Rio de Janeiro, beautifully located between the sea, hills and the Rainforest. Get to know the culture and history of this fascinating city. Enjoy sunny days on the magnificent kilometer-long sandy beaches and the spectacular views from Corcovado and Sugar Loaf Mountain. Impressive natural spectacles meet travelers in Brazil, in the protected Pantanal or the Amazon, the largest tropical rainforest in the world. Embark on a discovery tour along the endless river and immerse yourself on a guided tour into the diverse flora and fauna.
The northeast of Brazil attracts with the baroque and colorful historic center of Salvador and the impressive table mountains of Chapada Diamantina. Further, north, the dreamlike National Park Lencois Maranhenses, that extends between turquoise lagoons and dunes. The wild Iguacu waterfalls, plunging in the rainforest and roaring into the depths, are another natural wonder that you should not miss during your trip to Brazil. Other highlights include the countless vast coastal areas with secluded natural beaches, which find their completion on islands such as Ilha Grande or Fernando de Noronha. There are also many lesser-known areas, where there are hidden treasures and landscapes, and where you can meet the authentic local population. The possibilities are endless in Brazil - see for yourself on a customized tour that meets your requests!
The diversity of the country is equally shown on our Individual Trips, where we offer a mix of different excursions, lodging and packages. During your journey, you undertake tours in small groups or privately with guide. Stay in typical lodging, whether in a comfortable hotel, a jungle lodge in the rainforest or a cozy Pousada right on the beach. Considering the size of Brazil you should be aware of some priorities set with travel arrangements and longer distances to travel by plane to have an optimal travel experience. Design your trip individually, according to personal taste with a focus on culture or nature. Decide for yourself how much time you want to spend experiencing Brazil and how many recreational and bathing days you would like in your vacation planning. When planning your trip, we are always at your disposal.
Please find below a selection of our most popular travel packages:
---