Brazil travel: Praia da Pipa
Pipa is a former fishing village in the state of Rio Grande do Norte, about 80 kilometres south of Natal. Look forward to the beautiful beaches and dunes that are surrounded by steep cliffs and rainforest. Brazilian travellers can do many activities in the village such as; a dip in the natural pools or take a walk to "Praia do Curral", where with luck you can even spot dolphins. Both surfers, nature lovers and sun worshipers are attracted to this region. During your stay you will also have the opportunity to enjoy the many boutiques, bars and restaurants Pipa has to offer. The centre plays host to live music, starting with the local Forro, over rock´n roll to reggae sounds. Additionally, you will find small, charming Pousadas with plenty of Brazilian flair. In some artist studios you also have the chance to buy great souvenirs from your holiday in Brazil. The beach town is long and straight, framed by high bluffs with different coloured layers of sand. The water situation varies. There are mostly calm waves, caused by coral reefs, while at other beaches you can surf extensively. Praia da Pipa prevails all year high temperatures. The warmest is in summer (December to February) with daytime highs of 31 degrees Celsius. In winter (June to August) about 20 to 28 degrees can be reached during the day. Most precipitation falls from March to July.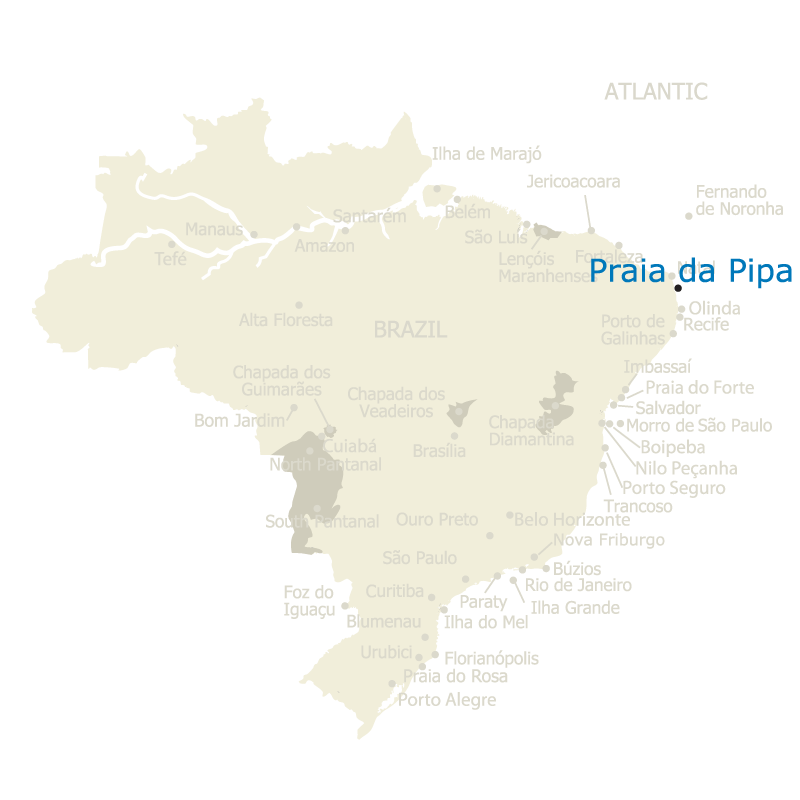 Here you can find more information about the climate and accommodation in Praia da Pipa.
Click here to find out our travel options for Praia da Pipa.
---