Internships in Brazil with Aventura do Brasil
Organizing Trips to Brazil With Passion
If you would like to experience life in Brazil, are interested in working in the tourism industry, interested in traveling and marketing, well-versed in the internet, familiar with computers and/or enjoy working in a relaxed and informal atmosphere, you are welcome to apply for an internship with us.
Our team consists of expatriates who have found their new home in Brazil. We love our new home country and organize trips to Brazil with joy and passion. We want to expose as many aspects of this vast and diverse country as possible to our guests. Therefore, Aventura do Brasil is always looking for open-minded and ambitious people to enrich our team.
Do you feel inspired and would you like to get a taste of the world of Aventura do Brasil?
If so, we are looking forward to hearing from you!
Internship Report - Lena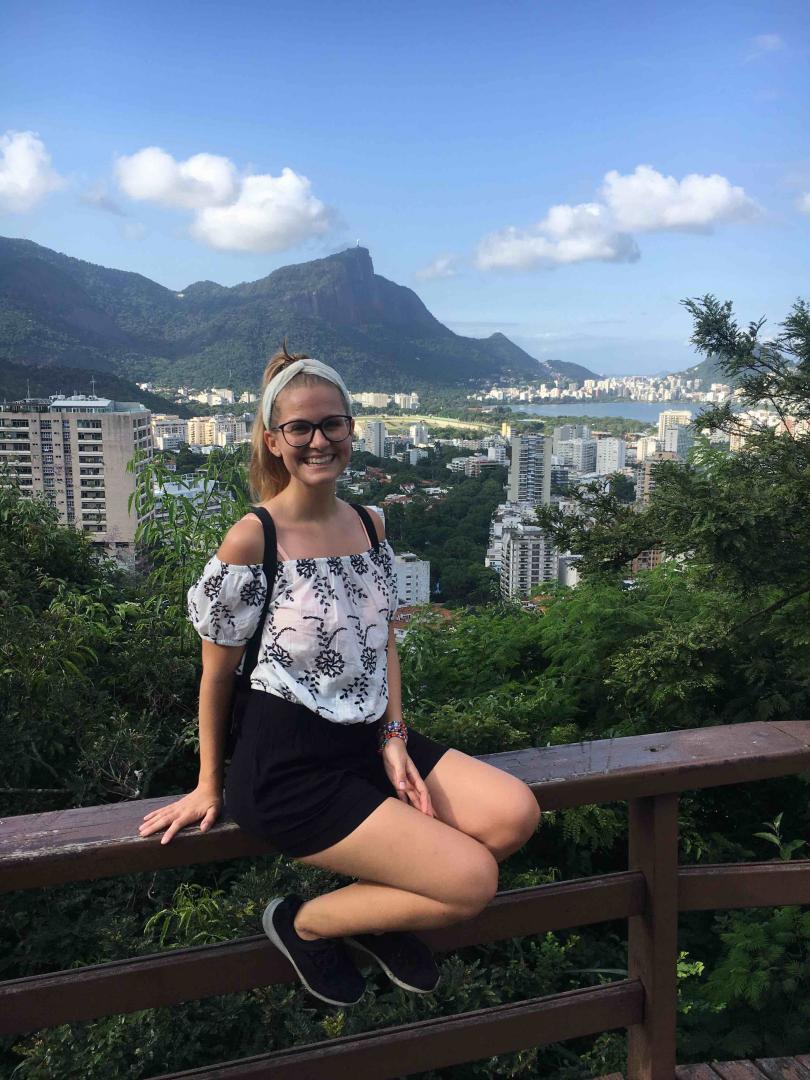 After eight months of volunteering in South America, my journey was to end in Rio de Janeiro. As I had already gained a lot of insight into the tourism industry during my work on the road, it was my dream to gain more experience during an internship with the small incoming agency Aventura do Brasil. The internship normally takes place in the headquarter in Florianopolis, but the Aventura do Brasil Team is quite flexible and so I could work from my the home office in Rio.
The team is already works remotely and you can feel that. Although we were many miles apart, I never had the feeling of being alone. The distribution of tasks was quickly, clear and within a very short time I was used to the daily work routine with some short arrangements via Skype or e-mail. I was able to coordinate my private time with my host family with my working hours online, as there were so many new things to discover in Rio. It was even much more intense, than you would do on holidays. Walking through the streets, seeing things from different angles and, of course, always with your camera switched on. Maybe there shows up an idea for new content hiding behind the next corner. I have written articles, read up on exciting topics and report about my own experiences. The trust and appreciation I received as an internee have additionally motivated me in my daily work. Dealing with social media is part of my daily life, but even in this topic there were a lot of new insights on how content is planned and created. You can get creative every day, learn a lot about Brazil and immerse yourself in the local culture. Just as you imagine working where others spend their holidays.
I am very grateful for the wonderful time and the new experiences. I wish Aventura do Brasil all the best, and hope that all future internees have a nice time in Brazil. Valeu e muito obrigada! Lena
Internship Report - Katja Schmitz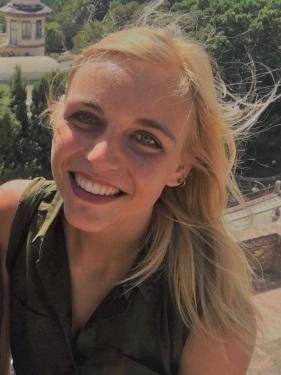 In February of 2018 I traveled to the magic island of Florianopolis and looking back I can say: It could not have been better.
During the Brazilian summer I started an internship at Aventura do Brasil. As a tourism student I was interested in the work of an incoming agency and was able to gain a lot of experience during my internship.
Before I went to Florianopolis I had already visited some incredible places in Brazil. The beaches of hot northeast, the big cities on the Atlantic coast and the Amazon were quite impressive. The work of Aventura do Brasil therefore seemed admirable to me: To share their passion for Brazil with the rest of the world.
This is why I applied for a five-month internship with the agency.
The work in the company is almost exclusively done online. Especially the home office work was a new experience for me and I quickly learned to appreciate its advantages. I was fascinated by how uncomplicated communication via email or Skype worked. In general, almost all processes could be handled online.
One of my daily tasks was writing news articles. In a huge country like Brazil, you never run out of topics. I researched historical backgrounds, cultural differences and current news. Especially when reporting on the Brazilian cities and National Parks, my wanderlust become stronger and stronger. I had countless new inspirations for the next national travel destinations. Besides inspiring my travel plans, the internship helped me to gain a better understanding of Google and SEO. I gained insights into necessary measures to optimize website content and was able to support the company in this process. During the internship I also helped to set up new hotel and travel descriptions and to move domains to a new content management system.
During my time at Aventura do Brasil I experienced a lot of freedom in how to manage my time and work flow. My comments and ideas were always welcome and if I had any questions I always had someone to assist and advice me. If you would like to learn more about the travel business in Brazil, I strongly recommend an internship with this travel agency. The experience of the employees was very enriching. They know Brazil very well through personal travel and life. Helpful first-hand tips are therefore always guaranteed.
Many thanks for the exciting impressions!
Valeu, Katja
Internship Report - Anja-Nina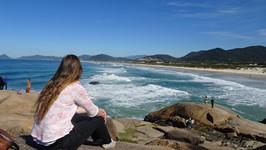 After I had completed my bachelor's degree in social sciences I was thinking about a stay abroad in Brazil. As I had a few months to go before my master's degree started, I started searching for an internship and quickly found the homepage of Aventura do Brasil and applied, although I had no experience in the tourism business. As I became interested in the work of an incoming agency, the internship was a good opportunity for me to gain more experience in this field, from which I benefited more than expected. After a quick and uncomplicated application process, my way led me to Florianópolis in April 2016 and thus (without knowing it beforehand) to a one of the most exciting region of Brazil. My initial doubts about not being able to meet the requirements due to my lack of knowledge in the tourism sector were quickly dispelled. The team of Aventura do Brasil gave me a warm welcome and after a short training period I was given independent tasks in my home office. My main task was the website maintenance, more precisely the creation of new travel and hotel descriptions, as well as the revision of already existing content according to SEO standards. During the weekly meetings the whole team met to discuss upcoming topics. I found working in the home office very pleasant, as my team was always available via mail or Skype. For the first time I was able to organize my working time myself, unlike in previous internships. On beautiful sunny days I was able to shift my working hours to the afternoon and explore the beautiful island during the morning. So I could explore more of Florianópolis than expected.
The team can be described as friendly, uncomplicated and helpful, they gave me a lot of confidence, so that I my work could flow easily. I have made a very positive experience at Aventura do Brasil, and in Floripa as well. It was an important time for my professional and my personal growth. I strongly recommend an internship with Aventura do Brasil in general, in particular to all those who study topics on tourism or Brazil.
Internship abroad in Florianopolis, Brazil - Moritz Kern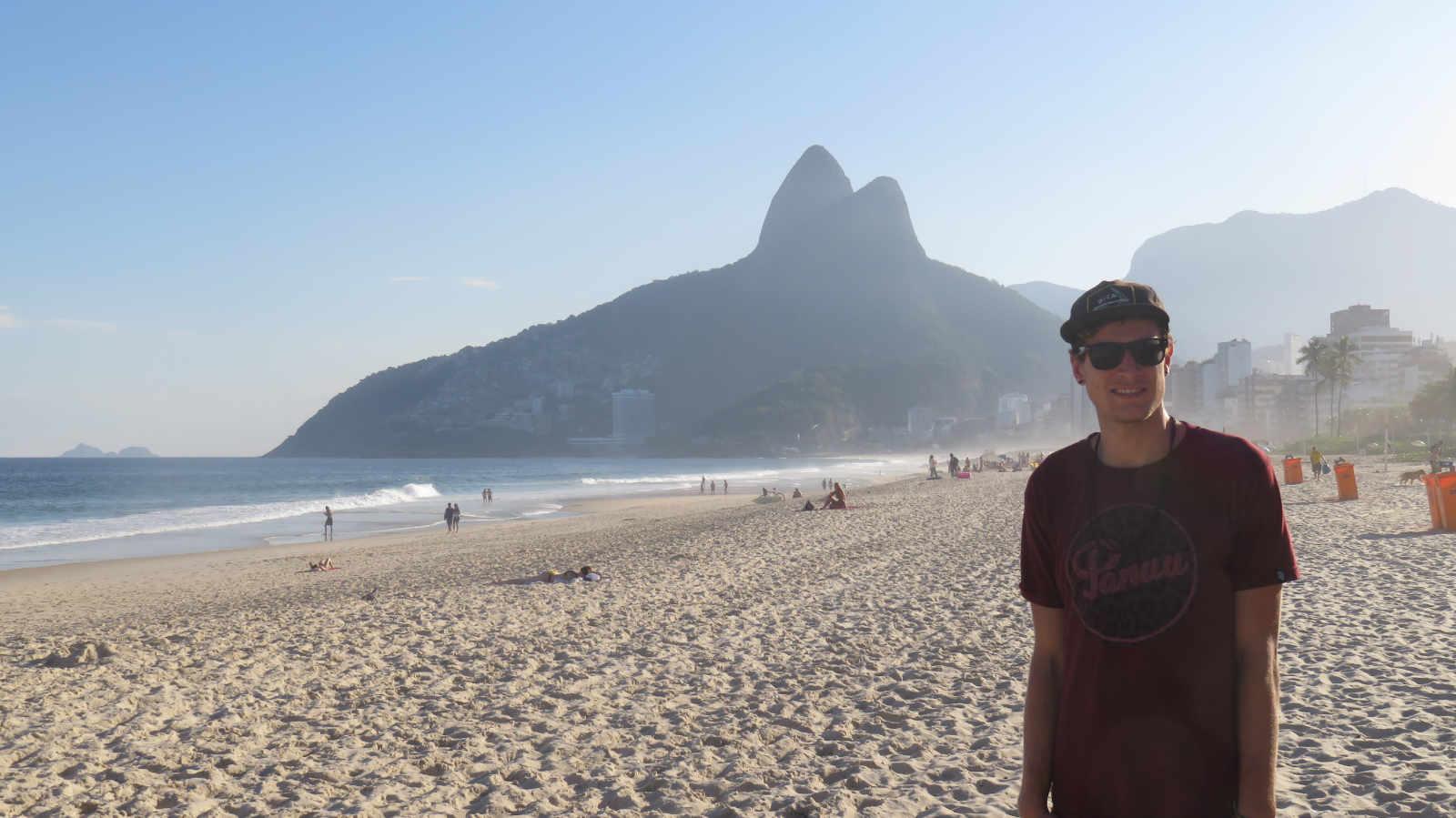 I am currently studying Sciences Leisure Studies at the University in Bremen and just completed my semester abroad at the University in Fortaleza. After exciting five months in the northeast of Brazil, it was soon clear that the adventure should not be over at this point. So I looked for a suitable internship in tourism and came across Aventura do Brasil. As the south of Brazil was still unknown to me, I immediately wrote my application and one week later I was looking forward to a great time in Florianópolis.
Arrived on the paradisiacal island of Floripa, right in the middle of the carnival madness, I found a nice accommodation near the beach. In this first week I got to know the team and after a short training period I could work independently from home. My main tasks were the creation of new content, as well as the reconstruction of the homepage. This included the revision and updating of hotel descriptions, tour schedules and regional descriptions. In addition, I also did the translations into English of all the created content. For any questions I could always get support via Skype or e-mail from Melanie from Sao Paulo or the other employees. I especially liked the flexible working hours, as well as the high level of personal responsibility and freedom in creating the online content. Weekly research on a wide variety of topics enabled me to further expand my knowledge of the country and its people, as well as the Brazilian culture. Florianópolis offers so many possibilities to keep busy after work. Besides all kinds of sports like surfing, volleyball, yoga classes, stand up paddle, there are also many beautiful places to discover on this island. Especially after my first five months at University in Fortaleza, I enjoyed the freedom and all this exciting opportunities. My work for Aventura do Brasil helped my professional growth. The internship was a very positive experience and allowed me to get a deeper insight into the Brazilian life style. The idea of living and working in another country has become even more interesting for me. I can say that I spent a fantastic year in Brazil, met a lot of interesting people and increased my professional and personal growth. I am very grateful to the team of Aventura do Brasil for the chance to do an internship in Brazil.
Internship at Aventura do Brasil - Vera Knill and Katharina Stechl
September to December 2014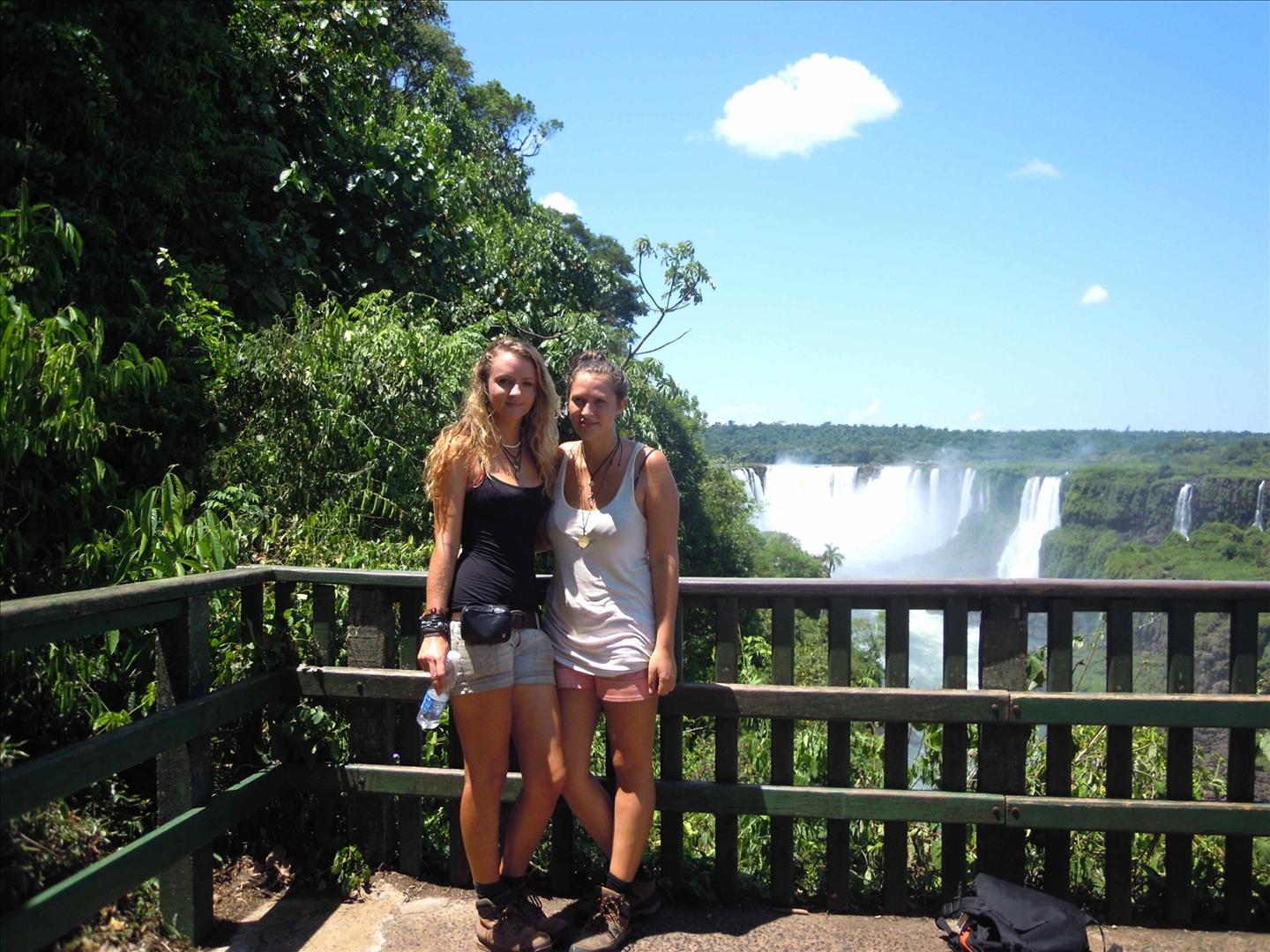 Before we started our studies in Tourism Management at the University in Munich, we worked for a few months in South America and die a backpacker trip to discover this amazing continent. After some weeks it was clear that we wanted to take a closer look at Brazil. So we thought that an internship semester in Brazil was the perfect opportunity to do so. While searching for a suitable company, Aventura do Brasil was our first choice and already at the first meeting we felt very comfortable with the team of Aventura do Brasil.
The working conditions offers a pleasant relaxed atmosphere in addition to a high degree of professionalism. You are challenged in various projects and get very interesting insights into the daily work of an incoming agency. We especially liked the work in our home office, which allowed us to take on responsibilities in a flexible way. Our tasks included website maintenance and SEO, supporting employees in preparing offers for customers and partner agencies, and translating travel programs in German, English and Portuguese. We learned a lot of interesting facts about Brazil while writing travel related news articles, researching for new tours and analyzing the website development for e.g. the Olympic Games 2016. We found the business insight we received at the weekly team meetings particularly exciting. If we had any questions, we always received timely support from the employees via Skype or e-mail. During our internship we lived in the small town of Barra da Lagoa on the island of Florianopolis and so we were able to get to know the island and its unique surroundings in our free time. After the internship we explored the diversity of the country on our own and were able to experience many a theory from the travel programs first hand. Especially the tips of the employees helped us to do this. We had an unforgettable time in Brazil and are very grateful for the interesting and exciting experiences. We can recommend Aventura do Brasil to anyone who is looking for an internship with a high degree of personal responsibility, exciting tasks and a great team and who would like to gain an insight into the multi-faceted culture of the country.
Valeu e muito obrigada!
Internship at Aventura do Brasil - Sarah Dyveke Buhr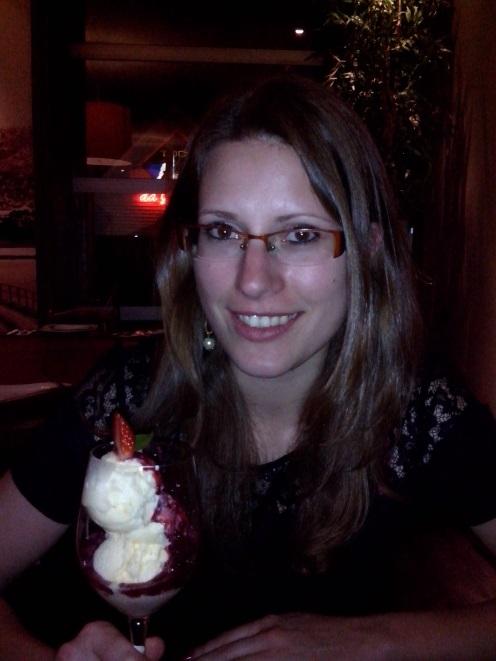 I worked in a children's home in Brazil for half a year after my high school graduation, since then I have been fascinated by this beautiful and diverse country and I wanted to come back one day and stay for a while.
During my tourism studies in Bremen we do two semesters abroad, and one of them has to be completed as an internship. Aventura do Brasil seemed to be the perfect suited company, it was the chance to combine my interest in the travel industry with living in the beautiful city of Florianópolis, which I already knew from a holiday. From start on I liked the relaxed yet professional atmosphere in the team. I was immediately well received and felt comfortable. Like most of the interns, I was responsible for the content of the homepage of Aventura do Brasil and wrote travel and hotel descriptions in German and English, as well as other short texts. Another task was the updating of price lists in our system and the translation of Portuguese texts. Additionally I worked on the creation and adaptation of travel procedures for customers and comercial partners, among other smaller projects. Most recently, I mainly dealt with the preparation of climate tables and climate information texts for all our travel regions. I really enjoyed working at Aventura do Brasil because I was able to work very creatively and independently and learned a lot about tourism in Brazil and how an incoming agency works. It was also a great opportunity to get to know the island and other beautiful places of the region besides work. In April I got on a day trip here in Floripa with our guide Natalie, it was a lot of fun to get in touch with the clients. I had a wonderful and very eventful 6 months in Florianópolis and I am very grateful to Aventura do Brasil for the exciting time I was able to spend here!
Sarah
Internship at Aventura do Brasil - Sarah Uhl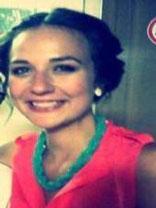 I am currently studying Communication Science and English/American Studies at the Friedrich Schiller University in Jena. In the summer of 2014 I have completed an internship abroad at Aventura do Brasil. It was not necessary for my studies, but I soon realized that I wanted to spend some time abroad before going to work and Brazil seemed an excellent choice. The application process was quite straightforward. One tip in advance: It's worth applying early and then look out for a guest family and your flights.
During my internship I was mainly responsible for the content of the website and the team of Aventura helped me out when I had some questions. My daily work included hotel descriptions, creating new trips, revising tour schedules, writing news articles, creating regional descriptions and do some translations for the English website of Aventura. Furthermore I managed the updates of our booking system, entered new price lists and created new products. I especially liked the high level of responsibility that comes with this internship. The team largely gave me a free hand in creating the online content, which then immediately lands on the website. I did not have any experience in the tourism industry and had some concerns about the requirements of the internship. However, these quickly proved to be unfounded: my team colleagues were available and were very patient with me. As an internee at the company you feel integrated in the team as there is a friendly working atmosphere. During our weekly meetings I gained an additional insight into the daily business of a tourism agency. The remote work in my home office was also a new and interesting experience. The main advantage was to be able to discover the beautiful surroundings of Floripa and to travel a little bit around. In summary, I had exciting months in Brazil. If you are looking for an eventful time abroad, a responsible internship with a pleasant working atmosphere and would like to dive deeper into the Brazilian culture, Aventura do Brasil is the right place for you.
Sarah
Internship Report - Natalie Mayer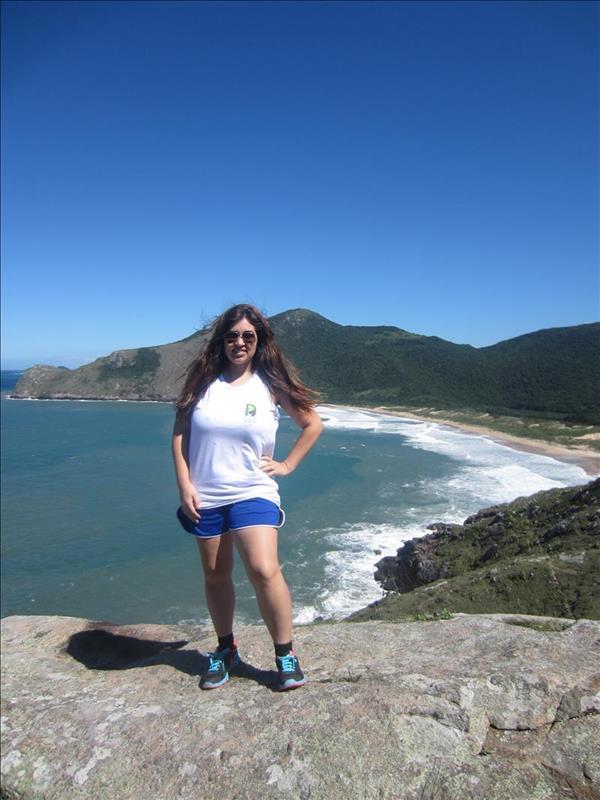 I am currently studying International Tourism Management (Karlshochschule International University) and it is a requirement of my studies to do an internship in my field.
I interned for 3 months from February – May 2014 (unfortunately not long enough!) for Aventura do Brasil in Florianopolis. I was set on working in Brazil and especially a beautiful place like Florianopolis so I was very happy when I came across Aventura do Brasil and was accepted to do an internship with them.
Since I am a native English speaker, but have been living and studying in Germany the past few years and speak fluent German my task was to help develop the English version of the website. I did a lot of translations from both German to English and Portuguese to English and learned a lot about Brazil as a touristic country at the same time. I also helped develop/update hotel descriptions, itineraries and general information for the English website. It was great to work from a home office and have flexibility – who wouldn't want to go to the beach after work is done? ;). We met up once a week to talk about news in the company and to get a first-hand look on how Aventura do Brasil deals with their clients.
During my internship myself and a fellow intern got to join a large tour group on a hike to Lagoinha do Leste, a stunning beach you can only get to by boat or hiking. While hiking I translated for some of the guests and answered their questions. I made sure that they felt safe, welcomed and had a great time. It was a fantastic experience to be dealing directly with the clients and feeling like a part of the team.
Overall my experience with Aventura do Brasil was positive. I enjoyed working together with the team to further develop this great company and I see great things in the future. I really hope to return someday and would definitely recommend doing an internship as you will learn so much and get to enjoy the magical island "A ilha da magia" of Florianopolis while doing it.
Muito Obrigada!
Natalie
Internship at Aventura do Brasil - Isabel Zavala and Madeleine Scholz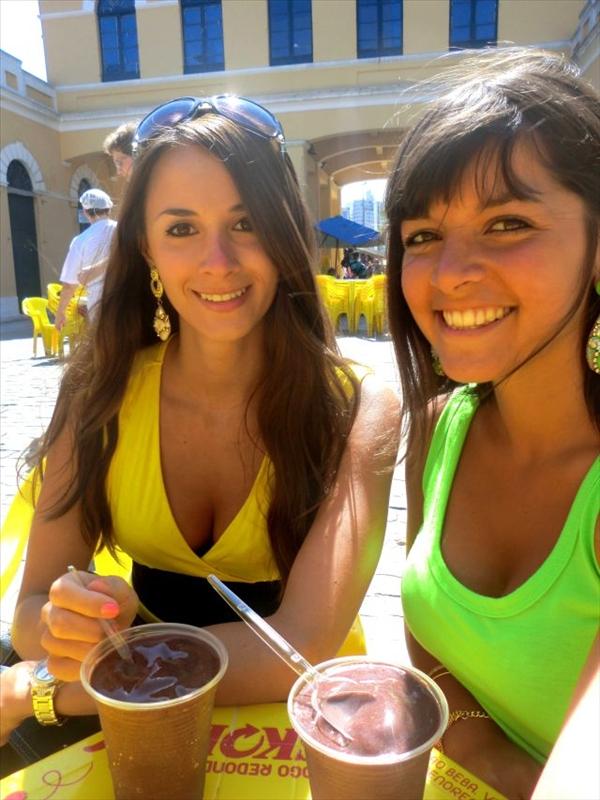 We both study Tourism Management and International Tourism Studies in Deggendorf and Harz in Germany. During our studies all students do an internship abroad. Brazil was our first choice as a foreign destination and we quickly found the website of Aventura do Brasil. After a short application process it became clear that we were going to Brazil!
On our arrival in the South of Brazil we were immediately enchanted by the Brazilian Life Style and felt very welcome. This feeling was even stronger during our first meeting in the main office of the company, where we were awaited by Michael and Lars. They explained to us in detail what to expect in the coming months. Our main tasks were to create new content for the websites (hotel descriptions, tour itineraries, general regional information and industry-specific news) and to manage the booking system, our database for tour operators and customers. We created and updated price lists, created and translated new products and developed the photo database of the company. Another big project was the restructuring of an older website for South America Travels (www.aventura-suedamerika-reisen.de). During these projects we learned a lot of interesting stuff about Brazil. And we really enjoyed the working atmosphere at the office of Aventura do Brasil.
In general we settled in well in the new environment and got to know and love this beautiful country. Among our personal tour highlights were a horse riding trip to the town of Urubici with Aventura do Brasil, as well as our private tours on the island of Santa Catarina. At the end of our internship we organized a typical Brazilian Churrasco grill party for the Aventura do Brasil team.
All in all, we had a very nice and eventful time in Brazil, which we will never forget. During our internship at Aventura do Brasil we were able to gain an insight into the daily business and the different areas of an incoming agency. We can only recommend a stay in Brazil, especially in beautiful city of Floripa.
Madeleine & Isabel
Internship at Aventura do Brasil - Anna Schöning
September 2011 - March 2012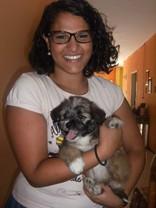 I am a student of International Tourism Management in Bonn and during my studies I have done an internship semester at Aventura do Brasil. Since I am Brazilian, it was clear to me from the beginning that I would not miss the opportunity to come back to my country and enjoy this time during an internship with a German-Brazilian company. After researching on the Internet I came across Aventura do Brasil after a short time and felt immediately attracted to Santa Catarina and the agency. I wrote an application and was surprised how quickly it became clear that I could go to Brazil for a longer period of time and work there in the tourism business. At Aventura do Brasil I was able to work independently and develop my own projects. I had the possibility to organize my time and work from home, which made it very flexible. My main responsibilities were the content management of the German homepages (www.aventuradobrasil.de and www.floripa-trips.de) and their English counterparts. Writing, proofreading and translating travel reports and the SEO (Search Engine Optimization) were an interesting field. After that experience I was able to update the online price list for the comercial partners of Aventura on my own. Since the south of Brazil was largely unknown to me, it was interesting to get to explore the surroundings of the city of Floripa and get to know another side of Brazil. I have travelled a lot and discovered the countryside and its people. It was a great experience for me to work in Brazil with all the challenges that a stay abroad causes. In summary, I can say that I spent a fantastic half year in Brazil, met new interesting people, continued my professional and private growth and am very grateful to the team of Aventura do Brasil for the opportunity to do an internship in Brazil. I will come back again for sure.
Anna Schöning
Internship at Aventura do Brasil - Dirk Henker
September - November 2006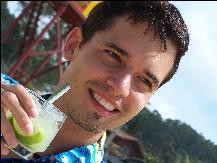 I study Environmental Management and did an internship for three months at the tourism incoming agency Aventura Do Brasil in Estaleiro, in the south of Brazil.
I had many motives to go to Brazil. I love traveling and I had a general interest in tourism industry. So far I had only been a tourist, so it was interesting to be on the other side and learn how the organization works. I was attracted by the fact that Aventura Do Brasil organizes and carries out trips that are connected to outdoor experiences in a region that is largely untouched by mass tourism and therefore still offers a certain originality. I had chosen the topic of "Ecotourism in Brazil" for my final thesis, so the internship was also very helpful in terms of gathering information and local impressions.
Before I began with my internship I had absolutely no experience in tourism, but during the three months I was introduced to different areas and learned a lot about the tourism business. I worked on the creation of a new online travel information portal (www.suedbrasilien.com), I advised customers and created individual travel offers, I also looked after guests on site and accompanied groups on various excursions with our guides. I was given free space for my tasks, this allowed me to work independently and develop my own ideas and visions.
During my time as an internee I also got to know many local business partners who came to visit me on site. The personal contact with them helped me to understand the important role of the cooperation between agencies and comercial partners in the tourism industry.
The work at Aventura Do Brasil did not feel like the typical internship, which is characterized by simple and rather tedious work. I was really involved in responsible and important tasks, so I earned a lot of knowledge and new impressions. My activities were really versatile and varied.
I would like to thank Nicki and Aventura Do Brasil for the possibility to make this happen and also for the great support. I enjoyed the work very much and even though there is still so much to see in the tourism business, I learned a lot during these three months and gained important impressions.
Internship Report - Christa Irmen
I am a student of International Tourism Management at the Saarland University of Applied Sciences in Germany. Our curriculum includes a three-month internship between the 4th and 5th semester, which has to be completed in a non-German-speaking country.
So it happened that at the end of 2006 I started to look for possible internships on the internet. My initial idea was to find an internship in a French-speaking country in order to improve my language skills at the same time. However, the search proved to be more difficult than expected... I found information on various internship sites and was horrified to discover that most agencies charge large sums of money for the placement of an internship.
After days of unsuccessful search I finally came across the homepage of Aventura do Brasil. I had not even considered Brazil as a destination country until then, mainly because of my lack of Portuguese language skills. Nevertheless, after reading the internship report of Dirk Henker, who worked for three months at Aventura do Brasil the year before, I was getting curious. Actually, everything sounded like the opportunity I was looking for: the work seemed to be varied and interesting (not just "serving coffee", as I had experienced enough during various other internships). I sent my application the very same day and received a confirmation just a few hours later. Everything was totally uncomplicated, I felt very lucky!
And now I am here, almost at the end of my adventure, and in just a few days I will be on my way home to Germany. My expectations were not only fulfilled, they were exceeded! Already at the airport I was welcomed with open arms by Nicki (I know you hate it when I call you that ;)), she is the founder of the company.
While working for Aventura do Brasil I learned a lot for my professional future. I already did an internship in the tourism industry, but this was a completely different experience in the hotel sector. So far I had no idea about the work of a tour operator or an incoming agency. Therefore, I am grateful for the opportunity to work in so many different areas. After a short training period I was able to work independently on customer enquiries, compile itineraries, make bookings and much more. I worked on the creation of a new website with information about emigrating to Brazil. As with most of my other tasks, I was able to work on my own and had direct contact with the clients, be it for local airport transfers or tours. So I visited hotels, surf schools and local partners.
In conclusion, I can say that I spent three amazing months in Brazil. I would like to thank Nicki and Aventura do Brasil for this great experiences and the hospitality. I definitely come back to visit you guys.
Muito obrigada!
Christa Irmen