Adapters, Plugs, Outlets, and Voltage in Brazil 
In 2011, Brazil introduced a new round, three-prong outlet throughout the country (see image below).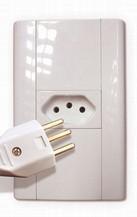 In older buildings you can still find the older outlets (see image below), which are either two-prong and round or in the two-prong variant used in the USA.
European plugs will work with this type of outlet. However, the thicker European plugs, which are usually found on hair dryers and computers, will not.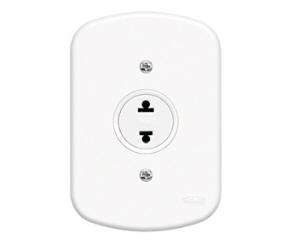 Voltage in Brazil
Attention: Depending on the region in Brazil, the main voltage is either 110V or 220V.
The voltage can even vary within the same city. Therefore, in case of doubt it should always be reconfirmed whether the sockets in the respective accommodation work with 110V or 220V. Here is a list of the most commonly used voltages:
Aracaju – 110 V
Belém – 110 V
Belo Horizonte – 110 V
Blumenau – 220 V
Brasília – 220 V
Búzios – 110 V
Campo Grande – 110 V
Cuiabá – 110 V
Curitiba – 110 V
Fernando de Noronha – 220 V
Florianópolis – 220 V
Fortaleza – 220 V
Foz do Iguaçu – 110 V
Ilha do Mel – 110 V
Ilha Grande – 110 V
Jericoacoara – 220 V
João Pessoa – 220 V
Lençóis – 220 V
Maceió – 220 V
Manaus – 110 V
Morro de São Paulo – 220 V
Natal – 220 V
Ouro Preto – 110 V
Paraty – 110 V
Porto Alegre – 110 V
Porto de Galinhas – 220 V
Porto Seguro – 220 V
Recife – 220 V
Rio de Janeiro – 110 V
Salvador – 110 V
Santarém – 110 V
São Luís – 220 V
São Paulo – 110 V
Tiradentes – 110 V
Vitória – 110 V