Carnival in Rio de Janeiro and Brazil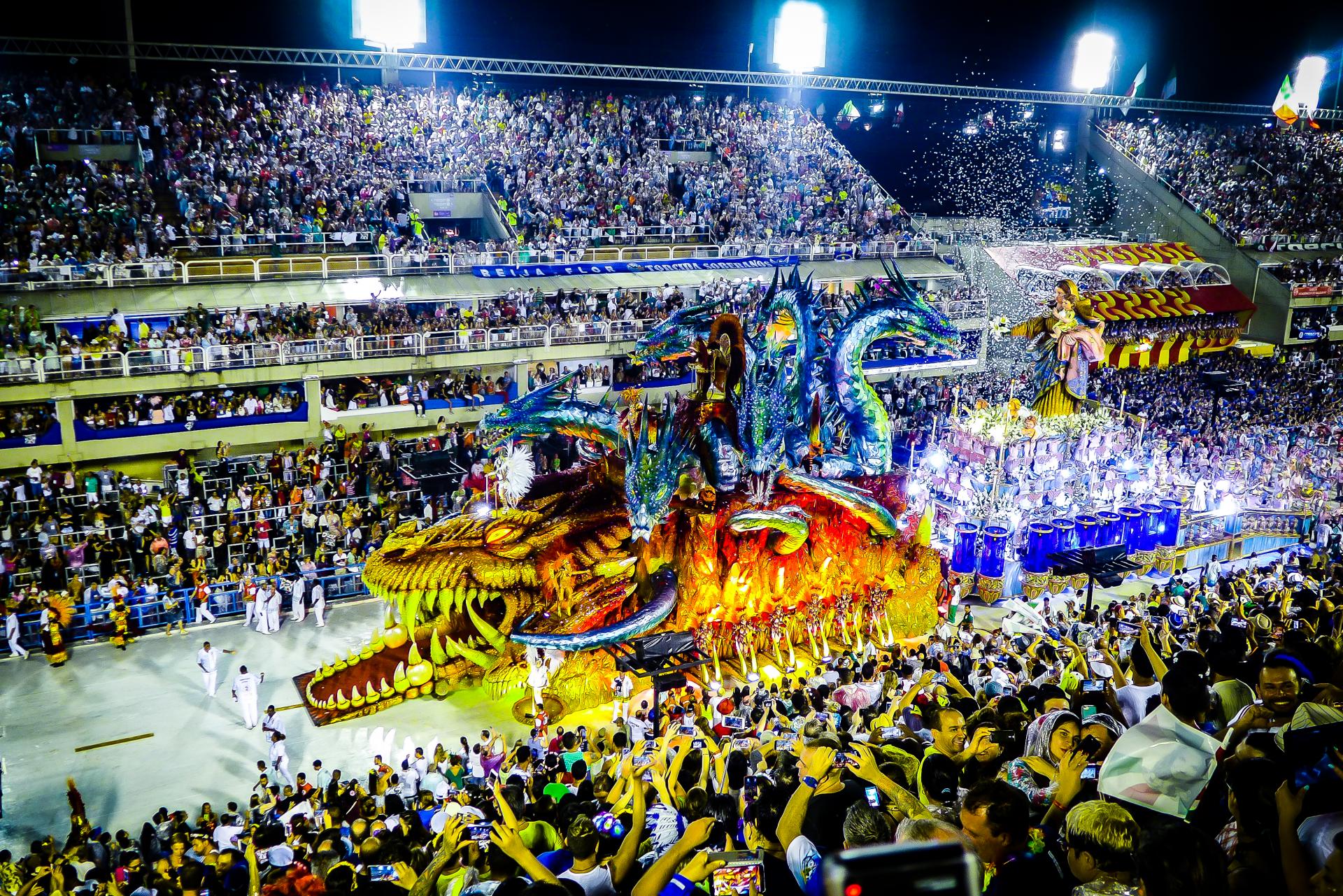 In 2021, the Carnival festivities will take place in Rio de Janeiro's Sambadrome on Sunday, February 14, and Monday, February 15. The parade of champions will be held on Saturday, February 20.
Rio without Carnival? Unthinkable!
Every year, about seven weeks before Easter, Brazil's largest public festival is held in the "Cidade Maravilhosa" ("the wonderful city," nickname for Rio de Janeiro). Would you like to experience the famous Carnival in Rio? We have compiled below some important information about the event.
What kind of weather can you expect for Carnival in Rio?
The date for the Carnival celebrations in Brazil, in February or March, depends on Easter. Since Rio de Janeiro is located in the southern hemisphere, the seasons are opposite of those in North America and Europe. Carnival in Rio is therefore celebrated in the summer. Although the climate in Rio is warm year round, it often gets very hot with average daytime temperatures of 88 °F (31 °C). Usually, the humidity is also extremely high. Thick winter clothes can be left at home for Carnival festivities in Rio de Janeiro. Here you can read detailed information about the climate in Rio.
Staying overnight in Rio for Carnival: What do you need to consider?
During Carnival, Rio de Janeiro is in an extremely hysteric state. Besides the celebratory spirit among locals, countless visitors from abroad stream into the metropolis at Sugar Loaf Mountain. Accommodation services in Rio benefit from the high demand and raise their prices during this season. In addition, they typically only rent out overnight stays as packages with a minimum of 3 to 4 nights. This means that guests cannot flexibly choose the number of nights they book. To reserve a room, you must pay the minimum number of nights set by the hotel, even if you want to check in a day later or check out a day earlier. Especially on Monday between the parades in the Sambadrome, it is often not possible to check in or out without paying an extra night.
It is advisable to book a Carnival trip to Rio early. The earlier you plan your trip, the more flexible and cheaper the hotels will be. Given that overnight stays during Carnival are always expensive, we would suggest a hotel in a convenient location. The districts of Copacabana and Ipanema are an ideal starting point to enjoy Carnival in Rio extensively and safely.
When and how long do you celebrate Carnival in Rio?
As already mentioned, the date for carnival is related to Easter. Exactly 47 days before Easter Sunday and four days before Ash Wednesday, the official Carnival in Brazil begins.
All over Rio de Janeiro, Carnival is celebrated from Friday to Wednesday. At so-called "Blocos," floats parade through the streets and are cheered on by the public. These are rather rustic public parades with dance, loud music and extensive alcohol consumption. Partygoers supply themselves with drinks from among countless street vendors. In this environment you will encounter large crowds, beer showers and plenty of pushing and shoving. To be able to take part in this colorful hustle and bustle, Aventura do Brasil offers an organized excursion with a guide. If you want to go out on your own, it makes sense to have basic knowledge of the Portuguese language and to limit yourself to the more extensive street parades in Ipanema and Copacabana. Sarah, our destination expert, also adds: "If you stay in a hotel in Ipanema or Copacabana, you can see the Blocos passing by in the afternoon and evening directly from the hotel balcony."
During Carnival, public transport in Rio de Janeiro is limited as streets are closed for the parades. Taxis and driving services such as Uber are not reliable means of transport, so you should be prepared to walk within the city. Excursions to Christ the Redeemer or Sugarloaf Mountain also suffer due to traffic and the high number of visitors. A trip to Rio during Carnival would be well worth it only if you wish to experience the festivities up close.
How does Carnival in the Sambadrome work?
An alternative to the public street festivities in Rio are the samba parades in the Sambadrome, designed by Oscar Niemeyer. Here you can use our shuttle service, which has a license for the closed area at the Sambadrome, to maneuver back and forth to the hotel in Ipanema or Copacabana. Taxis or private transfers, on the other hand, have to stop outside, so you would have to find your own way in, which we do not recommend.
The parades at the Sambadrome are the highlight of Carnival. On Sunday and Monday, the best twelve samba schools of Grupo Especial (Special Group) compete against each other. Split up with six schools per day, each school has a time window of 65 to 82 minutes for its performance. The Sambadrome opens its doors to visitors at around 5 pm and at 9 pm the spectacle begins with the arrival of the first samba school. The whole show can last until 6 am the next morning, depending on how many minutes each school takes. If you do not want to stay until the end, you can return to the hotel earlier. Our shuttles run regularly.
The public scoring takes place on Ash Wednesday. On the following Saturday from about 10 pm on, the six highest-rated samba schools in the "Desfile das Campeãs" ("Parade of Champions") will once again perform their magnificent shows in the Sambadrome. This event is especially interesting if you want to admire the colorful costumes, but at the same time avoid the hustle and bustle in the city, which will have mostly subsided by then.
Clear the stage for the best samba schools
For the big day, the members of the samba schools meticulously plan every detail of their parade and train hard. At the beginning a theme is chosen, which is musically woven into the Samba "enredo" ("narrative Samba plot"). Each school tells a story with only one song, which is played throughout the entire performance. The dancers' clothing should match this and illustrate the story. The schools enter the Sambadrome in blocks, with each block having its own sub-theme. It is important that all individual costumes of a samba school harmonize with each other. Besides the dance, the judges evaluate aspects like creativity, successful realization of the theme, quality and details of the costumes. The most important costumes are those of the school master (Mestre Sala), the flag bearer (Porta Bandeira) and the members of the front block, who make the first—and therefore most important—impression on the judges and the audience.
What is seating like in the Sambadrome?
In order to be able to watch the big samba show live, tickets must be purchased very early on, as they are usually sold out months before Carnival begins. There are thirteen sections with seats for spectators, grouped around the parade avenue on both sides. Section 1 is located in front of the entrance, from which there is no good view of the parades. The same applies to section 13 at the end of the Sambadrome. The best places are in section 9 near the drum niche, where the atmosphere is at its most passionate. In addition to bathrooms and snack bars, each section has a grandstand (arquibancada) made of concrete steps and lower niches with seats (frisas) right next to the action. In between are the lightly insulated and very expensive VIP boxes (Camarotes), which are often only accessible by invitation. In section 9 the grandstand seats are separated and numbered.

Our tips to you
Treat yourself to an afternoon nap and a balanced meal at the hotel or in a restaurant before a strenuous night in the Sambadrome. You can also pack fruit, sandwiches, drinks and the like to consume in between. Polystyrene and glass containers are prohibited. On site you can only buy fast food.
Dress in light and practical summer clothes, which may get dirty. A disposable rain poncho can be purchased on site if necessary.
Do not arrive too early, as the evening will be long and fatigue will overwhelm you. For a little nap, you can take a pillow with you.
How do you navigate safely through the Carnival season in Rio?
It is important to follow the general safety rules, just like on any other trip to Brazil. But, especially during Carnival festivities on the street, you should be even more attentive. Dense crowds make it easier for potential pickpockets to occur. Therefore, only take the bare minimum of cash for drinks and leave valuables, flashy cameras, bank cards and large sums of money in your hotel. If you have to use the bathroom, it is better to pay a small restroom fee in a shop or restaurant or consume something there instead of looking for a secluded alley. Here you could be robbed more easily. As a rule of thumb, you are safe to celebrate Carnival in the Sambadrome, as access is only possible with a ticket. In this venue you can take your camera with you.
How do you celebrate Carnival elsewhere in Brazil?
Carnival is, of course, not only celebrated in Rio de Janeiro, but nationwide. We would like to briefly introduce you to the other Carnival strongholds in Brazil.
In Recife, the capital of Pernambuco, and the colonial neighboring town of Olinda, Carnival is an essential part of cultural life. The world's largest Carnival block, with the impressive name "Galo da Madrugada" ("Rooster of Dawn"), is native to Recife. People on the streets dance frevo in colorful clothing. Giant dolls (Bonecos gigantes) are carried through the narrow streets of Olinda, for which celebrities like Michael Jackson and Pelé were godfathers.
The inhabitants of Salvador have also firmly established Carnival on their calendar of events. Pictures of the Blocos in Salvador's streets are broadcasted on national television and famous Brazilian singers like Ivete Sangalo perform regularly on the parade floats. The Afro-Brazilian music group Olodum always marches along and embodies the Afro-Brazilian influences of Carnival in Salvador.
In the South of Brazil, Carnival is also celebrated extensively. In Florianópolis, a big display of fireworks marks the beginning of the festivities when floats and colorfully dressed people populate the streets. Particularly well-known is a Bloco in which men dress up as women, a fun change from everyday life.
São Paulo lives up to its reputation as a metropolis of millions during the days of Carnival. On Avenida Paulista, the (financial) economic center of the city, huge crowds of people gather at Blocos to party and dance. A small offshoot of Rio's samba parades can be admired at the São Paulo Sambadrome.
In most regions of Brazil, however, there are no special Carnival celebrations. Nevertheless, you can expect many visitors as this is a long holiday weekend in Brazil. Many people who want to escape the Carnival hustle and bustle travel and hotels nationwide charge higher holiday prices. To that end, traveling during Carnival in Brazil is generally expensive. An insider tip from Aventura do Brasil: If you travel during the Carnival season and want to escape the hustle and bustle and the extra costs, we recommend a trip to the Amazon Juma Lodge.
We hope this reading was informative and has inspired you, because the next Carnival season in Brazil will definitely come.