The team of Aventura do Brasil
Michael Krämer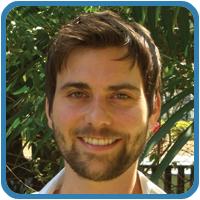 After moving multiple times within Germany and after extensive trips to America, Asia and Africa, at the age of 24 one thing was certain for me: I wanted to live outside of Germany. No sooner said than done. Via stops in Nice, Geneva and The Hague I finally ended up in São Paulo. Why São Paulo? Love... In Nice I met my wife Ana. Since she was still living in São Paulo at the time, we had to decide whether she would come to Europe or I would come to Brazil. Although I did not like São Paulo at all, I flew to Brazil in April 2006 on a one-way ticket.
But I soon realised that we had to get out of São Paulo as quickly as possible. The city is good for working. There is no quality of life there, at least not for me. So, we travelled through this beautiful, huge country to look for our new home. Then in 2008 we found the perfect place: Florianopolis. The city is mostly located on an island in southern Brazil and is the capital of the state of Santa Catarina. In a few minutes we can walk to one of the dreamy beaches on the island. In a few minutes we can drive to the lush green Atlantic Rainforest. And in about two and a half hours we are in the almost untouched canyon landscape of the Serra Catarinense. Of course, we don't want to leave here.
I got to know Nicki, the founder of the Aventura do Brasil, in 2007. From the beginning it was clear for us that we would work together and from then on we did it hand in hand. Unfortunately, Nicki passed away much too early. But her dream of the Aventura do Brasil is continued: We want to show you our little paradise and this great and diverse country with full enthusiasm. We are looking forward to seeing you soon!
Lars Jensen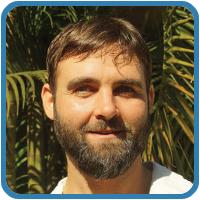 I was born in '81 and come from a small village near Hannover, Germany. Early on, I became interested in other countries and cultures and later, I travelled a lot.
After finishing school and my military service, I wanted to work in this field, so I studied tourism management in the beautiful town of Salzgitter, which led me to get a job working at a small tour operator.
I came to Brazil for the first time in May 2011, where I was able to participate in the South Brazil Active Tour with our then "local partner" Aventura do Brasil. On this trip to Brazil I not only fell in love with the beautiful Ilha de Santa Catarina, but also with my current wife, with whom I live with in Brazil since October 2011.
The work at Aventura has a special appeal for me, not only because I have nice contact with the guests via e-mail or phone, but of course -due to my job - I "have to" see a lot of Brazil. This country is so huge and complex that I cannot claim to have seen everything, but I have seen quite a lot.
If you ask me today what I recommend visiting, I recommend a combination of the Chapada Diamantina National Park and the dreamy island of Boipeba in Bahia. But of course, this could potentially change after the next "business trip"...
Melanie Hubal
Olá, tudo bem? My name is Melanie and I have lived in Brazil since the end of 2013. The love for my husband and his beautiful home country led me here. We live in São Paulo, a metropolis of superlatives. There is everything and in abundance: people, cars, restaurants, bars, art, theatre, shops... The city's numerous parks are perfect for relaxing. The coexistence of many worlds is what makes São Paulo so attractive. For nature and beach lovers, a drive to the coast is recommended to escape from the hectic city. Particularly charming destinations are Litoral Norte and Ilhabela.
Reading adventure novels in my early childhood always contributed to my wanderlust and finally gave me the clarity for my choice of profession. Before I completed my tourism studies in Germany, I moved to New Zealand for a year abroad. Immediately after my diploma I went on another trip with an around-the-world-ticket. During this time, I gained work experience in Australia and visited fascinating places in Asia and South America. I already worked harmoniously with the team of Aventura do Brasil during my employment with a German tour operator. All the more reason for me to be "on board" now. The beauty and versatility of Brazil has mesmerized me and now I enjoy the privilege of delighting Brazil travelers with my enthusiasm.
Sejam muito bem-vindos no Brasil! Welcome to Brazil!
John-Thomas Nagel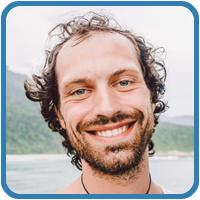 I took my first big trip to the USA alone in the mid 90s as a 10-year-old. For me, a person who spent his childhood during the last few years of the GDR, this was a different planet and had a lasting influence on my view of the world and its many beautiful places and diverse cultures.
However, I never thought that I would end up in Brazil. Especially because it would have been difficult for me to ever imagine leaving my beloved hometown of Leipzig. But as it is in life, things usually change and turn out differently than you can (and should) plan. And so, it was for me, too, when I first encountered Brazil in 2013 through a Leipzig samba group. I was fascinated by the energetic and exotic rhythms. But it wasn't until 2 years later, through my work at that time, that I was able to travel to this gigantic and diverse country for half a year. During this time, I also met my great love at a Brazilian wedding. Since then it was clear to me that I had to find a way to live and work in Brazil. The perfect opportunity came through Aventura do Brasil, as I was already in contact with the Aventura do Brasil team through my old job. And so, it finally happened in August 2016, I left my home country for an indefinite period of time.
Since then I have been living in Rio, this exotic-chaotic exciting and contrasting beach metropolis, nestled between the Mata Atlantica, spectacular granite mountains and the Atlantic Ocean. But who knows which other beautiful and exciting places in this huge country I will end visiting because there are endless places to see. I would like to introduce these magical places to travelers and interested people, so that they also can experience the wonderful refreshing sweet and sweet taste of Brazil.
Sarah Stadlbauer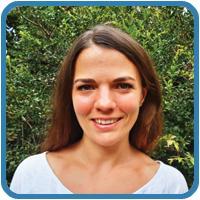 Brazil - for me that is adventure, love of life, beauty, diversity and my new home. After my first backpacking trip in 2011 it was clear that I wanted to come back and discover much more of this wonderful country.
After my geophysics studies I packed my bags in 2014, boarded the plane and travelled through South America the following year. The rugged, lonely landscapes of Patagonia, the heights of the Andes and the lowlands of the Amazon fascinated me - but I finally stayed in Rio de Janeiro. The "Cidade Maravilhosa" impressed me and welcomed me with open arms. I worked as a German and English teacher and on weekends as a bartender in Copacabana - Portuguese course included.
When I met my husband Nicholas in 2016, I moved to the Amazon with him to work on an environmental project. We lived there in the fishing village of Alter do Chão, the so-called Caribbean of the Amazon- a paradise surrounded by jungle and endless white sandy beaches of the Tapajós river.
But after 1.5 years I had a great longing for mountains and cooler temperatures, so we moved to the highlands of central Brazil. I am now living here in the small town of Alto Paraíso, in the middle of the National Park "Chapada dos Veadeiros" . It is a region which is famous for its waterfalls and is ideal for extensive hiking and mountain bike tours.
From my own experience, I can say that Brazil really has something to offer for every traveler's wishes, and I am happy to advise our guests to fulfill a travel dream and discover this great exciting country in an individual way.
Elisabeth Ströbele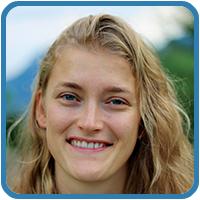 I have always found foreign countries exciting. That's why I moved to Trento, Italy, right after graduating from high school, where I studied linguistics and tourism. During my studies, I already knew that I didn't want to move back to Germany.
My Brazil fever was mainly awakened by Capoeira. Capoeira is a Brazilian martial art that has accompanied and fascinated me for several years now. Gradually, the desire to discover and explore Brazil - and thus the home of Capoeira - only grew stronger. So in 2018 I came to Bahia together with friends and my capoeira coach. I was thrilled by the Brazilians' zest for life, the unique panoramas, the diversity, and the impressive nature. During this trip I met my boyfriend in the Chapada Diamantina National Park, and so I "commuted" between Brazil, Italy and Germany for a while.
By chance, I learned about Aventura do Brasil and with this professional perspective I had one more reason to leave behind my roots in Europe and move to Brazil. In the meantime, I am happy to call the national park with its plateaus, waterfalls, natural pools, and numerous natural attractions my home, and I look forward to sharing my enthusiasm for Brazil with our guests.
Jessica Nickel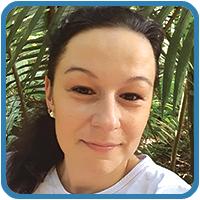 Olá! I'm Jessica and I have been living in the North of Brazil since early 2017. More precisely, I live in the beautiful village of Alter do Chão in the middle of the Amazon rainforest along the Rio Tapajós, which is known for its fantastic freshwater beaches and also flows into the largest river in the world located just a few miles from us: the Amazon.
At the end of 2015 when my very structured life in Germany lost its appeal, I ventured to Scotland for a year abroad where I unexpectedly met my Brazilian husband, Pedro. As the year drew to a close, we were certain that we wanted to continue our life together in Brazil, so I sold everything that I had left in Germany and we embarked on an adventure, together with my dog, to Brazil, my new home. No regrets!
What most inspires me is the fantastic nature and biodiversity of "Amazonia". In our garden we can observe various wild animals such as monkeys, sloths, iguanas, colorful bird species and, with a little luck, even anteaters, something that I would have never dreamed of before!
A few years ago I met my dear friend Sarah here in Alter do Chão, through whom I finally found "Aventura do Brasil".
Brazil was never on my "bucket list" back then, but today I can say that with its endless variety of landscapes, ecosystems, cities, culture and music, it is one of the most impressive countries in the world and I hope that I am able to inspire many others with my love for Brazil.
Hugo Hagel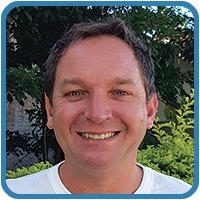 Ever since I can remember, I have always dreamed of the big, wide world. I was born in Romania in 1973 and immigrated with my family to Germany near the city of Mainz when I was 10 years old. When I think back, it feels like discovering new things has always been an important part of me. Since my childhood, change has always been an exciting challenge for me, which, fortunately, I met with great openness. It was in this context that I discovered my love for Latin America. I took my first big trip abroad without my parents to Colombia when I was still in school, even before there were such things as the internet. At some point I decided to turn my passion for travel into my profession and completed a course to become a travel agent, and during my subsequent business studies, I wrote my final thesis on Mercosur. My professional career then got off to a flying start as I was made responsible for sales in the Latin America region. In 2015, I decided it was time to improve my work-life balance and change-up the life I was living. That's how I ended up in Florianópolis. I think it's practically impossible not to fall in love with Floripa right away, and it quickly became clear that I really didn't want to leave. For quite some time, my idea was once again to combine my greatest hobby, traveling, with my professional career, while at the same time utilizing my expertise as a sales professional for the Brazil and Latin America region. After just one exciting conversation with Michael on the topic, it was clear that my personal "Aventura do Brasil" could begin! I am looking forward to sharing my passion for this fascinating region with other travel enthusiasts and, together with a great team, ensure truly unforgettable vacation experiences!
Leandro Bovério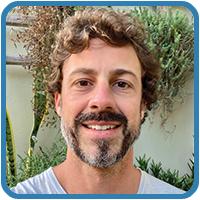 Olá. My name is Leandro and I was born and raised in São Paulo. I have always wanted to travel and explore, and have always had a curiosity for learning new languages, meeting people, and getting to know new cultures.
So in 2003 I decided to move to London, England and lived there for nearly 8 years.
It was not so easy in the beginning, so I worked in cafés and restaurants until I got a job at the Heathrow Airport working for a major airline. During the 3 years I worked there, I was able to travel around and explore many countries in Europe and Asia.
In 2010 I came back to São Paulo, but I did not stay long, and decided to travel around to visit some places in Brazil. I took a trip starting in São Paulo, then went on to Rio de Janeiro and Minas Gerais, and finally ended up in Itacaré where I stayed for 3 years working in a pousada and organizing trips.
In Itacaré I grew passionate about capoeira, surfing, and the local cuisine, such as Acarajé and Moqueca.
There were many trips that we used to organize such as rafting in Taboquinhas, Surf Lessons in Engenhoca Beach, a day trip to Prainha and São José, and a day trip to Fazenda Vila Rosa to see the cacao plantation and all the processes the fruit goes through until it becomes a bar of chocolate.
In 2018 I decided that it was once again time to move—so here I am in Florianópolis, The Magic Island!
I love to surf in Campeche, and when it´s flat I go skateboarding in Lagoa da Conceição. I also love to go hiking out to Lagoinha do Leste and visit the waterfall in Ribeirão da Ilha, as well as enjoy the local food there.
Moritz Lemmermeier
Growing up in a small village in Southern Germany, it became clear to me at an early age that I needed to travel out into the world. My passion for cycling took me on an adventurous bike trip from Germany to Central Asia where I rode through the Balkans, Turkey and Russia. Back in Europe, I decided to study cultural and social anthropology in Vienna. Fascinated by the people and the mountain landscapes of Kyrgyzstan, I was drawn back to the vastness of Central Asia. First, I taught children English and German as a volunteer, and after an apprenticeship to become a certified trekking guide, I started guiding international groups in Kyrgyzstan.
In 2018 I met and fell in love with my wife Diana while visiting my home base, Vienna. Diana is from the city of Belém, the gate to the Amazon river, and so another opportunity for adventure was presented to me. The abundance of the tropics and the people's joy for life took my breath away. I rode on buffalos, spotted sloths along the Amazon river system, and danced the night away in a remote village.
In May 2022 we explored the South of Brazil. After only a few days on the "Ilha de Santa Catarina" with its beaches, lagoons and forests, we were enchanted. It is no coincidence that the island is called the "Ilha da Magia". During a visit to a local German bakery, my connection to Michael from "Aventura do Brasil" was miraculously created. As the name promises, I am looking forward to many adventures together and to further discovering Brazil in all its facets. Vamos!
Sandro Heusinger
Growing up in Friedrichshafen on the beautiful shores of Lake Constance, one thing has always been clear to me since I was a child: one day I'm going to Brazil. My mother still tells today that when I was a little boy I used to play with the atlas and would always point to Brazil. Why? To this day I still can't explain it, but I always knew it was my destiny. After graduating from high school in 2013, it was clear to me that I would go to Brazil. I did a one-year volunteer program with a children's project in Cáceres in the north of the Pantanal. The problem was that Brazil was even more beautiful than I had imagined. The endless expanses of western Brazil, the unbelievable biodiversity in the Pantanal and above all the lovable joie de vivre of the Brazilians won me over forever. However, I had to return to Germany afterwards, which almost broke my heart. In Germany, I was forced to pursue a "normal" life including my university studies, but I never lost sight of my real goal. Now, I have finally made my dream come true and I am living again at the edge of the Pantanal in beautiful Cáceres. But the rest of Brazil will never lose its charm for me, and I will never stop falling in love with this country. It would be my pleasure to infect you with my passion for Brazil! Bem-vindo ao Brasil!
Charles Seel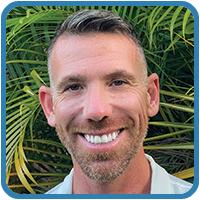 Hi! I'm Charles, and I originally hail from New Jersey. For as long as I can remember, I've been fascinated by the idea of exploring the world. Over the years this fascination has developed into a passion for traveling and immersing myself in new cultures. I've been blessed with the opportunity to visit 35 countries across six continents. From trekking through the great outdoors to indulging myself at luxurious retreats, I've done it all.
After getting my Covid vaccine in early 2021 I found myself yearning for a change of scenery, so I booked a trip to Brazil. From the moment I arrived, I knew I'd found somewhere magical. The welcoming locals, stunning beaches, unique flora and fauna, exhilarating outdoor activities, bustling cities, and mouthwatering cuisine all confirmed this place was for me. And now, I am fortunate enough to call Brazil home.
I am thrilled to continue exploring this amazing country and to share my passion for Brazil with my fellow travelers. Whether you're in the mood for an adrenaline-packed adventure, relaxing on a quiet beach, sampling the local cuisine, or just soaking up the Brazilian way of life, I'm here to help you create memories that you'll cherish forever. So, let's plan the journey of a lifetime together!
Nicole Sagemüller Esteves
How it all began...
A dream became reality: In 1998 Nicole Sagemüller Esteves visited her uncle and aunt - Rudi and Maria, in Brazil for the first time: "Honestly, if I hadn't had any relatives there, Brazil would have been at the bottom of the list of my travel destinations. I couldn't imagine anything else but the classical and common stereotypes: violence and sex tourism in Rio de Janeiro, all the diseases of the world in the Amazon... And that was it. I didn't even have an idea of the size and diversity of this country. So I got myself some travel guides, in which I searched for any useful information about the south of Brazil. Everything I found did not really awaken my wanderlust. "Oktoberfest in Blumenau, German colony towns like Pomerode..." I really asked myself, why did my uncle have to emigrate there of all places? Surely there are much more beautiful and interesting places in this world... And then I was completely taken aback! Beautiful, empty beaches, dense rainforest, endless possibilities for recreation...a paradise! And hardly anybody knows about this? That can't be true! I want to change that...! I want to live here and this beautiful spot on earth should be known to others. And so it was: With a strong will I went back to Germany after my holiday and started my plans right away. First of all I completed a new training as a marketing and sales assistant, because I thought you should know how to market the whole country properly. After a lot of market research, competition analysis, etc. until the finished brochure I went out and contacted all kinds of organizers, to make a long story short: in 2002 the first group came to Estaleiro/Santa Catarina. The people were enthusiastic. Meanwhile more than 800 guests (as of 10/2008) have been in Estaleiro and many of them have become friends and have been back 2, 3 or even 4 times. Also, there are already many interesting stories to tell. Of course, I was also interested in the many other regions of Brazil. This country is so diverse, so huge, so interesting and so full of contrasts... It's impossible to get even a fraction of it on a 14-day round trip throughout of Brazil. It would be comparable to a 2-week tour through Europe. In the meantime, I have also gotten to know the northern and southern Pantanal, the Amazon (among other things, I have travelled the Amazon in a very authentic way - that's why you can also find a Survival Tour in the Amazon with us), Bahia, Foz do Iguaçu and other parts of Brazil of which I am also totally fascinated with. We have also put together completely new tours ourselves.
We would be very happy to introduce you to our little paradise and this great country with full enthusiasm...
Grande abraço,
Nicki († 05.06.2009)