Best Scuba-Diving Spots in Brazil
April 24, 2019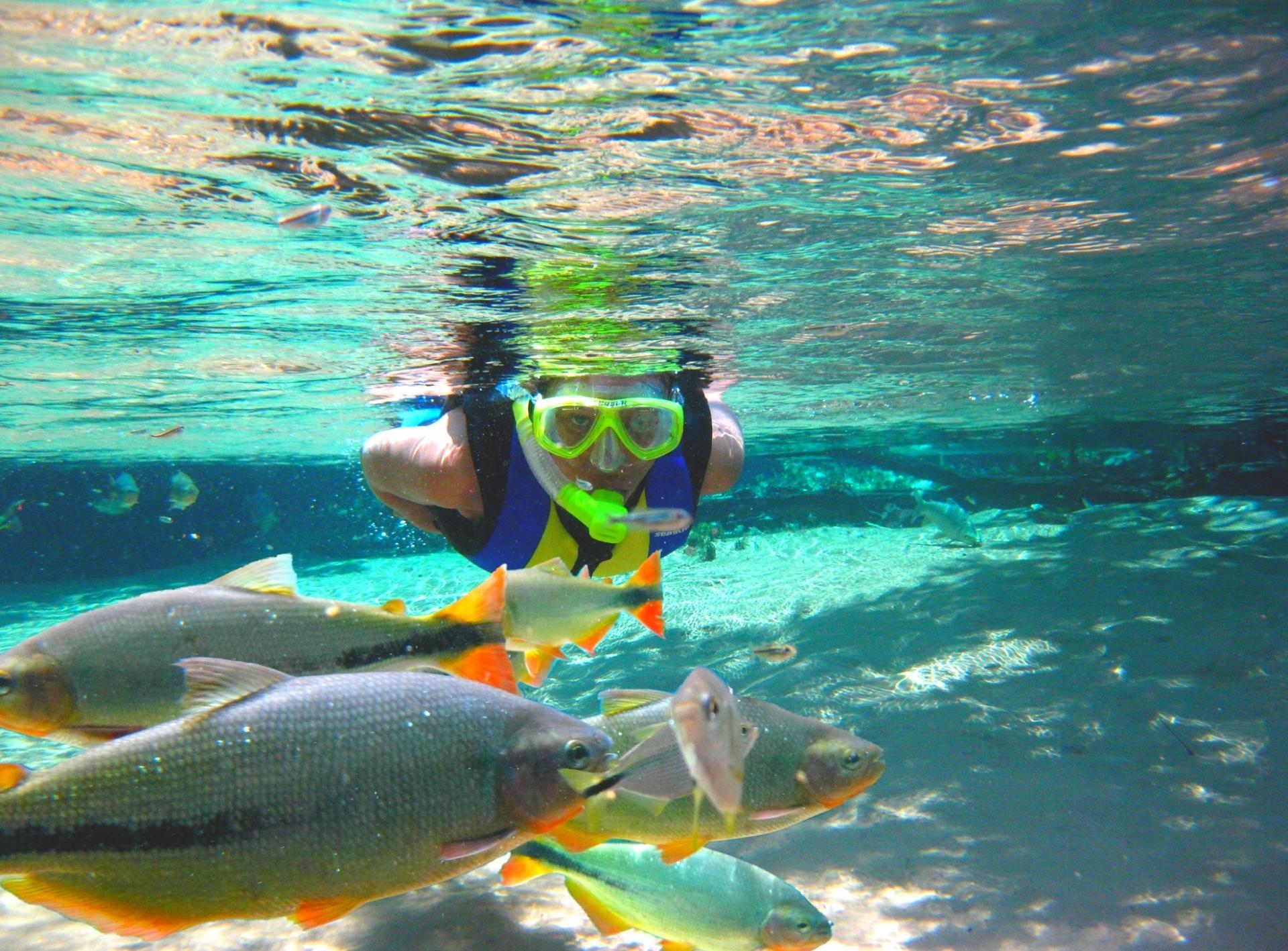 Why not use your vacation time in Brazil to dive into a completely different world, the underwater world? With more than 4,500 miles (7,000 kilometers) of coastline, Brazil offers a variety of interesting areas for scuba-diving. In addition, there are unique rivers, grottos and lakes just waiting to be discovered. Last but not least, there are good chances to get closer to whales, colorful fish and coral reefs in the water. Here are some inspirations for your scuba-diving plans in Brazil.
Fernando de Noronha
Fernando de Noronha is considered the top spot in Brazil by scuba-diving specialists. The water is pleasantly warm and below the surface there's visibility of up to 164 feet (50 meters), perfect for observing plant and animal life in their natural habitat. The archipelago of islands in the North Atlantic has more than thirty scuba-diving centers, whose different depths appeal to beginners and experts alike. The most popular places for scuba-divers at Fernando de Noronha are Laje Dois Irmãos, Cabeça das Cordas and Pedra da Sapata.
Since the archipelago is located at open sea, large marine mammals such as dolphins, sharks and whales regularly pass by on their migration routes, which are less frequently seen on the coast. All kinds of fish, sea turtles, moray eels, octopuses and manta rays are also often seen.

Bonito
For those interested in scuba-diving and snorkeling in rivers, there is no way around Bonito. This small town in the South Pantanal attracts thousands of visitors every year, who want to discover the crystal clear waters and the enormous biodiversity of the region. Rio da Prata is one of the most famous destinations. It's up to 23 feet (7 meters) deep and is home to fish species such as curimbatas, mato grossos and goldfish. It's an excellent and quiet area for scuba-diving with children.
No less famous is Abismo Anhumas. The water sometimes seems transparent and numerous flooded chambers are ready for the expedition. At the bottom of the cave, researchers have uncovered the bones of a giant sloth and a saber-toothed tiger, prehistoric animals from the Quaternary period. While swimming amidst limestone cones, which were formed thousands of years ago, you can immerse yourself up close in the historical atmosphere.

Ilha Grande
Clearwater in emerald tones attracts diversity from all over the world to Brazil's beaches in Ilha Grande near Rio de Janeiro. The sea is teeming with colorful fish, with the island's trademark being starfish. Their high number form a unique sight, which underwater photographers appreciate very much. The diversity of the waters is expressed in more than 800 identified species of flora and fauna. Laje Alagada and Laje Branca are popular scuba-diving areas, where extensive rock formations, now and then broken by white sand, are covered with starfish.
If you would like to catch a glimpse of a sunken ship while scuba-diving in Brazil, you'll find it in front of Ilha Grande. The wreck of Navio Pingüino in the bay of Sítio Forte is a tourist attraction. Fish species such as seahorses and rays swim in flocks around the wreck.

Chapada Diamantina
The Chapada Diamantina plateau in Bahia is world-famous for its numerous caves, whose natural beauty attracts countless scuba-divers to Brazil. The caves are enchanting with water in different shades of blue and green. Iraquara, the city with the third-highest density of caves in Brazil, boasts 97 caves, seven of which are more than a 3,280 feet (1,000 meters) in diameter. In Nova Redenção you will find Poço Azul (Blue Fountain), one of the most beautiful caves in Brazil. Here, scuba-divers can look down to the bottom and see stones, tree trunks and vegetation. There are also many other caves for scuba-diving such as Gruta da Pratinha (Silver Grotto), Poço Encantado (Enchanted Fountain) and Gruta Azul (Blue Grotto), which are rich in fish and impressive rock formations.
Ilhabela
Ilhabela, off the coast of the state of São Paulo, is characterized by a large number of sunken freighters, tugboats and sailing ships, especially off the south coast of the island, which has become the new home of marine animals and plants. Many localities are under strict nature protection. Hunting and gathering are strictly prohibited. The seabed is covered by enormous rock formations, full of coral, colorful fish and starfish.
Guarapari
36 miles (58 kilometers) from the capital of the state of Espírito Santo is the scuba-diving area of Guarapari, containing the largest richness of fish species in Brazil. About 220 species of fish have been identified, which can be admired when snorkeling or scuba-diving. Islands, wrecks and reefs are a part of the landscape of the region. The clean water allows unrestricted views of tropical fish, rays and turtles. More than one hundred years ago, the coffee freighter Bellucia sank on-site when it came into contact with a reef. The entire skeleton, covered with coral and seaweed, now provides a home for numerous species of fish.
Bombinhas
Bombinhas has about 15,000 inhabitants and lies on the north coast of Santa Catarina. About forty beaches are located here and 75 percent of the area is a nature reserve, an ecological paradise for scuba-diving in Brazil. Reserva Biológica do Arvoredo, a protected area, is home to the most beautiful scuba-diving areas and a scientific center for the study of flora and fauna. Here, a cold water stream from the Maldives meets the warm Brazilian water, creating an ideal ambiance for a wide variety of animals and plants. Penguins, sea lions and white whales, for example, are regular guests.
Arraial do Cabo
Along the coast of the state of Rio de Janeiro is Arraial do Cabo, the Caribbean of Brazil. White sand, shimmering blue sea and good visibility attract many visitors. The water temperature sometimes drops to 59 °F (15 °C), but with a wetsuit this is no problem. The temperature also favors lush nature, which differs from other scuba-diving areas in the North of Brazil. Sea horses, rays, turtles, whales and dolphins are regularly sighted. Penguins and orcas can also be seen from time to time. Arraial is a popular destination, especially for beginners. For those who only want to snorkel without venturing out into the open sea, we recommend three beaches: Praia do Forno, Praia Grande and Pontal do Atalaia.
Maragogi
The natural seawater pools of Maragogi, in the state of Alagoas, are a postcard motif. Around the city, a zone has been established to protect the coral coast, which preserves one of the richest ecosystems in Brazil. The local coral bank and warm waters attract scuba-divers who prefer quiet areas. The three areas with natural pools around the city are the largest in Alagoas and are home to crustaceans, fish and corals. For experienced divers, the rocks at Cabeços and two shipwrecks at open sea are an interesting challenge.
Nobres
The counterpart of Bonito in Mato Grosso do Sul is Nobres in Mato Grosso, in the North Pantanal. Near the capital, Cuiabá, crystal clear waters lay in wait. Aquário Encantado (Enchanted Aquarium) is one of the most famous attractions of the city. It is 20 feet (6 meters) deep and akin to the size of a swimming pool, allowing you to let yourself drift amidst multi-colored fish. At the bottom of the lake, you can discover the influence of the spring water. A secondary attraction are the monkeys in the typical vegetation of the Cerrado (Brazilian grasslands).
If you are not satisfied with only snorkeling, you can go deeper and observe goldfish, piranhas and other species while scuba-diving in Lagoa Salobra. Fallen tree trunks, light bundles and stone walls complete the picture of the unique underwater landscape.

Recife
Although it is a vibrant metropolis, Recife is also home to over twenty-five sunken ships off the coast, which is why it is also called the "diving capital of wrecks." The most popular are the steamships Marte, 48 and Bahia as well as the merchant ship Pirapama. All of them are home to turtles, parrotfish, rays, sponges and corals. Brave divers venture in front of the beaches of Recife, which are teeming with Atlantic nurse sharks.
Both beginners and experts will find great Brazilian scuba-diving destinations. Don't forget to pack diving goggles and fins for your Brazil trip!
Sources: https://vemvoar.voeazul.com.br
Source: Aventura do Brasil