Brazil: Natural Spectacles in the Southern Pantanal
July 02, 2013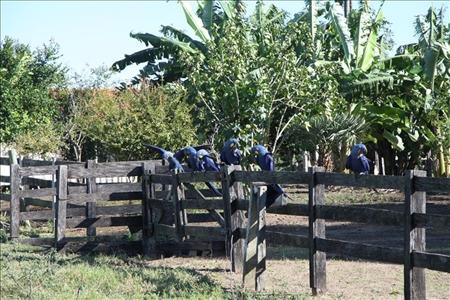 In the Brazilian Pantanal wetlands, you will find a very extraordinary flora and fauna, which is protected among others in the National Park Chapada dos Guimaraes, with its breathtaking landscape. Between waterfalls, caves, table mountains, and canyons one of the most species-rich animal worlds of Brazil is located. Diving and snorkeling in caves and crystal clear lakes is an absolute must here. The water in these lakes in the southern Pantanal is turquoise blue down to the bottom and you can swim eye to eye with the most diverse and colorful fish species.
The waterfall Serra Azul is located about 170 km away, near the village of Bom Jardim. You can reach this natural spectacle after a beautiful hike through the local rainforest. In the lagoon of the waterfall, you can also dive and swim.
The early riser will have a very special experience here in the morning hours. In the nearby Lagoa das Araras, countless macaws, other parrot species, and parakeets awaken at this time of day and fill the morning with their very own soundtrack.
Source: Aventura do Brasil