Recycled Surfboards against the Plastic Waste in Oceans
April 27, 2018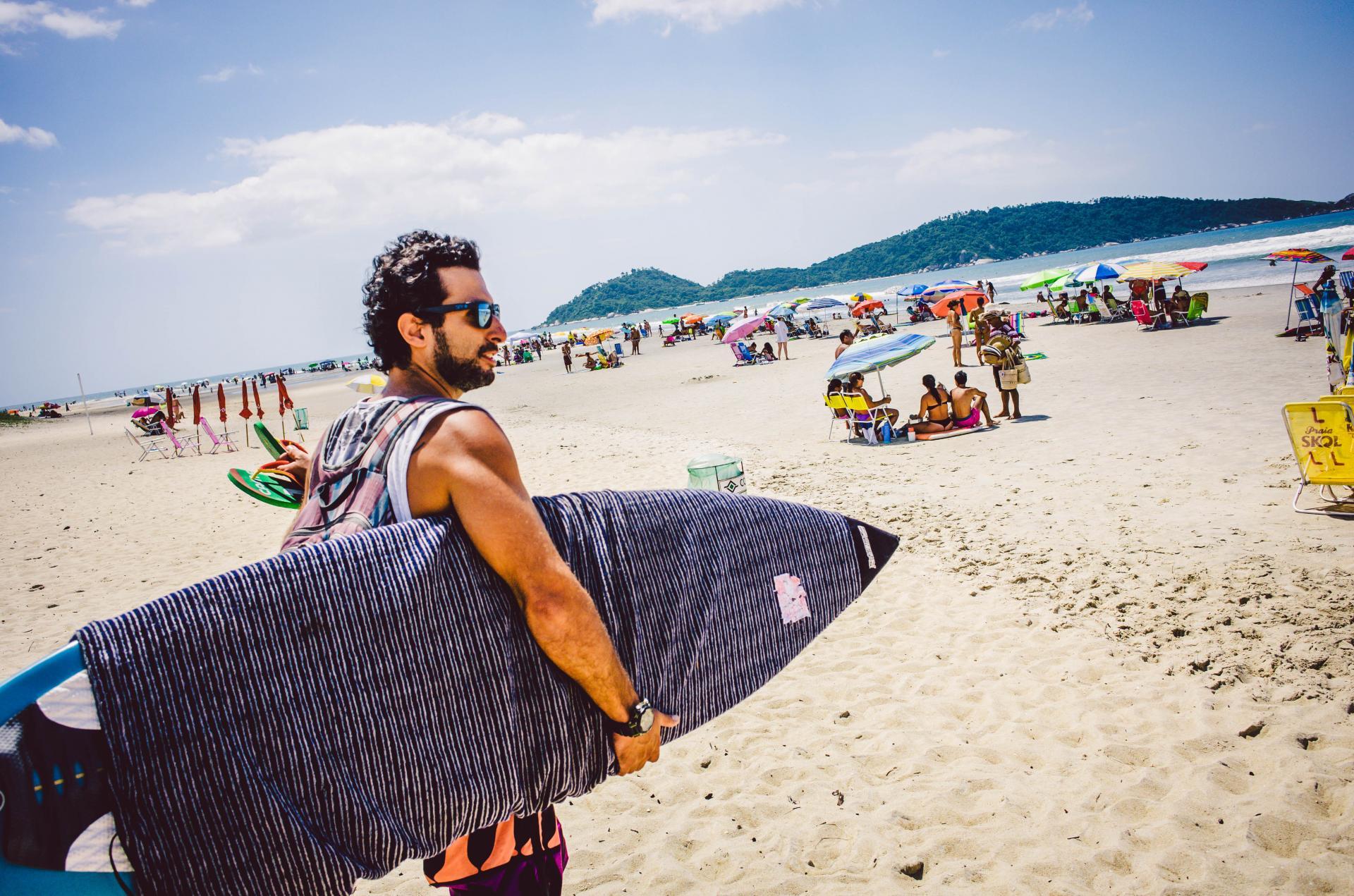 Surfing in Brazil: More than just a sport
Casually clamped under the arm, strapped to the car roof or mounted on the side of a bicycle, every enthusiastic surfer becomes inventive when transporting his surfboard.
Your Brazil round trip will take you past many beaches where numerous surfers take advantage of the best waves. Surfing has become a cult in Brazil and you will hardly meet a Brazilian who has not been on the board at least once.
At the best spots the professionals prepare for upcoming competitions and on the beaches, one surf school follows the other. If your interest in this sport has been rather limited so far, your curiosity will be aroused after your first visit to the beach in Brazil at any rate.[b] Daring jumps and incredible appearing tricks on the board will soon fascinate you.
[/b]
Recycled surfboards set the tone on the beach
Surfing embodies a lifestyle that above all expresses the connection with nature. In the midst of the waves, surfers are exposed to the forces of nature and must develop the necessary feeling to glide over the water in harmony with it.
Surfing sets a good example when it comes to the question of harmony between man and nature. All the more frightening are the regularly appearing pictures of surfers who surf in the trash instead of in the water. The topic of polluted waters is not new to us, but especially in the last few years, the plastic waste in the oceans has reached alarming proportions.
Even the Brazilian surfer Jairo was directly confronted with the miserable conditions of the garbage-contaminated waters during his stay on the Hawaiian island of Oahu. For Jairo, it was soon clear that something must be done about the further pollution of the oceans. The washed-up plastic waste gave the surfer an idea with which he wanted to set an example. In 2007, Jairo finally constructed the first recycled surfboard using collected plastic bottles. The positive response of the islanders to his project motivated Jairo to create further models and spread the idea around the world.
A project in the fight against plastic waste
Back in Brazil, Jairo met his girlfriend who shares his passion in the fight for a clean environment. Together, Jairo and Carol collected plastic bottles on the beaches of Brazil to make the first boards here as well. Together the couple got involved in environmental projects and supported actions for a sustainable way of life, especially in sports.
In 2012, Jairo and Carol traveled the coast of Brazil on the "Prancha Ecológica", as the recycled surfboard is also called. The project demonstrates the possibility to combine the nature-orientated surf sport with effective environmental projects.
Back in Garopaba, in the beautiful state of Santa Catarina, the couple finally founded the association "Eco Garopaba". To introduce the project, Jairo and Carol already visited fourteen Brazilian states and held countless lectures to sensitize the inhabitants to the topics of nature conservation, recycling, and sustainability.
The project of recycled surfboards is constantly evolving and has been able to inspire surfers all over Brazil. The actions initiated by "Eco Garopaba" contribute significantly to the cleaning of the beaches and the conscious use of natural resources.
Surfing is a passion that probably no one can ever put into words and Brazil definitely offers the most beautiful places to try your hand at surfing. But Brazil's dream beaches are also perfect for relaxing and sunny walks along the rushing sea.
On the 4 days travel module Discover Florianopolis you can let yourself be overwhelmed by the paradisiacal beaches and the unique nature. The possibilities for a Brazil trip are endless and will take you to magical places. If you are still looking for inspiration, the Aventura do Brasil team will be happy to advise you.
Source: www.ecogaropaba.com.br
Source: Aventura do Brasil