The Most Beautiful Hiking Trails in Brazil
July 10, 2018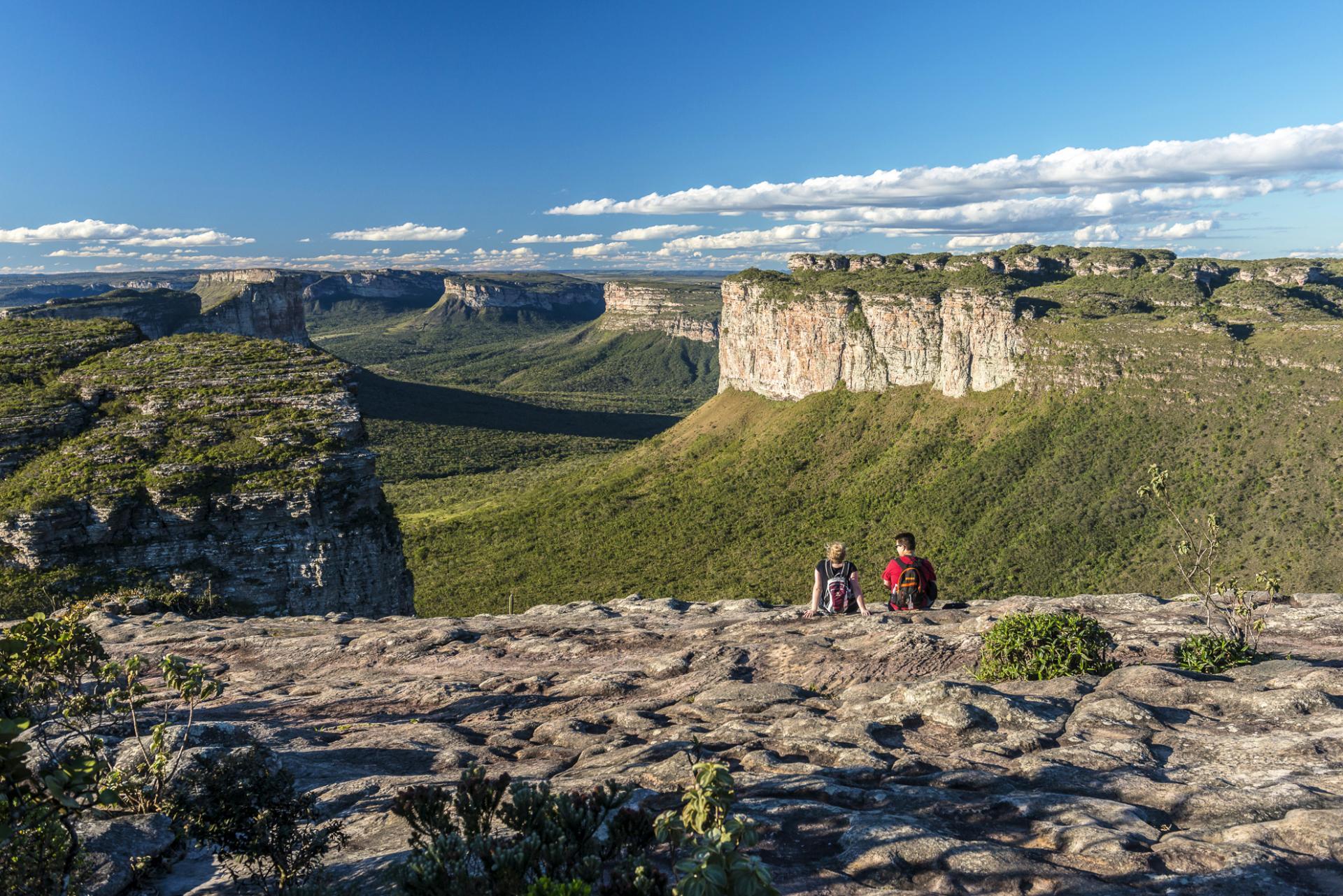 Brazil: A Paradise for Hiking Enthusiasts
The "teddy bears picnic..." is a typical song that's often sung. Even during a trip to Brazil, there are plenty of opportunities to perform this classic. No wonder, since Brazil is home to countless natural paradises that can be explored on foot. The main purpose of hiking is to get to know the landscape in peace and contemplation. The more beautiful the destination, the greater the incentive, many hikers might think. Here we present Brazil's most beautiful hiking destinations—be they beaches, mountains or waterfalls—along with an overview of our active tours in Brazil.
Cunha - Pedra da Macela
Cunha is located in the state of São Paulo. In the city's surroundings, there are a lot of possibilities for excursions and to explore charming little villages like Pedra da Macela (Rock of Macela). The impressive views reach as far as Ilha Grande, Paraty and Angra dos Reis.
Most of the way to Pedra da Macela is traveled by car. Afterward, a 1.24-mile-long (2 kilometers) hiking trail follows to the top at 6,233 feet (1,900 meters) above sea level. The view is breathtaking on cloudless days.

Campos de Jordão- Pedra do Baú
With an altitude of 6,398 feet (1,950 meters), Pedra do Baú (Box Rock) is one of the postcard motifs of Campos de Jordão. The distance to Pedra do Bauzinho can be covered by car. The more adventurous then climb up through the forest for about one-and-a-half hours to the highest point. An easier hiking trail starts in Campos de Jordão, where there is excellent tourist infrastructure thanks to the many visitors. This alternative is well signposted and easily accessible.
Ilhabela - Bonete
Bonete is one of the most beautiful beaches in Ilhabela. If you prefer wild and rustic hiking routes, this is the place to be. The path is 9.3 miles (15 kilometers) long and well signposted. Hikers must be prepared for a strenuous three-to five-hour tour, which is compensated well by the paradisiac Bonete beach. A wonderful thing is, that this hiking tour can be combined with a visit to Cachoeira da Lage or with other beautiful beaches.
Paraty - Praia do Sono
Praia do Sono (Beach of Sleep) is located near Paraty but is difficult to reach. As this beach is far away from roads, it's one of the best-preserved beaches on the coast between Rio de Janeiro and Santos. There is hardly any infrastructure on the beach, so we suggest a weekend camping trip. You have to do a two-hour walk, starting at Condominio Laranjeiras on Trindade road. Alternatively, boats depart from Trindade or Paraty and those who are interested can comfortably sail to the beach.
Ilha Grande - Praia do Aventureiro
Ilha Grande is one of the most visited beach destinations in Brazil. Rightly so, as Praia do Aventureiro (Beach of the Adventurer) proves. This postcard beach enchants all with a fallen coconut palm, white sand and turquoise blue water. To get to the trail, you have to take the T9 route that connects Proveta to Aventureiro. The hike takes about three hours and requires physical fitness.
Rio de Janeiro - Morro Dois Irmãos
One of the most popular hiking trails in Rio de Janeiro is the Trilha do Morro Dois Irmãos (Hill of the Two Brothers). The adventurous ascent is worthwhile. At the end of the trail, you will have a 360-degree panorama view of the entire city and its beautiful beaches. The one-mile (1.6 kilometers) route takes at least two hours to cover. Our tip: walk the trail with a guide, as there are no signs. The view is best enjoyed on sunny days.
Chapada dos Veadeiros - Cachoeira Santa Bárbara
First, an explanation of the name Chapada. These are high plateaus that are often found in Brazil and feature countless waterfalls and fascinating rock formations. One of the many starting points of Chapada dos Veadeiros is Cachoeira Santa Bárbara, with crystal clear water. Due to the white sand at the bottom, the water almost appears golden. The 3.7-mile (6 kilometers) tour can be done on foot or by jeep. But a guide must be present. The cost is 10 reais per person (about 2.68 dollars, as of July 2018). Our verdict: the investment is worth it!
Chapada Diamantina - Cachoeira Fumacinha
Chapada Diamantina offers a variety of attractions for hiking enthusiasts. Cachoeira da Fumacinha is particularly noteworthy. One has to be physically fit to be able to walk the difficult path to the end. It leads through a steep and difficult-to-access canyon, which is why it's mandatory to be accompanied by a guide. The route is made up of two parts: a hike along the stony cliffs and river crossings, jumping from stone to stone. Good balance is essential. After reaching your destination, your eyes will be amazed at the sight before you. We promise!
Chapada dos Guimarães - Cachoeira Véu da Noiva
Chapada dos Guimarães is located in the state of Mato Grosso and offers many hiking trails and waterfalls. Cachoeira Véu da Noiva (Bridal Veil Waterfall) is especially worth mentioning. The company of a guide is obligatory, even if it is only 1,968 feet (600 meters) to the viewpoint. Immense masses of water plunge into the depths and one can enjoy an unrestricted view to it.
Santa Catarina - Lagoinha Leste
Lagoinha Leste beach offers pure relaxation. Greenish water and the undeveloped landscape enchant the eye of the beholder. Access is not easy. You have to walk one-and-a half hours through the Atlantic Rainforest. The path begins in the south of Praia do Matadeiro. Those who wish will have private time on the beach.
All who are itching to plan their next - or even their first - hiking trip to Brazil, are welcome to contact us. The Aventura do Brasil team will arrange an appropriate trip for you.

Sources: www.guiadasemana.com.br
Source: Aventura do Brasil