Brazil Travel Packages: Sao Paulo
The metropolis of Sao Paulo is located in the Southeast of Brazil. Almost 12 million people live in the city and, together with the metropolitan region, it is one of the largest cities in the world. Especially during rush hour or when it rains, however, you should have a little patience because of the very heavy traffic. Sao Paulo is the economic, financial and cultural center of Brazil and is also multicultural due to numerous immigrants. But the megacity can do more than just business. The quality of service in the tourist sector is excellent. Countless art galleries and museums await your arrival. Architecturally, the city offers ultra-modern high-rise buildings as well as a number of historic churches and buildings. You will get a good overview of the diverse cultural influences in the individual districts, some of which are Italian, Oriental, Arabic or Jewish. In addition, hundreds of bars, clubs, cinemas, theaters and show stages compete for your favor. Sao Paulo offers a wide range of very good—sometimes even award-winning—top-class restaurants for you to indulge. The metropolis is located in a subtropical climate zone. In the summer (December to February) you can expect high temperatures of 81 °F (27 °C) and 82 °F (28 °C). The temperature low during these months is around 64 °F (18 °C) to 66 °F (19 °C). In the winter (June to August), temperatures drop when highs settle at 72 °F (22 °C) to 73 °F (23 °C) while the average temperature low is 52 °F (11 °C) to 54 °F (12 °C). The summer has much more precipitation than the winter.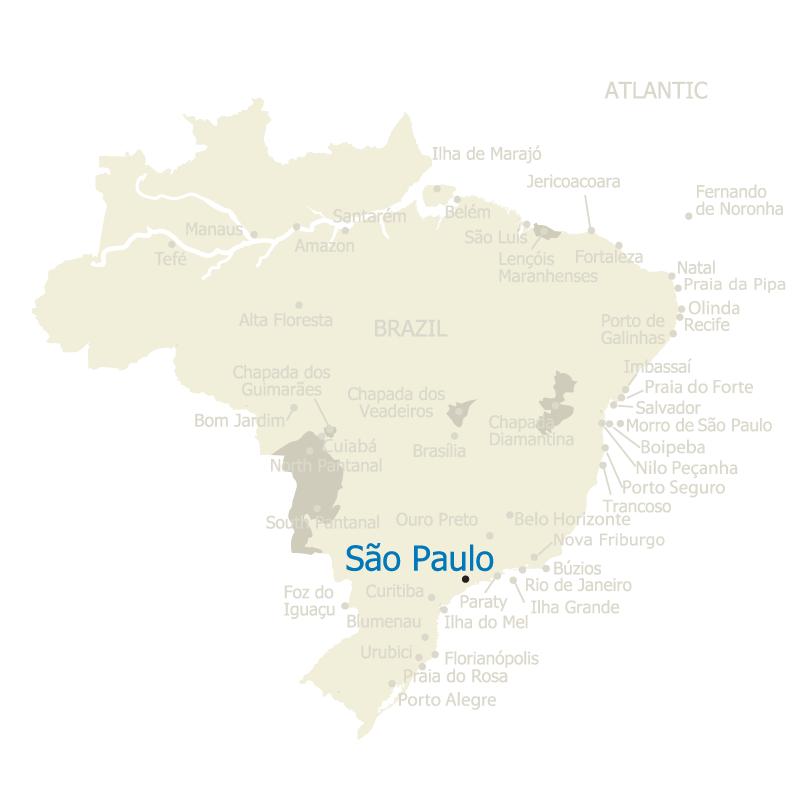 Below you will find our travel packages for Sao Paulo:
---
8 Days of Culture, Nature, and Beaches
Brazil | Sao Paulo, Paraty, Ilha Grande, Rio de Janeiro
During this journey you will experience the fantastic Costa Verde during your own road trip. The green coast of Brazil with its small bays, beaches, and islands will amaze you. Discover the picturesque colonial town of Paraty and get to know the diverse surroundings on your own. Enjoy paradise and the dreamy beaches of Ilha Grande and go on excursions as you please.
9 Day Individual Tour by Bus, Train, and Boat
Brazil | Sao Paulo, Foz do Iguacu, Curitiba, Ilha do Mel
A trip to Brazil could hardly be more varied. Experience the pulsating international metropolis of Sao Paulo, the impressive waterfalls in Foz do Iguacu, the beautiful city of Curitiba, a train ride through the dense Atlantic Rainforest, and the romantic and untouched beauty of Ilha do Mel (Honey Island). This 9-day journey by land will take travelers through the South of Brazil and combine some of the country's main attractions with unique natural experiences and deep insight into Brazilian culture.
3 Days of Culture, History, and Sightseeing
Brazil | Sao Paulo
Discover Sao Paulo, Brazil's biggest city. Enjoy its various parks and historical monuments, and explore the historic city center and Japanese district on this private tour. Sao Paulo is the perfect gateway to many other destinations in Brazil. By rental car, you can drive along the coast to Rio de Janeiro, or you can take advantage of the many direct flights to any of Brazil's state capitals.