Stand-Up Paddle and SUP Yoga in Brazil
February 09, 2015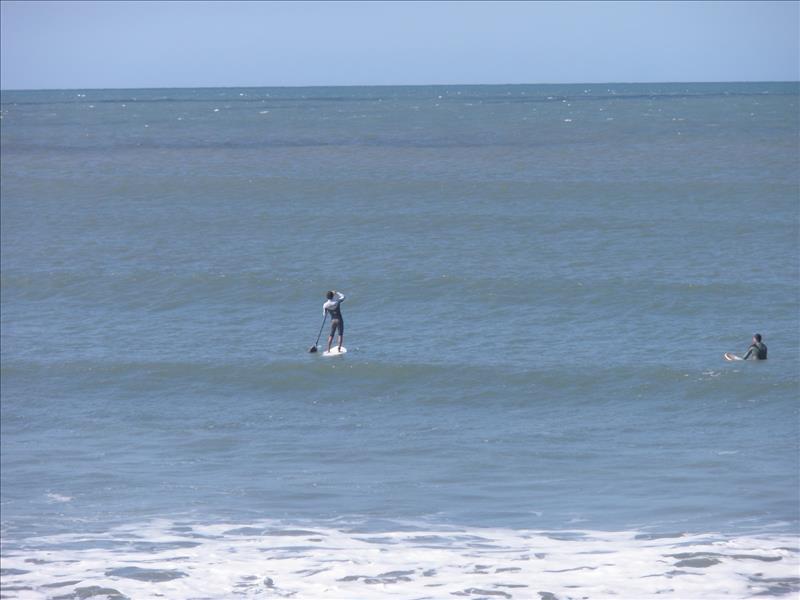 Pure relaxation on the board: Take a deep breath in Brazil
What does SUP stand for? The explanation is not as simple as explaining multiplication tables to someone. SUP stands for Stand Up Paddle. But it is more than just sport. It's about being on the water, breathing fresh air, and sharing the experience with (often animal) friends. This is exactly what you can experience on a vacation on a Brazil trip. A paddle, a board, and water - that's all you need. It is about leaving behind a small piece of everyday life, paddle by paddle, enjoying the nature around you, and relaxing.
The roots of Stand Up Paddle Surfing go back to the Polynesian culture, where fishermen used to move on the sea in their canoes standing upright. Many hundreds of years later, in the 1940s, stand up paddle was a way of transportation for surf instructors in Hawaii, who could better accompany their students on large wooden boards on the water. The most current water sport trend is currently conquering even the coasts, lakes, and rivers of Europe. Stand Up Paddling is also at the top of the list of the most popular water sports on vacation in Brazil. Who would like to be active on its journey through Brazil, should have a look at our Brazil travel components in particular the Brazil active component. There one can get to know during the Brazil vacation not only the highlights of the country, like for example the breath-robbing waterfalls of Foz do Iguacu, but also from the tourism more unaffected areas such as Urubici.
Over the years, SUP has developed into an independent water sport. This trend was brought to Brazil mainly by Rico de Souza, one of the living surfing legends of Brazil. Among the most popular stand-up paddle destinations in Brazil are the Lagoa da Conceicao in Florianopolis, the Lagoa dos Ingleses in Belo Horizonte, and the Lago do Taruma in the Amazon region. Also, numerous waters in and around Rio de Janeiro inspire stand up paddling fans and Brazil travelers who want to spend their vacations in one of the most diverse countries in South America. These include Lagoa Rodrigo de Freitas, Copacabana Beach, Leblon Beach, Recreio, and the Barra da Tijuca Channel.
Stand Up Paddling offers a very effective whole body and balance training and also the great feeling of gliding towards the horizon on the water. Want to relax even more during your vacation? No problem! Some destinations in Brazil now even offer SUP Yoga. Yoga is more than exercise and surfing is more than a sport. Both activities embody a lifestyle. Together they offer us the opportunity to create a balance between body, mind, and nature. On a round trip through Brazil, SUP Yoga offers relaxation, for example after the hustle and bustle of a big city or after an action-packed stay in the Amazon region.
Some terms from the ideology of yoga also play an important role in surfing, for example, "Asanas" (posture) and "Pranayama", the control of breathing and life energy. A correct posture strengthens the spine and helps to paddle to progress more efficiently and faster. "Pranayama", the correct control of the life energy, allows you to improve your breathing techniques. If you want to experience the fusion of these two ideologies up close during your vacation on your Brazil trip, you are in good hands on the beaches of the south in Brazil. The practice of SUP Yoga requires a lot of concentration and balance and helps to gain more self-confidence and body awareness. Exercise classes are offered in Minas Gerais, Brasilia, and Rio de Janeiro, among others. But also further south you can meditate on the board, for example in Garopaba. Here you can also find many other beaches that are among the best surf spots in Brazil, such as Praia do Rosa, Guarda de Embau, Ibiraquera, and Imbituba.
Who looks during the Brazil vacation for harmony between body and spirit should include beside Brazil's nature paradises also the coastal hotspots into its travel plan. After all, is there a better way to get carried away by the rhythm of the waves while getting to know the world's fifth-largest country from a new perspective, for example by standing on your board upside down.
Sources: globoesporte.globo.com; mundosup.com; puresurfyoga.com; sorocaba.nossobemestar.com; supyogabrasil.com.br

Source: Aventura do Brasil