Brazil Travel Packages: Foz do Iguacu
The city of Foz do Iguacu, in the state of Parana, is one of Brazil's most popular vacation destinations. About 250,000 inhabitants live at the mouth of the Iguacu River flowing into the Parana River, closely bordering Paraguay and Argentina. Foz do Iguacu and the Paraguayan city of Ciudad del Este are connected by the Bridge of Friendship ("Ponte da Amizade"). The impressive Iguacu Waterfalls, "big water" in the language of the Guarani, are one of the most famous natural wonders of Brazil. We recommend visiting the Brazilian and the Argentinean side of the national park. Both countries are naturally separated by the water masses. A total of 275 waterfalls extend over a width of nearly two miles (three kilometers) and fall more than 260 feet (80 meters) into the natural abyss. There is also the jungle to discover, which is very well preserved in this area. The forest was protected as a national park in 1939. The climate in Foz do Iguacu is subtropical and the humidity is high. Temperatures from November to April reach upwards of 82 °F (28 °C) to 90 °F (32 °C), and between May and October highs are between 73 °F (23 °C) and 79 °F (26 °C). However, it can get quite cool, especially in the winter months from June to August. These months are again good for visiting Foz do Iguacu because of the rainfall.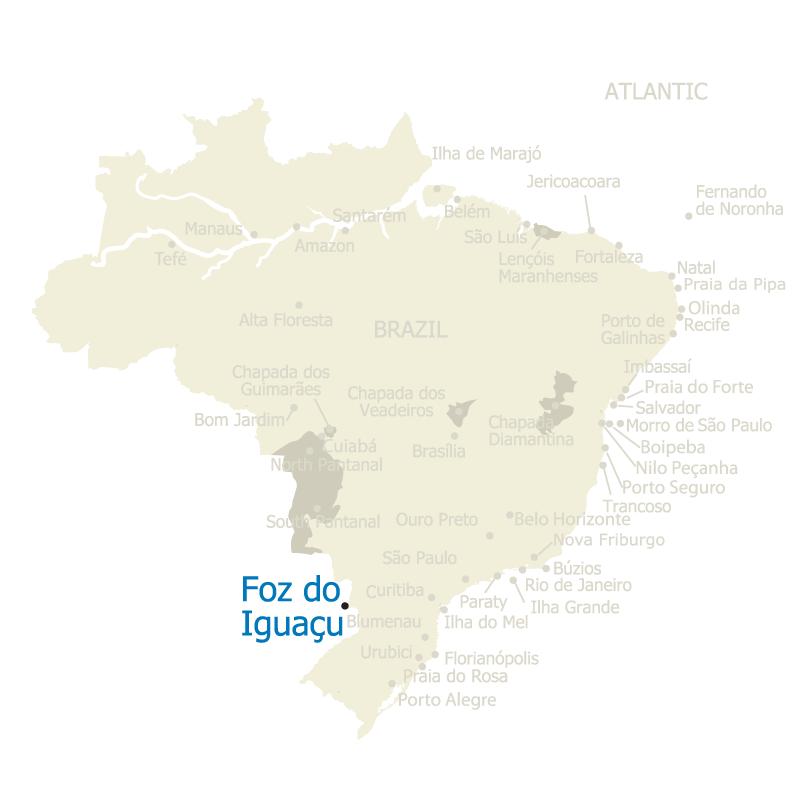 Below you will find our travel packages for Foz do Iguacu:
---
9 Day Individual Tour by Bus, Train, and Boat
Brazil | Sao Paulo, Foz do Iguacu, Curitiba, Ilha do Mel
A trip to Brazil could hardly be more varied. Experience the pulsating international metropolis of Sao Paulo, the impressive waterfalls in Foz do Iguacu, the beautiful city of Curitiba, a train ride through the dense Atlantic Rainforest, and the romantic and untouched beauty of Ilha do Mel (Honey Island). This 9-day journey by land will take travelers through the South of Brazil and combine some of the country's main attractions with unique natural experiences and deep insight into Brazilian culture.
3 Days of Nature
Brazil | Foz do Iguacu
In Foz do Iguacu, you will get to know one of the most visited places in Brazil: the impressive Iguacu Waterfalls. The waterfalls are located in Brazil and Argentina. On the Brazilian side there is a spectacular view and on the Argentinian side you will get closer and experience the waterfalls more directly, especially with the impressive "Garganta del diablo" (Devil's Throat).