Brazil as a Travel Destination - 6 Reasons to Travel to Brazil
September 27, 2021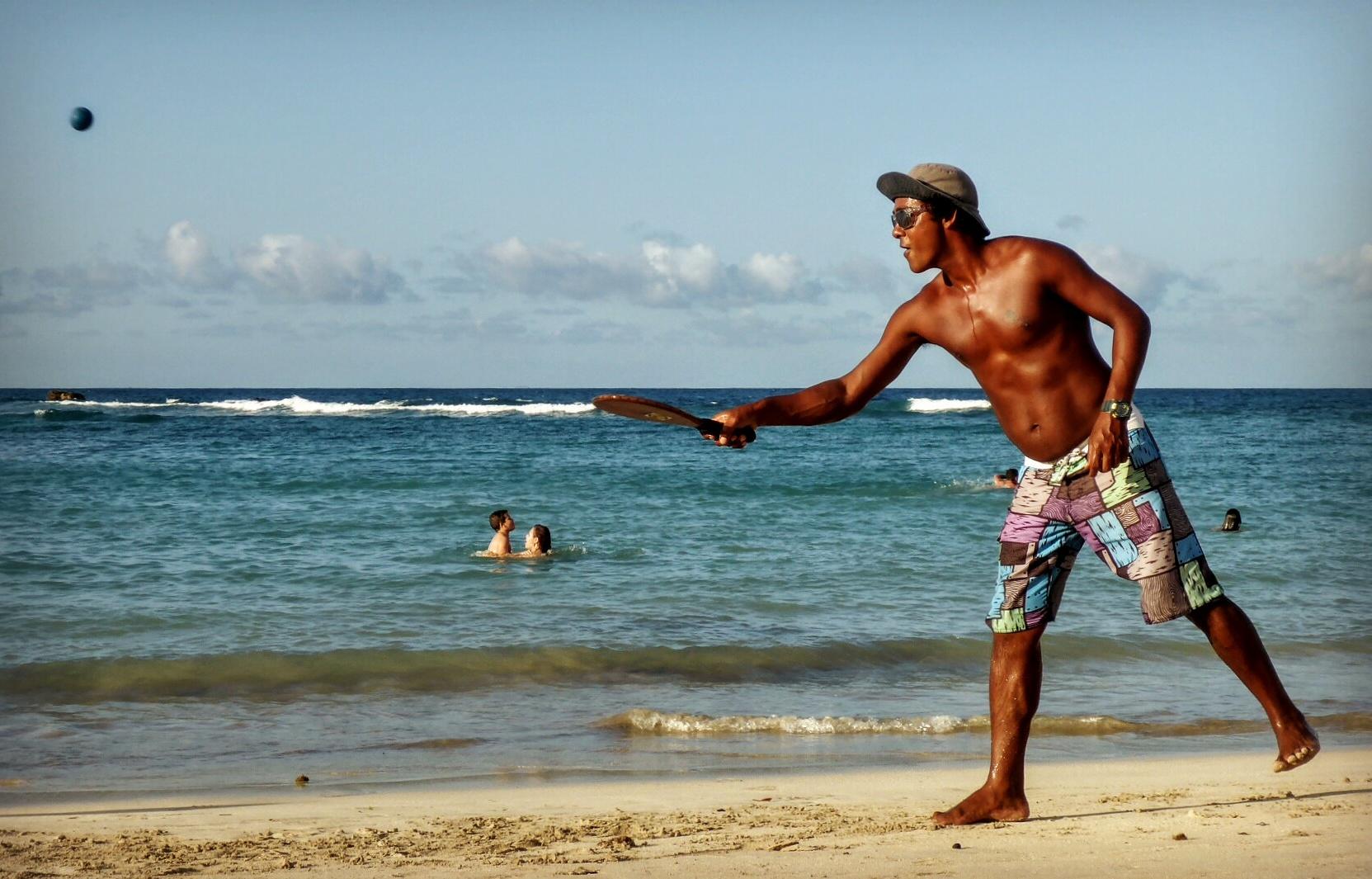 Have you ever thought about a Brazil vacation, but then decided on a closer destination? Or maybe your travel companion still needs to be convinced about the destination? That shouldn't be a problem, because there are plenty of reasons to travel to Brazil. The country is so diverse that there is something for everyone. Let our top 6 inspire you!
1. Beach vacation in paradise - 1,500 breathtaking beaches
2. Bye-bye dreary everyday life - the fascinating colors of Brazil
3. Big city life - lively metropolises
4. Life takes place outside - diverse nature experience
5. For gourmets - a culinary journey of discovery
6. A vida é boa - pure Brazilian joie de vivre
1. Beach vacation in paradise - 1,500 breathtaking beaches
For many people, a vacation means one thing above all: summer, sun, and beach. But do you have to travel all the way to get there? Whereas we also have beaches and sunshine in the USA. Yes, it is worth it! There are countless beautiful beaches and thanks to the tropical temperatures you can swim all year round. In total, the Brazilian coast is over 7,000 kilometers long. Where to even begin?
Probably with the Brazilian beach you thought of first. Hardly anyone leaves Brazil without at least a brief visit there. The Copacabana is in the district of the same name in Rio de Janeiro. Those who like extensive walks on the beach will get their money's worth here. You can walk a whole 4 kilometers along the beach promenade. However, you should not hope to have the beach to yourself. Because there it is anything but quiet. Beach volleyball and soccer are played on the beach. Street vendors want to get rid of their articles. And you will also see one or the other bather.
Is that too much hustle and bustle for you? Then maybe the Baia do Sancho on the island of Fernando de Noronha is something for you. Is this an absolute insider tip? Not really. Because in 2017 and 2020, the beach was awarded the "Travelers' Choice Award" by Tripadvisor as the most beautiful beach in the world. As a result, the beach has naturally received a lot of attention. Nevertheless, we recommend a visit with a clear conscience. Indeed, here they have acted quickly to prevent mass tourism. The area has been declared a UNESCO World Heritage Site and they make sure that the nature protection laws are respected there. As a result, you don't have to worry about being overrun by crowds. Of course, the number of visitors to the island has been limited. What this means for you is that you should plan your visit well in advance. Take a vacation on the most beautiful beach in the world. In Brazil, you can!
But these were only number 1 and 2 of about 1,500. We would like to spare you a complete list at this point. Just think about what beach type you are and find the right one for you. Jericoacoara in the north of Brazil, for example, should be kept in mind if you like windsurfing or kitesurfing. The east trade winds provide perfect conditions. Or maybe you have already planned a visit to the beautiful city of Florianópolis in the south. Then you can choose from 42 fantastic beaches there alone. The list is long. And the fine, white sand beaches overlooking the azure waters let you know that the long journey was worth it.

2. Bye bye dreary everyday life - the fascinating colors of Brazil
The sun is shining. The sky is shining and could not be bluer. The streets are lively. People in colorful swim trunks and bikinis cavort on the beach. Birds form small splashes of color among the tree leaves. House walls are decorated with colorful prints and paintings. You can't always trust the pictures on TV. What sounds like a movie, however, actually looks the same in the country. If you are looking for a vacation destination to escape the dreary everyday life at home, then Brazil is the right place for you.
Whether in the big cities, in the more rural regions, or the middle of nature: life is more colorful than we know it from home. If you think that you have to travel especially for Carnival, we can reassure you. Brazil does celebrate the festival with fancy costumes, lots of glitters, and giant puppets that are worth seeing. But if you can't experience it, you'll still get your cumulative load of colorful impressions.
For example, in the Capital da Alegria - in the Capital of Joy. This is the name of the city of Salvador in the state of Bahia. The old town district of Pelourinho is particularly colorful. Blue, yellow, red, green. All the colors of the rainbow are represented. The colorful colonial houses put people in a good mood just by looking at them. If you like street art and graffiti, you should look for them in the larger cities. The artworks are now so popular and hip that you can have them shown and explained on guided street art tours. For some, a nice alternative to a visit to a museum.
While people have painted the facades and walls themselves, Brazil has some creatures that are colorful by nature. Have you ever seen a toucan in real life? The bright orange color of its beak is so intense that it looks fake again. We know parrots as popular pets. In Brazil, however, you won't be able to experience them in a cage, but in the wild. With their colorful plumage, they attract attention and are beautiful splashes of color in the trees. Did you know that there are pink river dolphins in the Amazon? Somehow everything is a bit more colorful here.
Maybe you like the underwater world and go snorkeling or diving. Then you will also discover all kinds of colors underwater. About 230 species of fish and 15 species of coral cavort are found underwater. Everything that robs us of energy in the winter, you can block out in Brazil.
3. Big city life - bustling metropolises
If you are not the type to lie on the beach on vacation, we have another reason why Brazil is worth your while. If you like to get out and see things, pack your running shoes and hit Brazil's big cities.
Brasília has been Brazil's capital since 1960 and makes every architect's heart beat faster. People wanted to have a capital that was also geographically located in the center of the country. And so the city was planned in detail and construction began in the 1950s. Meanwhile, Brasília is an impressive city. You will find there some masterpieces of the famous architect Oscar Niemeyer, which in the meantime, like the city itself, have been declared a UNESCO World Heritage Site.
Or how about the southernmost major city in Brazil, Porto Alegre? The city is located in the state of Rio Grande do Sul, very close to the border with Argentina and Uruguay. Here you will not only experience Brazilian big city feeling but also influences from the two neighboring countries. The highlight of the city is the historic center with the Mercado Público.
Two cities that are probably on most vacationers' bucket lists are also Brazil's largest: Rio de Janeiro and São Paulo. And both are a good reason to get on a plane. For many, Rio is the most beautiful city in the world. And when you're there, you'll understand why. Beaches, mountains, nature, big shopping malls, and breathtaking sights. You will find all this in Rio.
São Paulo is also an absolute highlight and can't be compared to anything you know. São Paulo is the largest city in Brazil and until you have been there, it is hard to imagine how big and full of life this city is. On the list of the largest metropolitan regions in the world, São Paulo is already in 9th place, ahead of Los Angeles, Moscow, and Mexico City. There is plenty to see. Brazil has a lot to offer for city trip fans.
4. Life takes place outside - varied nature experience
Do you feel most comfortable when you are out in nature? Brazil will not disappoint you. Life takes place outside all the time. No wonder, when you see what you get to see there. The largest tropical rainforest area in the world is located here. Reason enough to set out. But that's not all. While you're there, you can still marvel at one of the most fascinating waterfalls in the world.
Foz do Iguaçu is always worth a trip. The name comes from the Guarani language. I stands for water and guasu for big. In any case, the name lives up to its promise. The city is located in the state of Paraná in the southwest of Brazil. The natural wonder of the Iguaçu Falls is located directly on the border with Argentina and can be visited from both sides. The best view, however, is from the Brazilian side, as most of the falls are on the Argentine side. To experience the violence of the water is unique. Anyone who has ever visited Niagara Falls knows roughly what overwhelming feeling we are talking about. And although Niagara Falls are probably the better known in our country, the Iguaçu Falls are three times as big. Which makes them the largest waterfalls in the world. The water flows up to 262 feet (80 meters) deep there. Since 2011, the waterfalls are on the list of the Seven Wonders of the World of Nature. An experience you will not forget so quickly. No matter how many waterfalls you have already seen in your life.
If this is not spectacular enough for you and you want to be amazed, even more, a visit to the Amazon Rainforest is an absolute must. It is considered the tropical forest with the highest biodiversity and you can see dolphins, sloths, jaguars, and of course numerous bird species such as macaws and hummingbirds. Not only the animal world is impressive. Plant lovers will also discover many new things here. Up to 250 different tree species form the basis of life for many plants. They can grow to a height of 230 feet (70 meters). So-called board roots support the trees, which grow above ground due to the nutrient-poor soil and can grow up to 33 feet (10 meters) high. This is a sight we are not familiar with from our forests. So that the plants can survive here, they often grow on the branches of the trees. Ferns, bromeliads, or even orchids. If you look up, you can discover quite a few things.
5. For gourmets - a culinary journey of discovery
Do you like to eat out and try new dishes? Then there are many reasons for you to travel to Brazil and go on a journey of discovery. We know that there're different cuisines. The menu at the Italian restaurant is different from the menu at the Mexican restaurant. Each country has its cuisine with wonderful delicacies. It is exactly the same in Brazil. The eating habits are not the same in every region and the specialties sometimes differ significantly due to the different influences. In the north, the influence of the indigenous population is still clearly visible today. People eat a lot of river fish, including piranhas. If you are traveling in the north, try caruru: sauteed crabs with a spicy sauce of red pepper and okra. In the south, you will probably find European food more often, because that is where most of the descendants of immigrants live. But also there you eat typical Brazilian rice, beans, and meat. In various forms of preparation.
In fact, there is one dish that has managed to become the national dish: the feijoada. A bean stew in which the beans are cooked with charque (dried meat), smoked sausage, tongue, pig's ears and feet, cloves, bay leaf, whole black peppercorns, garlic, and onions. This is traditionally served with rice and farofa (roasted cassava flour).
What we also know from home and what is becoming more and more popular in recent years: Delicacies straight from the food truck. Whole street food festivals are held in our cities and every truck has something fancy to offer. But for that, you usually have to pay a little more than normal. Very few Brazilians know what a street food festival is, yet they take place there virtually always and on every corner. And they are much cheaper than in our country. You can easily find the vendors on the street with their small carts or stalls.
You will find many typical Brazilian snacks at the stalls. One of them is the pão de queijo, which translates only very unspectacularly as cheese bread. However, it is a pastry made from cheese and starch. Coxinhas are small fried potato croquettes stuffed with chicken meat. Or how about a Brazilian crepe? Tapioca is a flat cake made from cassava flour and, like the French specialty, is prepared with either sweet or savory fillings.
Brazilians love to eat sweets. Do you? Then be sure to keep an eye out for the delicious little brigadeiros. The chocolates are made from condensed milk, butter, and cocoa and may even be a bit too sweet for some palates. You should definitely try them.
In the meantime, açaí has also become a food trend in our country. A kind of smoothie that is prepared with açaí berries. The whole thing becomes a so-called smoothie bowl when you add other ingredients such as fruits and nuts. Brazilians love it and are very proud of this delicacy. Often açaí is offered by vendors on the beach or the street. You will be happy about the price. Because what must be imported expensive, grows here in the Amazon, and is to be had more favorably. So grab it!
6. A vida é boa - pure Brazilian joie de vivre
The last reason is the hardest to explain. There are things that you have to experience and feel for yourself. And this includes the Brazilian attitude towards life. Brazilians are the opposite of cold and distant. They are open-minded, curious, warm, and absolute family people. They don't need a reason to celebrate. Because life can be celebrated every day. You can feel their joy of life and their optimism and you should definitely let yourself be infected by it!
Brazilians celebrate many religious festivals. The most famous event is carnaval, which also has its origins in Christianity. The celebrations are not only in Rio but all over Brazil. And each region has its way of celebrating carnaval. In Rio, the parades of the samba schools are the big highlight. But people also celebrate other typical Brazilian sounds. In Recife, people dance to the rhythm of frevo and maracatu, and in Salvador, they dance to afoxé.
You will also feel the joy of life outside the carnival season. Because it doesn't depend on a season or a particular event. Brazilians have simply internalized the spirit of life. Everything they do, they do with great passion. This includes the national sport of soccer. Even the youngest children play together and get angry about every game they lose. Here, people don't complain about the sweltering heat. Why waste time with it? Brazilians prefer to spend the day in the sun on the beach, challenging each other in beach soccer. You learn to focus on the finer things in life here, and that's probably the best souvenir to take home from a vacation.
It doesn't matter how many times you travel to this great country. It always offers new reasons to take a vacation. Feel free to browse our website for the perfect itinerary or contact us so we can put together the perfect Brazil trip for you. Because whether you are an absolute nature lover or a city person, or if you just want to see a little bit of everything. The Aventura do Brasil team is on the ground and knows how to make your vacation an unforgettable experience!
Sources: www.abenteuer-regenwald.de, www.brasiloo.de, www.wikipedia.org
Source: Aventura do Brasil