Brazil Travel Packages: Jalapao
Off the beaten tourist track, one finds Jalapao State Park in the state of Tocantins in Central Brazil. The wide and varied landscape of the Cerrado (Brazilian grasslands), the clear river courses lined with buriti palms, the table mountains and dune landscapes make Jalapao a very special destination for nature lovers. The geological formations here have produced not only turquoise-blue waterfalls but also another rarity: fervedouros. In these crystal-clear bottomless springs, water gushes up from the earth so that you can float on the surface without having to swim.
The pristine and untouched nature and vegetation of the Cerrado in Jalapao shows itself in wide grasslands, but also in the tropical jungle along the rivers. In Tocantins, the biosphere of the Cerrado transitions to the Amazon and thus unites two different animal worlds. The seclusion of Jalapao is home to a great variety of animals. Capybaras, tapirs, anteaters, deer, various species of monkeys, jaguars, caimans and maned wolves live here. Among the birds you can discover toucans, parrots, hyacinth macaws, eagles and vultures.
The park covers 159,000 hectares within the municipalities of Mateiros and Sao Felix do Tocantins. Jalapao is nestled between Nascentes do Rio Parnaiba National Park and the Serra Geral do Tocantins Nature Reserve. Together, the three nature reserves form a vast refuge for flora and fauna, extending 155 miles (250 kilometers) from north to south and 93 miles (150 kilometres) from east to west.
Due to its location, and as the park was only founded in 2001, Jalapao State Park is relatively unknown among international tourists. For Brazilians, the area has become a place of longing after a popular telenovela was filmed there in 2017, which made the area famous nationwide. But so far only a few tourists find their way to Jalapao. A trip to Jalapao has an adventurous expedition character and offers a unique nature experience.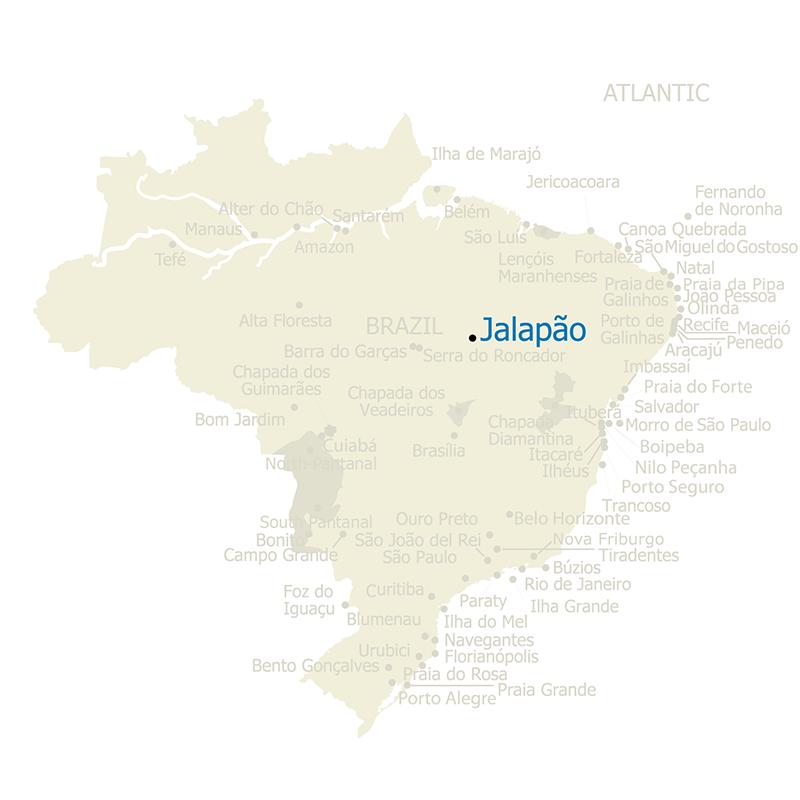 ---
6 Days of Nature, Wildlife Observation, and Snorkeling
Brazil | Campo Grande, South Pantanal, Bonito
This trip will take you to the natural paradise of the South Pantanal. You will also get to know the unique nature and crystal clear rivers near Bonito. The Pantanal is a vast area of wetlands and one of the largest nature reserves in the world. In the dry season, from June to October, you can explore the whole variety of the incomparable animal world and in the rainy season, from December to March, the beautiful flora reaches its peak. Let the fascinating biodiversity of the Pantanal enchant you!
4 Days of Adventure, Nature, and Snorkeling
Brazil | Bonito
During this 4-day trip to Bonito you will experience this natural paradise at its finest. You will snorkel in crystal clear rivers embedded into a wonderful landscape, visit a subterranean blue lagoon inside a cave, and go on a nature hike to observe the beautiful red macaw. Through the whole trip you will be accompanied by an English-speaking guide who is specialized in this area of Brazil.