Brazil Travel Packages: Lencois Maranhenses
The Lencois Maranhenses National Park, founded in 1981, is located along the coast of the Northeastern state of Maranhao. With an area of 155,000 hectares and seventy beaches, the national park is one of the most impressive regions of the country. The famous landmark of Lencois Maranhenses is located between the towns of Primeira Cruz and Barreirinhas, on the banks of the Rio Preguicas. The English translation, literally "sheets of Maranhao," refers to the snow-white dunes that form the overall picture of the national park. Within the sandy desert there are numerous lagoons with clear water. Alone because of this paradisiacal view, Lencois Maranhenses is an ideal destination for your trip to Brazil. Due to the constant wind, which shifts entire dunes, the overall picture of the landscape is constantly changing. The lencois belong to the pure and untouched regions of the Brazilian coast. Besides the impressive expanse of the dunes, the blue-green freshwater lagoons invite you to go for a swim. Climatically, the lencois always move between daily high temperatures of 86 °F (30 °C) and 90 °F (32 °C). This may sound very hot at first, but the constant wind above the landscape greatly reduces the heat. From December to May there is quite a lot of precipitation. During these months, the valleys of the sand dunes are filled with rainwater and natural pools are created.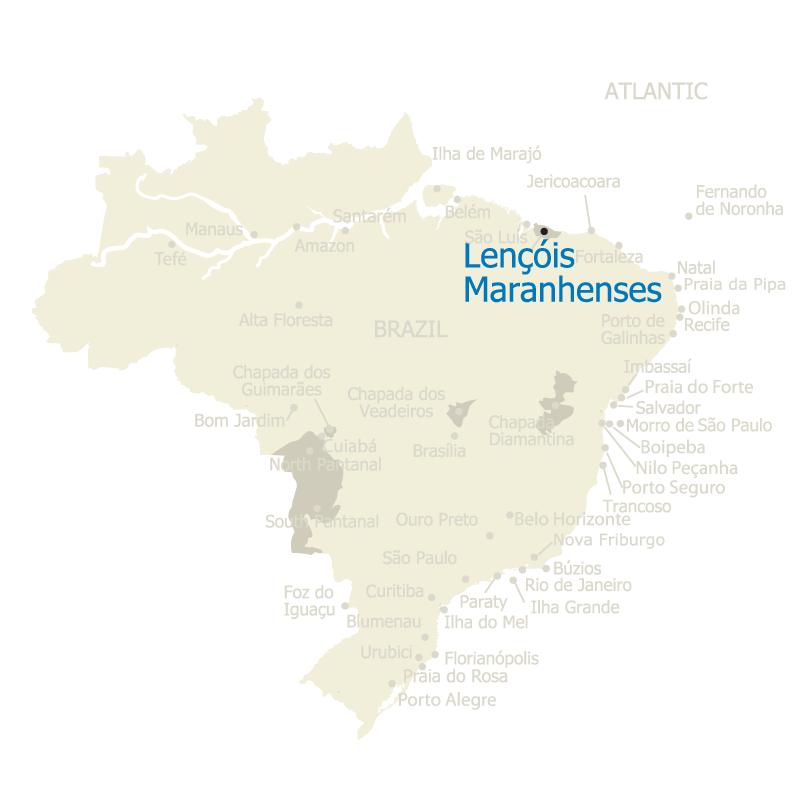 Below you will find our travel packages for Lencois Maranhenses:
---
5 Days of Nature and Beaches
Brazil | Lencois Maranhenses, Sao Luis
Visit one of the natural highlights of Brazil: the worldwide unique landscape of Lencois Maranhenses National Park. The wavy sand dunes spread like an endless bed sheet and give the region its name. This remote region between dunes and the ocean is home to indigenous villages and nature along rivers such as the spectacular Rio Preguicas.
7 Days of Beaches, Nature, and Adventure
Brazil | Sao Luis, Lencois Maranhenses, Jericoacoara, Fortaleza
Experience the breathtaking Road of Emotions (Rota das Emocoes). From Sao Luis you will drive through the dunes of Lencois Maranhenses National Park, cross the Delta das Americas by boat, and follow the coast line in a 4x4 beach buggy until you reach the vital beach village of Jericoacoara. Be prepared for freshwater pools in the desert, wonderful sunsets over the dunes and the ocean, and emotional moments in a mesmerizing landscape.