Brazil Travel Packages: Tefe
Tefe is located in the state of Amazonas and has no road network, so the only way to reach the city is by boat or plane. Before its founding in 1759, this current 62,000-inhabitant town was a rather insignificant indigenous settlement. Today, however, Tefe sits on the banks of the Rio Solimoes as an important freight transfer point, hence the affectionate nickname "Princess of the Rio Solimoes." On a trip to Tefe you will become familiar with the original and authentic way of life in the Amazon. If possible you should not miss the famous festivities of the city. Besides the Festival Folclorico, there is also the Feira Cultural and the Festival de Verao, a summer festival with many regional music bands. Furthermore, Tefe serves as a starting point to the Mamiraua National Park. Here you will get unique insights into the flora and fauna of the region. On a total of four hiking trails you can discover numerous primate and bird species, freshwater dolphins, caimans and sloths. The income of the national park benefits the local communities in the area. A trip to Mamiraua National Park is an unforgettable experience, especially for eco-tourists. Observe rare plants and wildlife up close and listen to the exotic sounds of the jungle. Temperatures vary little throughout the year. They range from highs of 88 °F (31 °C) to 90 °F (32 °C) and lows of 72 °F (22 °C) to 73 °F (23 °C). From June to November there is the least precipitation. From December to May, however, more rain is to be expected.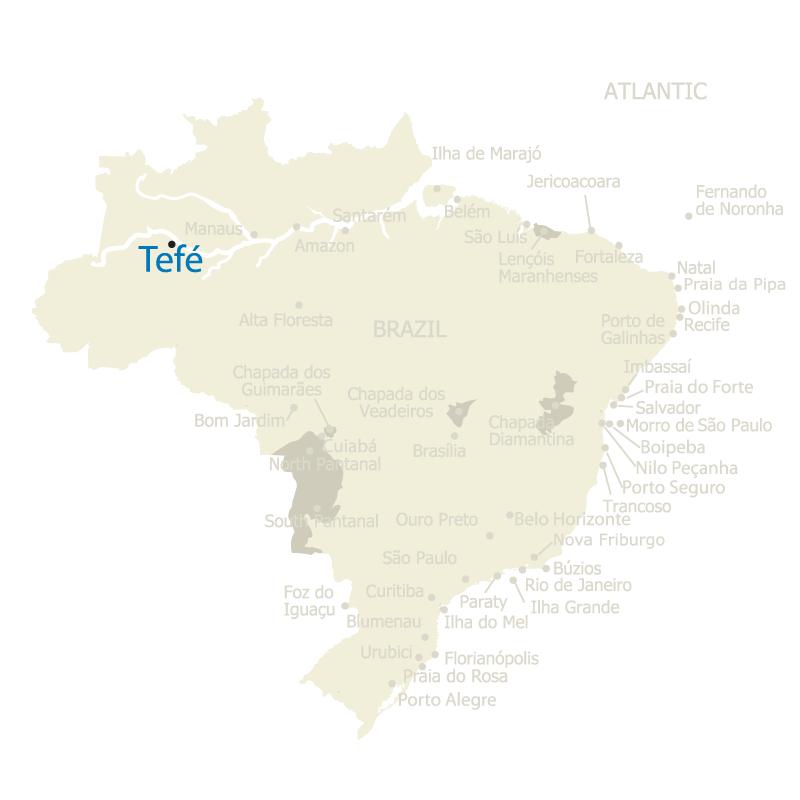 ---
4 to 8 Days of Nature and Adventure
Brazil | Amazon, Tefe
Uakari Lodge is about a one-hour flight west of Manaus in the Brazilian Amazon region. The local airport in Tefe is 1.5 hours away from the Mamiraua Reserve, where Uakari Lodge is located. This last part of the transfer is made by boat.