Brazil Travel Packages: Paraty
Paraty is located in the state of Rio de Janeiro and has 37,600 inhabitants. The historic city center was declared a protected monument in 1958 and is largely closed to traffic. The buildings from the 17th century are almost completely preserved. One of these houses is the birthplace of Thomas Mann's mother, who spent seven years of her life here. Other special features that await you in Paraty are winding bays, numerous waterfalls, beautiful boutiques and good food. Especially recommended are the fresh fish dishes. An insider recommendation would be the Atelier Aracati, where antique coins from Brazil are made into small pendants. The high-proof cachaça (sugar cane schnapps) is one of the best and known nationwide. A very special highlight awaits you after sunset, when the center is illuminated by romantic lights. The area of Paraty was once populated by the indigenous Guaniana people, in whose language "parati" or "paratii" describes a species of fish found there. The region's subtropical climate offers warm to hot temperatures. With daily high temperatures averaging between 81 °F (27 °C) and 82 °F (28 °C), you can benefit from pleasantly warm water temperatures from 75 °F (24 °C) to 79 °F (26 °C) during the summer (from December to February). In the dry winter months (June-August) it can get a little cooler in Paraty, especially at night. However, the days generally remain warm and sunny with an average of 72 °F (22 °C) to 75 °F (24 °C).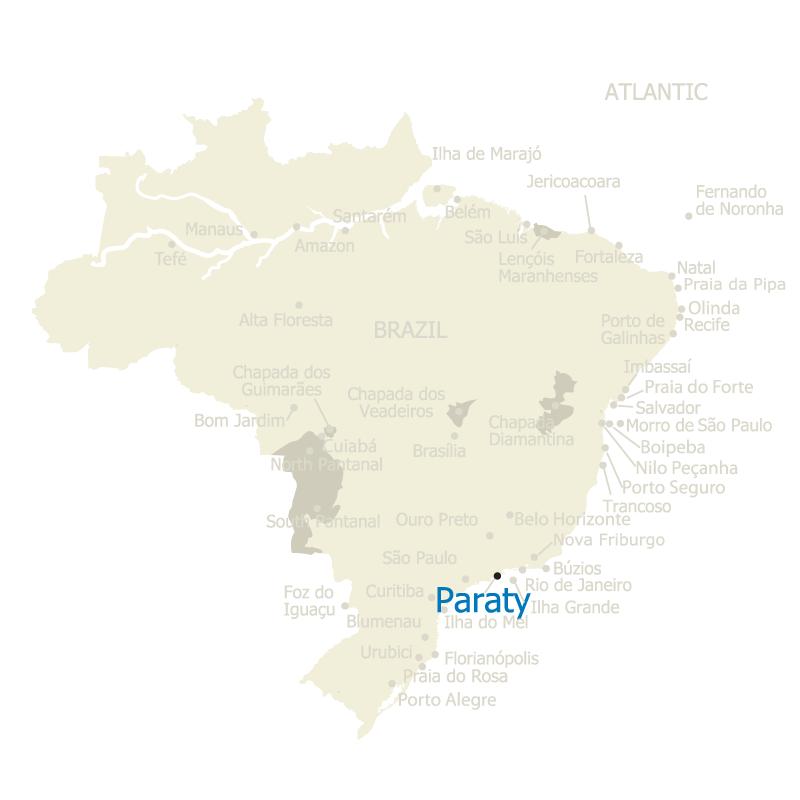 Below you will find our travel packages for Paraty:
---
Experience and enjoy culture, nature and history during your wonderful 4 day trip to Paraty. Paraty old town has been under monument protection since 1958 and is largely closed to traffic. Another highlight of Paraty is the surrounding nature, fresh air and water.