Brazil Travel Packages: Fernando de Noronha
The Brazilian islands of Fernando de Noronha are a paradise of rare beauty. Deserted beaches, clear water and many hiking trails make this spot definitely worth a visit. Approximately 220 miles (350 kilometers) from the mainland, the archipelago is of volcanic origin. It was named after the Portuguese merchant Fernao de Loronha, who once received the islands as a gift from Portugal's king. Since 1988, the National Marine Park has existed on 43 square miles (113 square kilometers). Fishing, collecting shells, corals or animals, camping and making fires are prohibited here. Worth seeing is Baía do Sancho, which many Brazilians consider the most beautiful beach in the country. Fernando de Noronha is especially known by surfers and divers. Due to rigorous environmental protection, fascinating underwater worlds are preserved, offering a home to beautiful corals, crustaceans and colorful fish. Numerous dolphins also dwell in the waters around the archipelago. To get an overview of all the beaches, a boat trip is recommended, as well as a visit to the TAMAR project for the protection of sea turtles. You should also dare to climb "Morro do Pico." An iron staircase embedded in the rock will take you up to around 1,000 feet (300 meters) above sea level. From there you have a wonderful panoramic view. The climate in Fernando de Noronha is tropical year round with an average temperature of 82 °F (28 °C). From March to August you can expect more rainfall.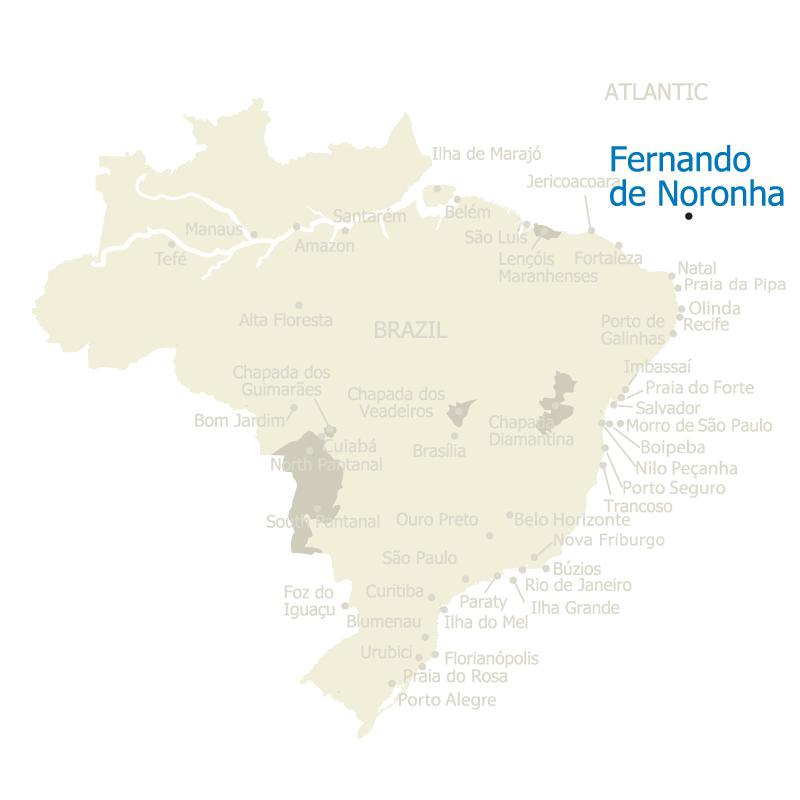 Click here for more information about the climate in Fernando de Noronha.

Are you interested in traveling to Fernando de Noronha? Just send us a quick message and we will provide you with a custom itinerary proposal.

---
5 Days of Beaches and Nature
Brazil | Fernando de Noronha
This trip takes you to the Fernando de Noronha archipelago, which consists of 21 islands. Fernando de Noronha is located in the Atlantic Ocean, 215 miles (345 kilometers) off the Northeastern shores of Brazil. It is a paradise for ecotourism and sustainable travel and is especially known for its numerous natural attractions and water sports.