Brazil Travel Packages: Jericoacoara
Jericoacoara is located about 220 miles (350 kilometers) from Fortaleza, in the center of a vast area of dunes that extends 12 miles (20 kilometers) inland. "Jeri" can only be reached by water or by a four-wheel-drive vehicle. It was only in 2017 that a small airport was opened to receive national flights. The clear fresh water lakes in the dunes offer a unique natural spectacle on your trip in Brazil. A whole 320 sunny days per year spoil inhabitants and visitors. A good network of small hotels, restaurants, bars and cafes is available. The calm crystal clear ocean completes the paradise. The "Duna do Por do Sol" (dune of the sunset) is located near the center of the village and offers a great panoramic view. Relax during long walks, yoga or therapeutic massages. Excursions by buggy are also popular. Jericoacoara was declared a national park in 2002 to stop the destruction of its unique nature. Only 20 years ago was Jeri a small, simple fishing village. Many of the houses are built out of wood and surrounded by tropical plants. Roads are made of sand instead of asphalt. The national park has no street lighting, so at dusk only the stars can guide you. The tropical climate's daily high averages between 86 °F (30 °C) and 91 °F (33 °C) with an average water temperature of 82 °F (28 °C). The constant winds that blow from July to December make Jeri a popular destination for surfers and sailors. The rainy season is from February to May.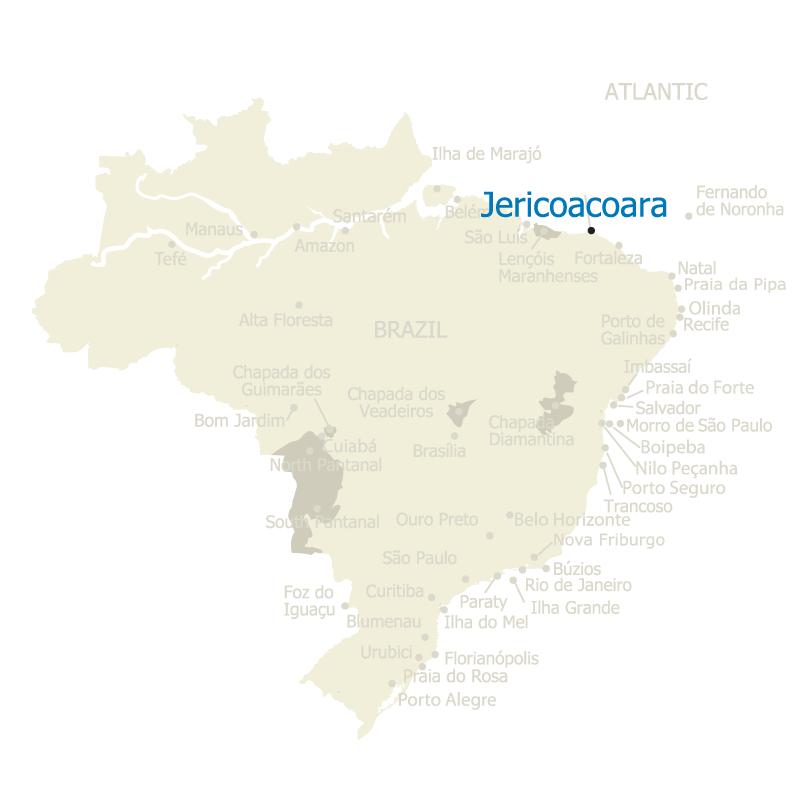 Below you will find our travel packages for Jericoacoara:
---
7 Days of Beaches, Nature, and Adventure
Brazil | Sao Luis, Lencois Maranhenses, Jericoacoara, Fortaleza
Experience the breathtaking Road of Emotions (Rota das Emocoes). From Sao Luis you will drive through the dunes of Lencois Maranhenses National Park, cross the Delta das Americas by boat, and follow the coast line in a 4x4 beach buggy until you reach the vital beach village of Jericoacoara. Be prepared for freshwater pools in the desert, wonderful sunsets over the dunes and the ocean, and emotional moments in a mesmerizing landscape.