Brazil Travel: Manaus
Manaus is the capital of the state of Amazonas and lies between the Rio Negro and the Rio Amazonas. The metropolis has 1.8 million inhabitants and is an absolute highlight for nature lovers when traveling to Brazil, as it is located in the middle of an extraordinarily biodiverse rainforest. It is the starting point for jungle expeditions and day trips, as well as a cultural center. Above all, don't miss the famous Teatro Amazonas, which is a protected historical monument. Museum lovers are also in the right place in Manaus. Exhibits from the life of the local population as well as numerous exhibits about the rich flora and fauna of the surrounding area can be viewed. Also worth seeing is the Mercado Municipal Adolpho Lisboa. Here you can buy meat, fish, vegetables, exotic spices and fruits, not to mention the perfect souvenir to solidify your trip. A popular excursion destination nearby is the Encontro das Aguas (meeting of waters). The deep dark Rio Negro and the muddy-white Rio Solimoes flow 3.7 miles (6 kilometers) side by side before they merge impressively. Also recommended in Manaus is the season of Carnival, when you experience the second world capital of samba in an exuberant celebratory mood. Manaus has hot temperatures year round. The average temperature ranges between 72 °F (22 °C) and 91 °F (33 °C). The lowest rainfall and maximum amount of sunshine occur during the winter (June-August). An umbrella is recommended from December to April.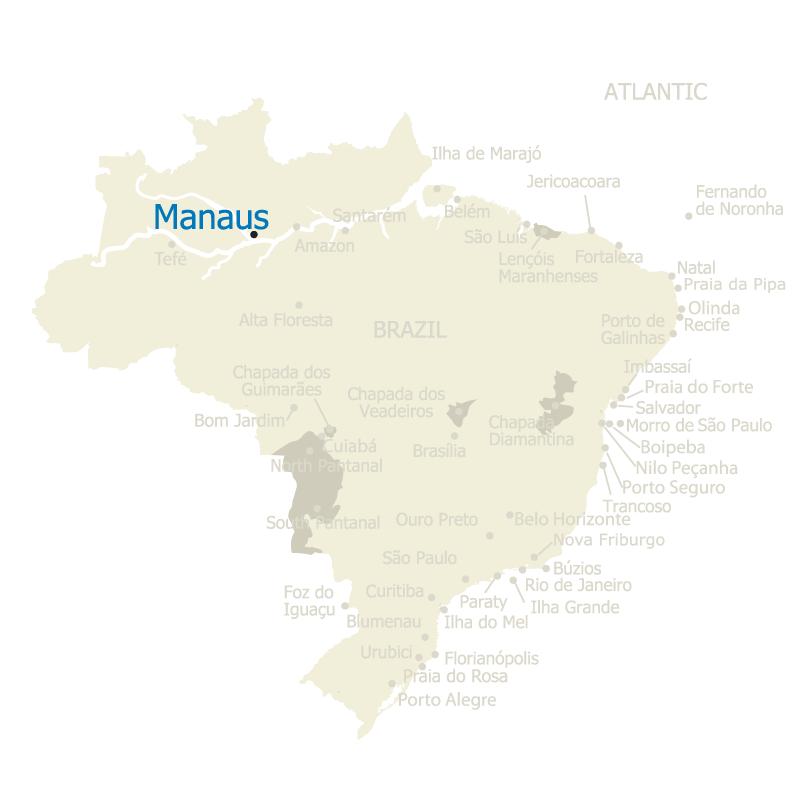 Below you will find our travel packages for Manaus:
---
5 or 7 Days of Nature and Wildlife Observation
Brazil | Amazon
Our expedition cruises on the motor yacht Tucano provide a unique insight into the breathtaking flora and fauna of the gigantic Amazon Rainforest. Our two packages of 5 or 7 days allow you to experience the wonderful Anavilhanas Archipelago and Rio Negro, north of Manaus. During daily small-group expeditions with an experienced English-speaking guide, you will explore Amazon, for example, on canoe tours, piranha fishing trips, rainforest walks, and visits to small Amazon villages.
3 to 6 Days of Nature and Wildlife Observation
Brazil | Amazon
On our river cruises, you can experience the beautiful Amazon region with its diverse animal and plant life. You can choose from three different routes: Rio Negro, Rio Amazonas (Rio Solimoes), or both. Each cruise offers different exciting excursions, such as boat expeditions, nature hikes, or visits to local communities. Another highlight is wildlife observation. With luck, you might be able to spot monkeys, dolphins, sloths, otters, caimans, and a wide variety of birds.
6 Days of Nature and Adventure
Brazil | Amazon
This package is for adventurous travelers who will be taking part in all activities. The adventure will begin at the Amazon Turtle Lodge in a motorized canoe with your English-speaking guide. During the survival tour you will bring some food along and have to build your own shelter using wood, twigs, and straw. The activities take place in a region that has an ecosystem of lowlands (varzea), highlands (terra firme), flooded forest (igapo), and small channels (igarapes) that are perfect for paddling in canoes and observing wildlife.