Brazil Travel Packages: Olinda
Olinda, which means "Oh how beautiful" in English, is one of the oldest cities in Brazil. It was founded in 1535 and has 370,000 inhabitants. In 1982, the city was put on the UNESCO World Heritage List because of its 500-year history. When today's neighboring metropolis of Recife was still a small fishing village, the culture in Olinda was already flourishing in full splendor in the 17th century. Due to the influences of indigenous peoples (of Dutch, Portuguese and African roots), Olinda is considered one of the richest melting pots in the whole country. Stroll through picturesque, steep cobblestone streets lined with colorful colonial buildings as you travel through Brazil. There is a colorful hustle and bustle of dancers, artisans, puppeteers and musicians. The town is home to 33 proud churches and a cathedral. The Mosteiro de Sao Bento, which dates back to the 16th century, is not to be missed. With beautiful decorations and paintings it is one of the highlights of late baroque structures in Brazil. The daytime temperature fluctuates between 81 °F (27 °C) and 88 °F (31 °C) throughout the year. Despite high temperatures, the climate is very pleasant as there is usually a light wind blowing from the Atlantic Ocean along the coast. The beach destination of Porto de Galinhas is only about 43 miles (70 kilometers) away from Olinda and a perfect option for extensive sunbathing. The rainy season starts in March and lasts about four months. The best time to travel is therefore the dry season (August-January).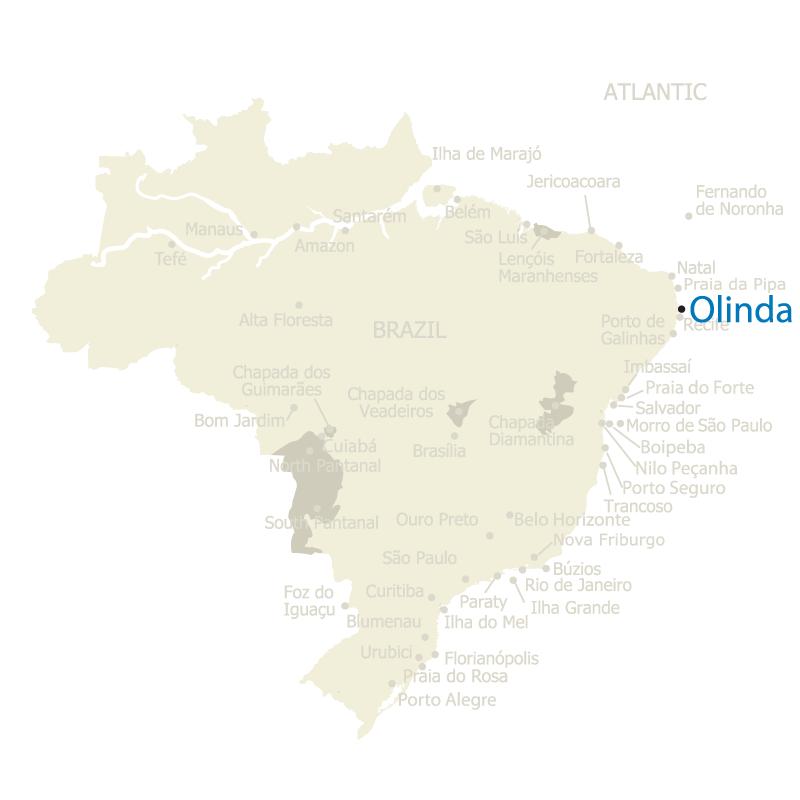 Below you will find our travel packages for Olinda:
---
3 Days of Culture and History
Brazil | Recife, Olinda
The wonderful colonial combination of Olinda and Recife is the perfect gateway to the Fernando de Noronha archipelago – a UNESCO World Natural Heritage site. Olinda, also a UNESCO Heritage site, offers its visitors colorful historic houses and centuries-old baroque churches and monasteries. Recife is named after the reefs on its beautiful Boa Viagem beach, while the city also offers impressive contrasts between old and new architecture. Your accommodation will be the charming and comfortable Pousada dos Quatro Cantos in Olinda.