Climate and Best Time to Visit Rio de Janeiro, Brazil
To help you plan your trip to Rio de Janeiro, we have put together some important information about the regional climate and ideal times to travel.
Due to its location in the southern hemisphere, summer in Rio de Janeiro takes place from December to February and winter from June to August, unlike what we are used to in Central Europe. The city's tropical climate, in the lower latitudes compared to other regions, is warm year round with an average annual temperature of about 22 °C (72 °F). The almost continuous trade winds soften the temperatures, which do not vary much during the year.
Here you can find all the travel packages and further information about the region.
In the summer, daily high temperatures rise up to 31 °C (88 °F). The humidity is very high (75 % to 90 %) from December to March. Spring and fall usually offer travelers very pleasant and warm temperatures between 20 °C and 28 °C (68 °F to 82 °F) for their stay in Rio de Janeiro. In the winter months the weather remains mostly mild with average daytime temperatures of 16 °C to 25 °C (61 °F to 75 °F). Snow and frost therefore never occur in this area.
Most precipitation falls between December and March, clocking in at about 150 mm to 180 mm (5.9 in to 7.1 in) per month. Frequently there are thunderstorms and aggressive showers, during which a lot of rain falls in a short time. The driest time of year is winter from June to August with only about 60 mm (2.4 in) of rainfall per month. Water temperatures off the coast are pleasantly warm year round at 22 °C to 26 °C (72 °F to 79 °F) and are therefore ideal for a beach getaway in Rio de Janeiro.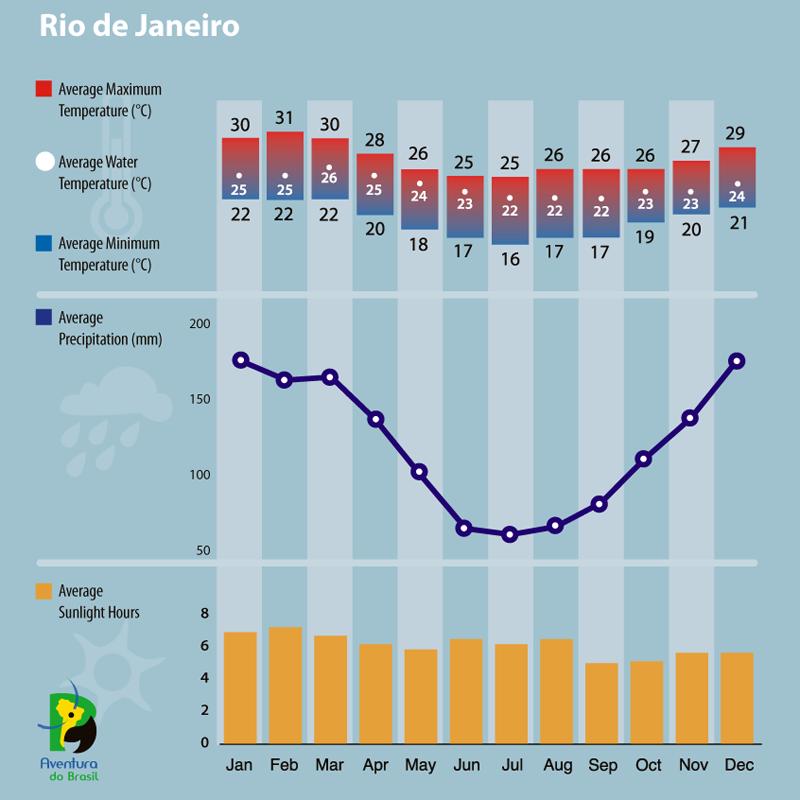 Best Time to Visit Rio de Janeiro
Due to the very warm to hot climate in Rio de Janeiro year round, the city is always a suitable destination. The best time to travel depends on your vacation preferences.
In the summer the weather can be very hot and humid, which would be ideal for sunbathing or going for a swim at one of the famous beaches in Rio (e.g., Copacabana or Ipanema). The Hotel Atlantis and the Hotel Copacabana Palace are some good options for your stay.