Brazil Travel Packages: Florianopolis
Florianopolis is the capital of the state of Santa Catarina and is mostly located on Ilha de Santa Catarina. The city has about 419,000 inhabitants and is affectionately called "Floripa." The island, strongly influenced by the Portuguese, is connected to the mainland by Ponte Hercilio Luz, the longest suspension bridge in Brazil and the symbol of Floripa. More than 40 beaches and unique geography await you: mountains overgrown with tropical rainforests, cliffs, mangroves, dunes, lakes, waterfalls, the ocean and nearby islands. Surfers, hikers, sports enthusiasts and night owls get their money's worth. The special thing about it all is that there are some densely built-up areas that are often only a stone's throw away from completely uninhabited areas, which can only be reached by boat or on hiking trails. The cultural and culinary offerings spoil locals and visitors alike. It is not happenstance that Florianopolis has the highest index for quality of life in the country. The subtropical climate has an average annual temperature of 64 °F (18 °C). For a getaway on the beach, the summer (December-February) offers very good weather conditions with high temperatures of 81 °F (27 °C) and 84 °F (29 °C). For exploring the city and excursions in the surrounding areas, more moderate weather, from March to May and from September to November, would be ideal. In the winter months from June to August, be sure to bring some warm clothes as it can get quite cold, especially at night.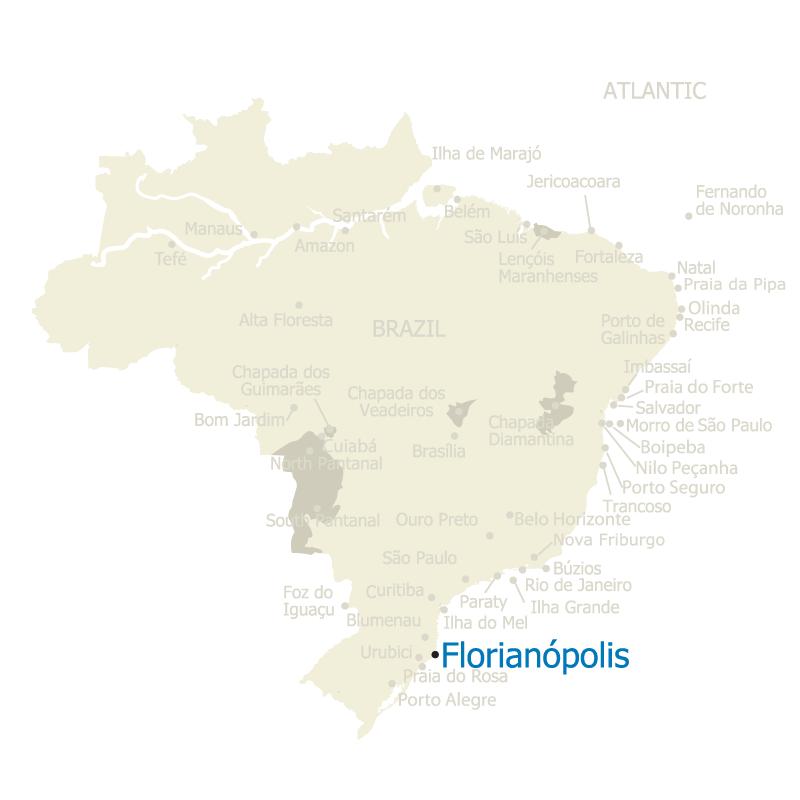 Below you will find our travel packages for Florianopolis:
---
7 Days of Culture, Hiking, and Beaches
Brazil | Porto Alegre, Bento Goncalves, Praia Grande, Florianopolis
Let yourself be enchanted by the diversity of the South of Brazil during this trip by rental car. From Porto Alegre you will start your journey to the most popular wine region in the country and learn about the history of Italian immigration and local wineries first hand. In the interior of the country, you will hike and admire an impressive landscape with canyons 3,000 feet (900 meters) deep and up to 160 miles (250 kilometers) long. You design your daily program and determine the rhythm of your journey. On the way to the "Magic Island" of Florianopolis, many interesting places pull you in every direction. Enjoy the rich cultural and culinary offerings as well as the region's exuberant hospitality.
4 Days of Nature and Beaches
Brazil | Florianopolis
There is hardly a city in Brazil that is better suited for free roaming for a few days in your own rental car. The "Magic Island" of Florianopolis awaits you during these four days with its countless highlights and ever new and breathtaking views. Discover this unique city of beaches, forests, lagoons, and dunes at your own pace.
14 Days of Learning Brazilian Portuguese
Brazil | Florianopolis
Our Brazilian Portuguese language trip takes you to Florianopolis, the capital of the state of Santa Catarina. Florianopolis, which is mostly located on an island, regularly tops polls of the best quality of life in Brazil. Your language course will include 3 hours of instruction 5 times per week, including all teaching material and on-site English-speaking support. The school is in Lagoa da Conceicao, a small yet lively district of Florianopolis. Lagoa da Conceicao boasts dunes, mountains, and the largest lagoon on the island.