Brazil Travel Packages: Blumenau
Blumenau is located in the Rio Itajai valley in the state of Santa Catarina and has a population of over 309,000. In 1850, the German pharmacist Herrmann Blumenau founded the city with 17 repatriates, and from that time on had a significant influence on the culture and language. The latter has of course changed a lot but German customs are still very important. The second largest Oktoberfest in the world is held annually in Blumenau. The occasion is often celebrated with Lederhosen (traditional Bavarian clothes, such as leather pants, for men) and Dirndl (a traditional dress for women) with brass band music in the midst of numerous shooting clubs. Typical German cuisine and folk music, as well as draught beer according to old tradition, await visitors in Blumenau. A small beer museum and the Vila Germanica round off the experience. The Vila should reflect an authentic German village, but judge for yourself. If the homely atmosphere is not enough for you, a detour to the Parque das Nascentes is also recommended. This protected area lies approximately 13 miles (21 kilometers) from the city center, which is a 550-square-feet (51 square meters) park with beautiful rainforest landscapes. Although the weather in Blumenau is a little cooler in the winter than in other regions of Brazil, it is still not comparable to conditions in the Northeast of the United States or in Central Europe. In the summer (December-February), daytime high temperatures are between 88 °F (31 °C) and 90 °F (32 °C). In the winter months (June-August), the temperature high is 75 °F (24 °C). The months with the least precipitation are June and July. There is much more rain in January and February.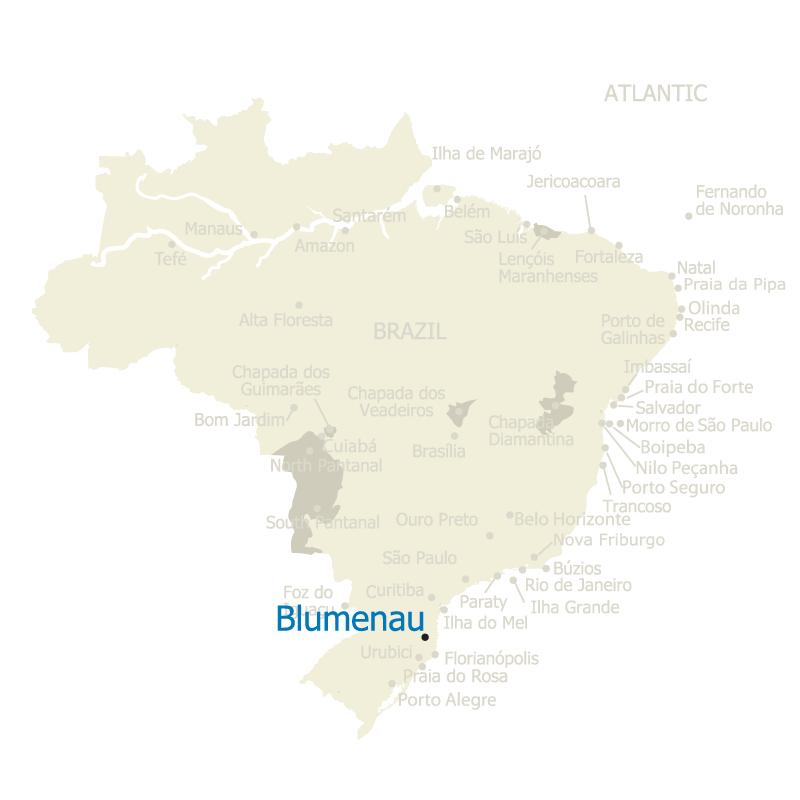 Click here for more information about the climate in Blumenau.
Are you interested in traveling to Blumenau? Just send us a quick message and we will provide you with a custom itinerary proposal.

---