Brazil Travel Packages: Buzios
The former fishing village of Buzios is located in the Southeast of Brazil and is the center of Costa do Sol. In addition to numerous beaches and beautiful bays, this destination is home to 28,000 inhabitants. A trip is especially recommended for sun worshippers, nature lovers and beach lovers. About three hours by car on a scenic route separate Buzios from the megacity of Rio de Janeiro. What is ideal about Buzios is the combination of a relaxing beach getaway with a city tour. It is not happenstance that the city has attracted stars such as Brigitte Bardot, Mick Jagger and Bill Gates over the years. The hilly Atlantic Peninsula offers more than twenty romantic bays and 25 miles (40 kilometers) of the finest beaches. Buzios's village center, with its radiant Rua das Pedras, is also very attractive with good restaurants, small shops and boutiques, bars and relaxed nightlife. Buzios can boast a total of 2,500 hours of sunlight per year, usually with warm to hot temperatures. The average daytime temperature in the warmest season, which lasts from January to March, is 84 °F (29 °C). In the cooler months, from June to September, the thermometer still reaches between 63 °F (17 °C) and 77 °F (25 °C). The rainier period is between October and January.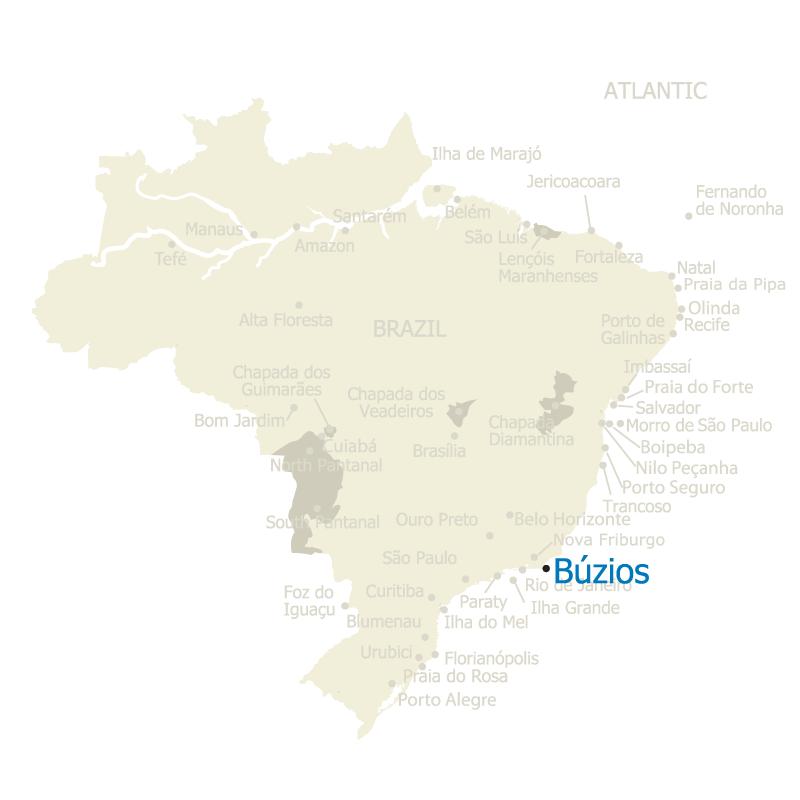 Click here for more information about the climate in Buzios.
Are you interested in traveling to Buzios? Just send us a quick message and we will provide you with a custom itinerary proposal.

---