Climate and Best Time to Visit Buzios, Brazil
In order to facilitate your vacation plans in Buzios, we have complied below some important information about the regional climate and ideal times to travel.
Buzios is located in the state of Rio de Janeiro, in the Southeast of Brazil. Due to its location in the southern hemisphere, the seasons are the opposite of those in Central Europe. Winter is from June to August and summer lasts from December to February. As temperatures do not vary much during the year, it is often divided into dry and rainy seasons.
Here you can find all the travel packages and further information about the region.
The most rainfall is generally recorded between November and April, with an average of 80 mm to 130 mm (3.1 in to 5.1 in) per month. You can experience daytime high temperatures between 26 °C and 29 °C (79 °F to 84 °F) during these months in Buzios, and even the lowest average temperatures stabilize around 20 °C to 22 °C (68 °F to 72 °F). The Atlantic Ocean off the coast of Buzios is very warm during the rainy season with temperatures between 23 °C and 26 °C (73 °F to 79 °F).
Throughout the dry season, which lasts from May to October, there is much less rainfall. On average there is only 40 mm to 80 mm (1.6 in to 3.1 in) per month. Daytime high temperatures are warm at 25 °C to 26 °C (77 °F to 79 °F). Occasionally it can get a little colder during the dry season, which also includes the winter months. Average daily low temperatures are between 17 °C and 20 °C (63 °F and 68 °F). At night it can sometimes get even colder. While water temperatures are a little cooler during the dry season, they are still suitable for a relaxed beach getaway in Buzios.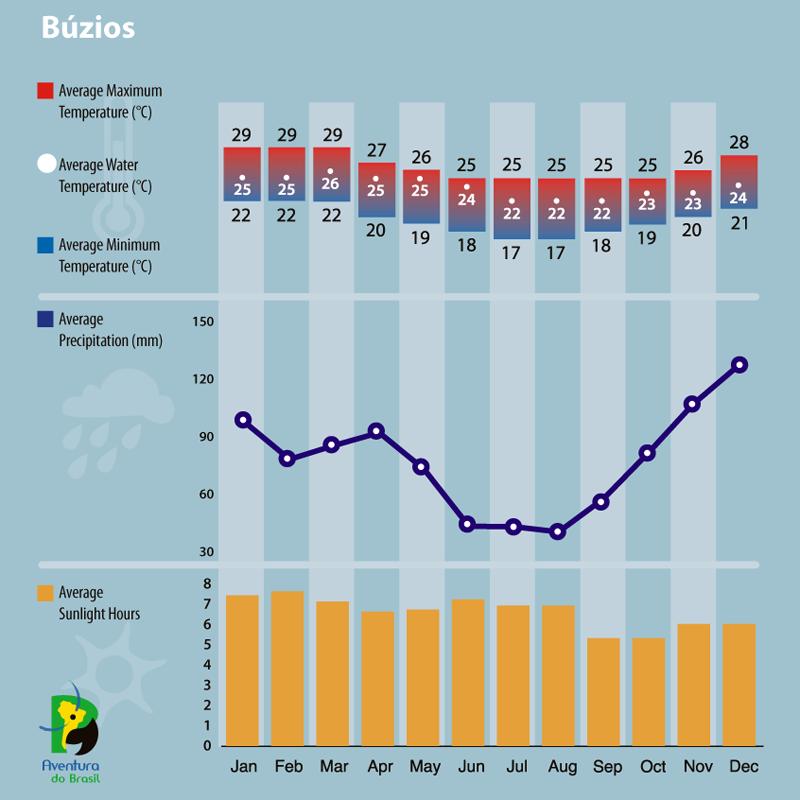 Best Time to Visit Buzios
Buzios is generally a very good destination for your vacation in Brazil year round. The consistently warm temperatures of the Atlantic Ocean and the year-round warm to hot weather make it a very attractive travel destination, especially for those eager for a vacation filled with healthy doses of Vitamin D.
To identify the best time to travel, consider the following tips:
The months with little rain, especially June to August, can also bring uncomfortably cold weather from time to time. Should you wish to travel to Buzios during these months, be sure to pack some warmer clothes in your suitcase.