Climate and Best Time to Visit Fernando de Noronha, Brazil
To help you plan your vacation in Fernando de Noronha, we have compiled below some important information about the regional climate and ideal times to travel.
Fernando de Noronha is located near the equator, resulting in the archipelago's tropical climate. Due to location, the seasons of the year are opposite of the central European seasons, but they are hardly pronounced. Temperatures vary only slightly, leaving the dry and rainy seasons to serve as the main distinguishing markers of the year.
Here you can find all the travel packages and further information about the region. See one hotel option here: Pousada Solar dos Ventos.
The dry season lasts from August to January. During these months there is very little rain, only 0 mm to 60 mm (0 in to 2.4 in) per month. The weather is consistently very warm to hot with daily high temperatures at 30 °C to 31 °C (86 °F to 88 °F) on average. Occasionally it gets cooler with average lows of 23 °C to 24 °C (73 °F to 75 °F). During the months of the dry season you can enjoy 7 to 9 hours of daily sunlight in Fernando de Noronha.
During the rainy season from February to July, there is much more rainfall compared to the dry season with an average of 100 mm to 300 mm (3.9 in to 11.8 in) per month. However, daily high temperatures average at 29 °C to 31 °C (84 °F to 88 °F), while low temperatures only get down to 22 °C to 23 °C (72 °F to 73 °F). In the rainy season you will experience 6 to 8 hours of daily sunlight.
Water temperatures in the Atlantic Ocean around the archipelago are pleasantly warm year round at 25 °C to 27 °C (77 °F to 81 °F), allowing for a relaxing beach getaway at any time in Fernando de Noronha.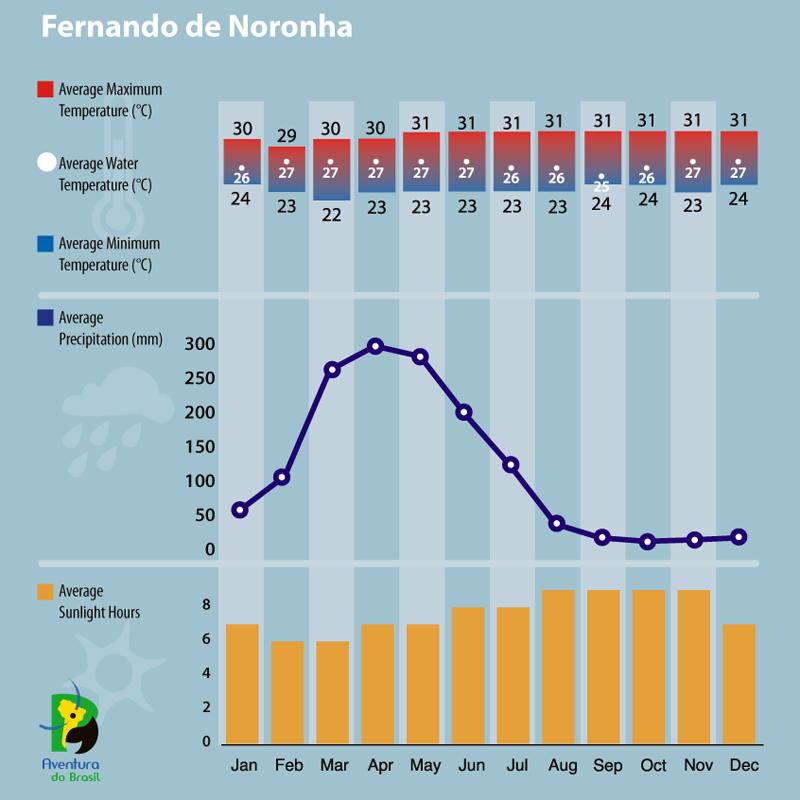 Best Time to Visit Fernando de Noronha
In general, Fernando de Noronha is a year-round destination for beach getaways, nature and adventure trips. The best time to travel ultimately depends on your vacation preferences. The following advice can guide you:
There is usually a lot of precipitation during the rainy season from February to July, which can get in your way if you are only seeking a beach getaway. Some time between August and January would be more suitable for this purpose.

5 Days of Beaches and Nature
Brazil | Fernando de Noronha
This trip takes you to the Fernando de Noronha archipelago, which consists of 21 islands. Fernando de Noronha is located in the Atlantic Ocean, 215 miles (345 kilometers) off the Northeastern shores of Brazil. It is a paradise for ecotourism and sustainable travel and is especially known for its numerous natural attractions and water sports.