Climate and Best Time to Visit Foz do Iguacu, Brazil
To help you plan your trip to Foz do Iguacu in Brazil and your visit in Porto Iguazu in Argentina, we have compiled below some important information about the regional climate and ideal times to travel.
Like most other regions in Brazil, Foz do Iguacu is located in the southern hemisphere. This means that the seasons there are opposite of those we are used to in Central Europe. The Brazilian winter lasts from June to August and summer is from December to February. The climate is humid and subtropical.
Here you can find all the travel packages and further information about the region.
In the summer (December to February) you can expect very warm to hot weather on your trip to Foz do Iguacu. The daily temperature high during this time averages at 32 °C (90 °F) and, due to the rather high humidity, the weather is often perceived as muggy. However, from time to time there can also be slightly cooler temperatures of about 20 °C to 21 °C (68 °F to 70 °F). The average rainfall is relatively high throughout the year at 160 mm to 180 mm (6.3 in to 7.1 in). In the summer, travelers can also enjoy the maximum (6 to 7 hours) amount of daily sunlight.
Fall (March to May) is also characterized by pleasantly warm to hot temperatures. High temperatures vary between 25 °C and 31 °C (77 °F to 88 °F), while daily low temperatures average around 14 °C to 20 °C (57 °F to 68 °F). Only at night can it get a little cooler. Frequent precipitation reaches an average of 140 mm to 170 mm (5.5 in to 6.7 in) per month.
In the winter (June to August), the weather in Foz do Iguacu can sometimes get quite cold. Temperatures vary between 11 °C and 25 °C (52 °F to 77 °F). There are still some nice warm and sunny days, but it often remains overcast and at night it can cool down a lot. Winter is the wettest season with around 90 mm to 140 mm (3.5 in to 5.5 in) of rain per month.
The spring months (September to November) have mostly warm weather. The daily temperature high averages between 26 °C and 31 °C (79 °F to 88 °F), and even on the cooler days there are usually temperatures between 14 °C and 18 °C (57 °F to 64 °F). With an average of 150 mm to 210 mm (5.9 in to 8.3 in) of rain per month, spring is the wettest season.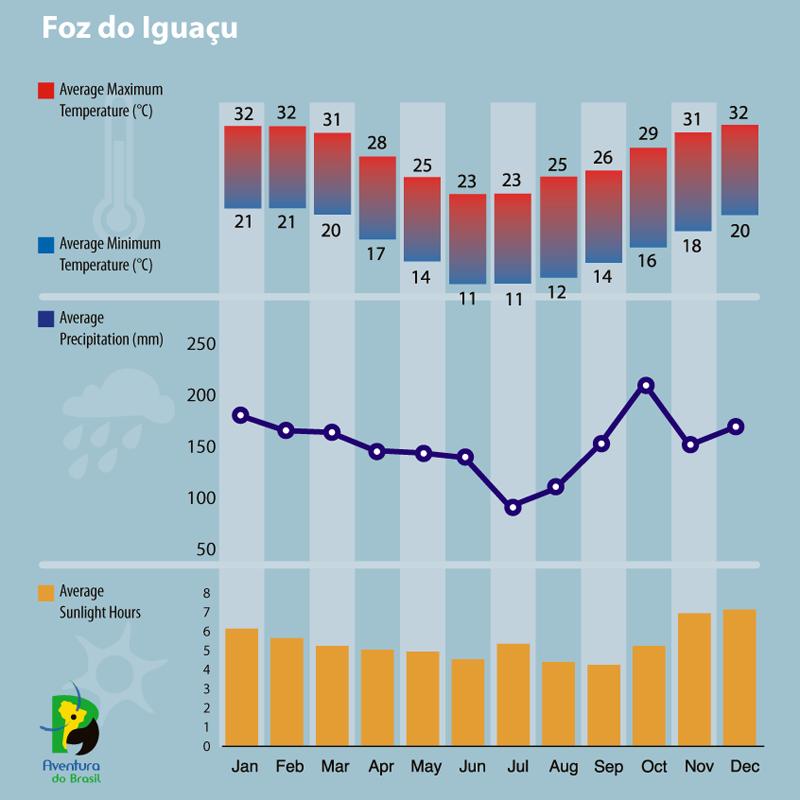 Best Time to Visit Foz do Iguacu
Foz do Iguacu can generally be visited comfortably as a year-round destination. However, there are some tips to keep in mind to identify the best time to travel.
The winter in Foz do Iguacu can sometimes be quite cold. Should you choose the winter months, remember to pack warm clothes, sturdy shoes and a thick (rain) jacket.
In the springtime, temperatures are already warm for the most part, but there can sometimes be a lot of rain. In this case it is recommended to take a rain jacket.
The best time for a vacation in Foz do Iguacu to visit the waterfalls would be from November to April. During this time, warm to hot temperatures and comparatively little rain await travelers. If the summer months are too hot for your liking, consider switching to a milder window from March / April to June / July, when the temperatures are more moderate and there is very little rain.
9 Day Individual Tour by Bus, Train, and Boat
Brazil | Sao Paulo, Foz do Iguacu, Curitiba, Ilha do Mel
A trip to Brazil could hardly be more varied. Experience the pulsating international metropolis of Sao Paulo, the impressive waterfalls in Foz do Iguacu, the beautiful city of Curitiba, a train ride through the dense Atlantic Rainforest, and the romantic and untouched beauty of Ilha do Mel (Honey Island). This 9-day journey by land will take travelers through the South of Brazil and combine some of the country's main attractions with unique natural experiences and deep insight into Brazilian culture.
3 Days of Nature
Brazil | Foz do Iguacu
In Foz do Iguacu, you will get to know one of the most visited places in Brazil: the impressive Iguacu Waterfalls. The waterfalls are located in Brazil and Argentina. On the Brazilian side there is a spectacular view and on the Argentinian side you will get closer and experience the waterfalls more directly, especially with the impressive "Garganta del diablo" (Devil's Throat).