Brazil Travel Packages: Praia da Pipa
Praia da Pipa is a former fishing village in the state of Rio Grande do Norte, about 50 miles (80 kilometers) south of Natal. Fantastic beaches await you there, while the surrounding area has steep cliffs and rainforest. There are numerous activities that tourists can undertake, such as a refreshing swim in the natural pools or a hike to the Baia dos Golfinhos, where, with a little luck, dolphins can be spotted. The region attracts surfers, nature lovers and sun worshippers alike. During your stay you can enjoy many boutiques, bars and restaurants. In the center of the village you can celebrate with live music starting with the local forro, and including rock'n'roll and reggae sounds. Furthermore, you will find small, charming pousadas with a lot of Brazilian flair. In some artist studios you will also have the opportunity to buy a nice souvenir. The main beach of Praia da Pipa consists of a long straight line, framed by high cliffs with different colored sand layers. The water situation varies. Sometimes coral reefs cause rather calm water, while in other parts you can surf extensively. In Praia da Pipa there are high temperatures year round. It is warmest in the summer (December-February) with daily highs of 88 °F (31 °C). In the winter (June-August), temperatures reach from 68 °F (20 °C) to 82 °F (28 °C) during the day. The most precipitation falls from March to July.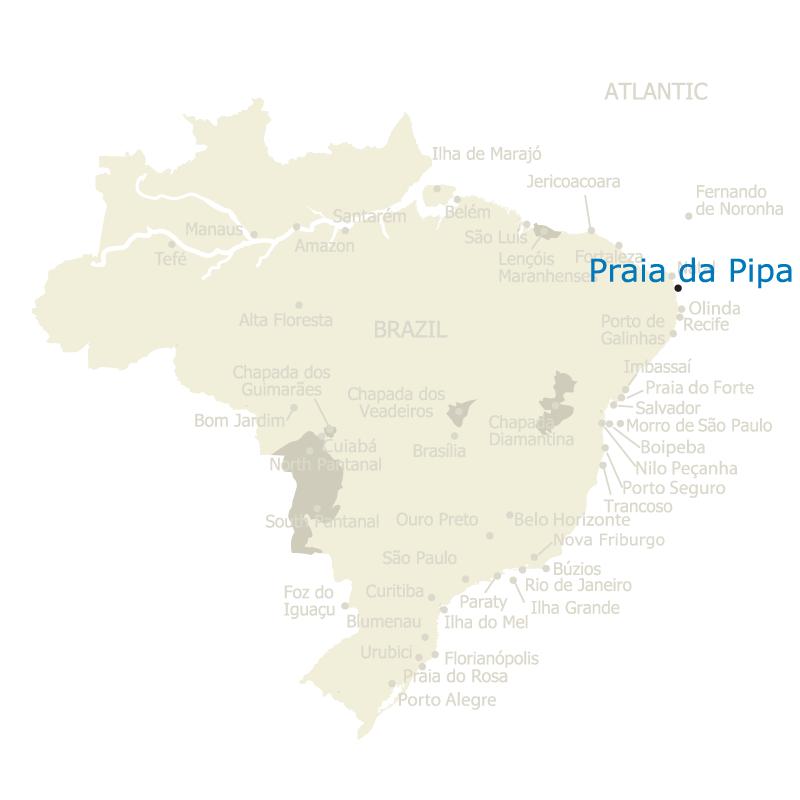 Click here for more information about the climate in Praia da Pipa.
Are you interested in traveling to Praia da Pipa? Just send us a quick message and we will provide you with a custom itinerary proposal.

---