Climate and Best Time to Visit Praia da Pipa, Brazil
To help you identify the best time for your trip to Praia da Pipa, we have collected some important information about the regional climate.
Praia da Pipa is located in the Northeast of Brazil. The seasons in this tropical climate zone, while not very pronounced, are opposite of those we know in Central Europe. Summer is from December to February and winter from June to August. Temperatures differ only slightly throughout the year, which can therefore be divided more into a rainy season and a dry season. March to July compose the rainiest months (rainy season), while the remaining months, from August to February, form the dry season.
Here you can find all the travel packages and further information about the region.
Daily high temperatures are 28 °C to 31 °C (82 °F to 88 °F) year round, with the summer months being slightly hotter than the rainy winter months. Meanwhile, the lowest temperatures are around 20 °C to 23 °C (68 °F 73 °F). The high temperatures are partly alleviated by a cool breeze from the Atlantic Ocean. The average annual humidity is 74%, which is why the high temperatures can sometimes be perceived as muggy.
While on vacaation in Praia da Pipa, travelers can benefit from many hours of daily sunlight. During the rainy months there are between 6 and 8 hours, and the dry season brings 8 to 10 hours of daily sunlight. These long, sunny days, together with the warm to hot weather and beautiful beaches, make up the ideal mixture for your beach getaway.
During the dry season from August to February, average rainfall is only about 20 mm to 100 mm (0.8 in to 3.9 in) per month, while the rainy season from March to July accumulates 180 mm to 250 mm (7.1 in to 9.8 in) per month. Heavy showers tend to occur in the late afternoon and evening, which would not be as ideal for a beach getaway.
The water off the coast is pleasantly warm year round with average temperatures of 27 °C to 29 °C (81 °F to 84 °F). The beaches at Praia da Pipa are therefore ideal for an extensive and relaxing beach getaway.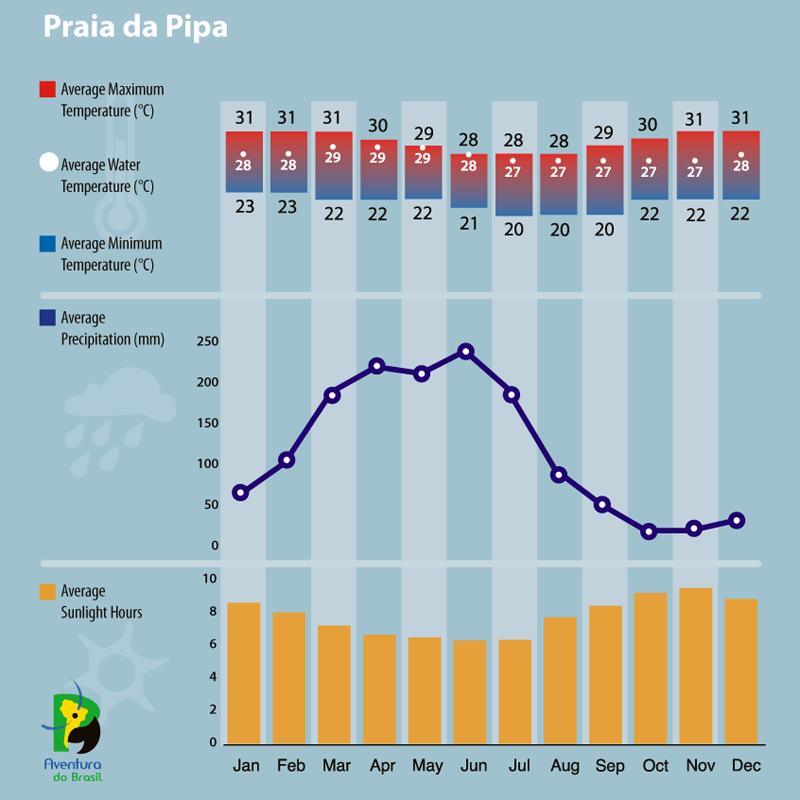 Best Time to Visit Praia da Pipa
Praia da Pipa and its surroundings are very suitable as a year-round destination. The temperatures are pleasantly warm throughout the year and the water temperatures hardly drop, even in the rainy season.
For a beach getaway, the best time to travel would be from August to February, as during this time it rains less and the beach can be more thoroughly enjoyed with high temperatures and many hours of sunlight.