Brazil Travel Packages: Praia do Forte
The former fishing village of Praia do Forte is located in the state of Bahia and has 8,000 inhabitants. It is not by pure luck that Praia do Forte is one of the most visited seaside resorts in Brazil. A developed tourist infrastructure as well as many high-quality restaurants are located in the city center, which is also closed to car traffic. The central street, Alameda do Sol, is suitable for nice strolls. Discover small shops and charming cafes, where you can surely find a satisfactory souvenir of your trip to Brazil. Let your soul dangle on 9 miles (14 kilometers) of sandy beaches next to coral reefs and crystal clear ocean surrounded by coconut trees. Projeto Tamar, dedicated to the protection of sea turtles, presents its work in a visitors' center, and various species of turtles and other sea animals can also be visited. From May to June you can watch the turtles laying their eggs. From December to February you can watch the hatching of the young animals up close. Humpback whales can be seen during the breeding season between July and October. The weather is warm to hot year round. The summer, from December to February, has average temperatures of 72 °F (22 °C) to 90 °F (32 °C). In the winter, extending from June to August, you can expect temperatures of 66 °F (19 °C) to 82 °F (28 °C).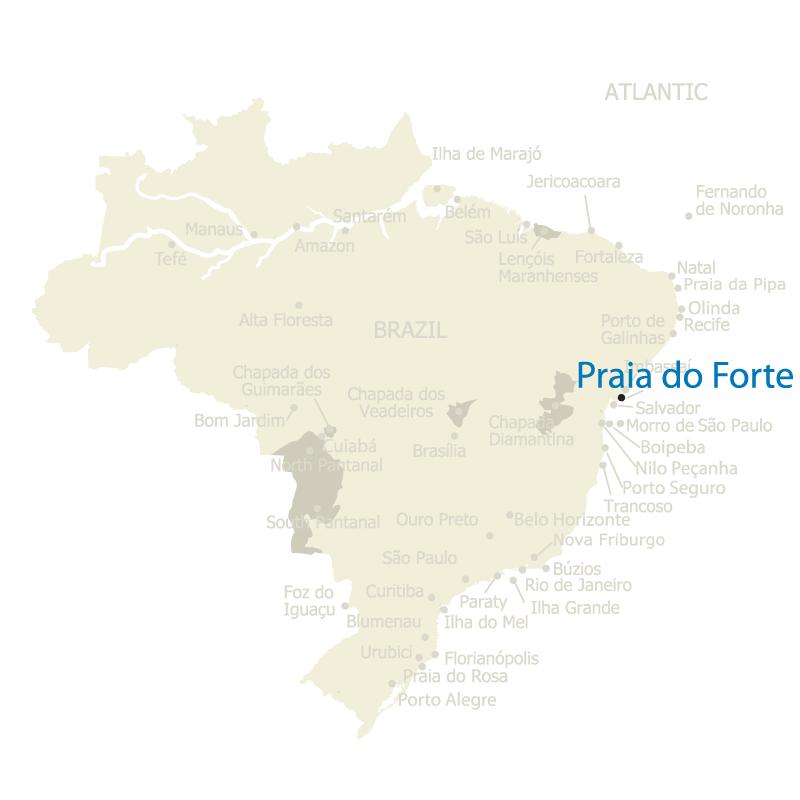 Below you will find our travel packages for Praia do Forte:
---
7 Days of Culture, Hiking, and Beaches
Brazil | Salvador da Bahia, Chapada Diamantina, Praia do Forte
This journey will expose you to the wide diversity of Bahia: the famous historical center of Salvador, adventurous tours in Chapada Diamantina National Park, and palm-lined dream beaches. Colorful little streets, waterfalls, caves, table mountains, tropical culinary specialties, and much more await you on this tour to the most beautiful places in Bahia.