Climate and Best Time to Visit Praia do Forte, Brazil
To help you plan your trip to Praia do Forte, we have put together some important information about the regional climate and ideal times to travel.
Praia do Forte and Bahia, like most regions of Brazil, are located in the southern hemisphere. This means that the seasons are the opposite of those we know in Central Europe. Summer lasts from December to February and winter is from June to August. Praia do Forte is located in the Northeast of Brazil and is dominated by tropical climate with warm to hot temperatures year round. Even so, a cool wind often blows from the Atlantic Ocean, reducing the heat a little. The seasons are characterized by a dry, hot summer and a rainy, mild winter.
Here you can find all the travel packages and further information about the region.
In the summer, daily high temperatures reach 31 °C to 32 °C (88 °F to 90 °F). From time to time there can also be cooler weather at about 22 °C (72 °F). Overall, the summer is dry and very warm, making Praia do Forte ideal for a relaxing beach getaway during the summer. Average rainfall during these months is only 60 mm to 110 mm (2.4 in to 4.3 in).
Fall, from March to May, is characterized by rainy weather and continuously warm temperatures. There is an average of 140 mm to 270 mm (5.5 in to 10.6 in) of rain per month, with May bearing the brunt of it. Temperatures vary between 21 °C and 31 °C (70 °F to 88 °F), but for the most part it remains very warm. At night it can sometimes get a bit cooler.
Winter in Praia do Forte (June to August) is consistently warm and mild with temperatures between 19 °C and 28 °C (66 °F to 82 °F). Only very rarely does the thermometer fall below 15 °C (59 °F). Due to the beach's location in the tropics, precipitation is still quite high, but less than during the fall at around 120 mm to 210 mm (4.7 in to 8.3 in) per month.
Spring, from September to November, is quite dry with an average of only about 80 mm to 90 mm (3.1 in to 3.5 in) of rain per month. The weather gets hotter, reaching upwards of 28 °C to 30 °C (82 °F to 86 °F). Occasionally even cooler temperatures of 20 °C to 22 °C (68 °F to 72 °) can be felt.
Water temperatures at Praia do Forte are very pleasant throughout the year between 26 °C and 29 °C (79 °F to 84 °F). This area is therefore very suitable for a beach getaway year round.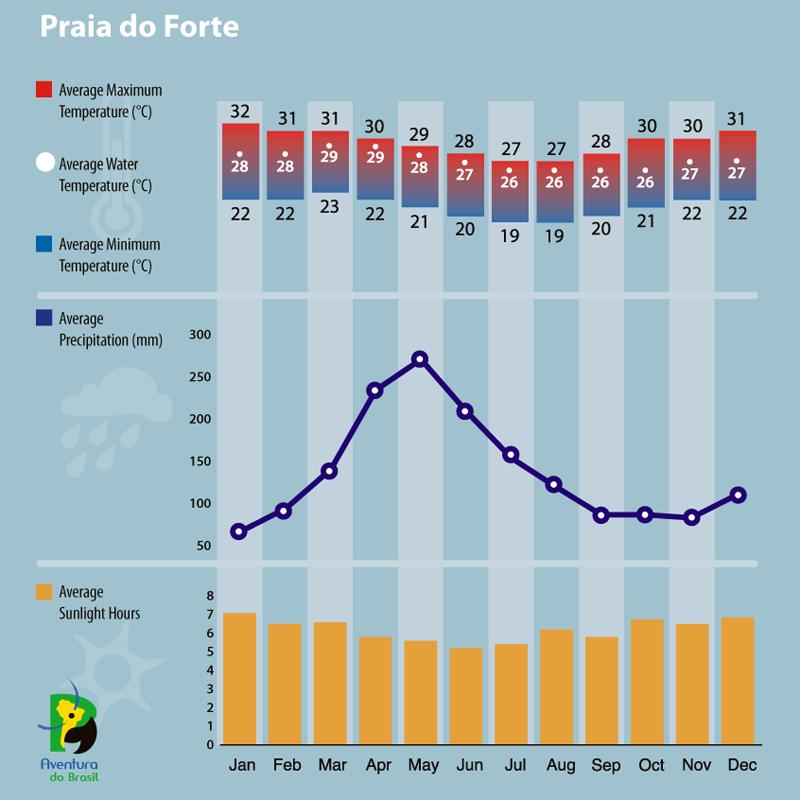 Best Time to Visit Praia do Forte
Praia do Forte is generally very suitable as a tourist destination year round. The immediate vicinity and its environs in general mainly serve as tourist destinations for beach getaways, which is enhanced by the year-round high temperatures and the pleasantly warm water.
Those who do not want to experience too much rain during their trip to Praia do Forte should avoid the very humid months from March up to July / August. From June up to September, the weather can occasionally get a little cooler.
7 Days of Culture, Hiking, and Beaches
Brazil | Salvador da Bahia, Chapada Diamantina, Praia do Forte
This journey will expose you to the wide diversity of Bahia: the famous historical center of Salvador, adventurous tours in Chapada Diamantina National Park, and palm-lined dream beaches. Colorful little streets, waterfalls, caves, table mountains, tropical culinary specialties, and much more await you on this tour to the most beautiful places in Bahia.