Climate and Best Time to Visit Sao Paulo, Brazil
To help you plan your trip to Sao Paulo, we have compiled below some important information about the regional climate and ideal times to travel.
Sao Paulo, like most regions of Brazil, is located in the southern hemisphere. Therefore, the seasons are the opposite of those we are used to in Central Europe. Winter lasts from June to August and summer is from December to February. However, due to the subtropical climate, the seasons are less pronounced than in many Central European countries and the hot summer alternates with a generally mild winter.
Here you can find all the travel packages and further information about the region.
In the summer (December to February) the weather is usually humid and offers very warm to hot temperatures and high rainfall between 190 mm and 250 mm (7.5 in to 9.8 in). If you want to travel to Sao Paulo during this time, be sure to have a good rain cover with you. Temperatures rise to an average of up to 28 °C (82 °F) during this time, and even the lowest temperatures are relatively warm around 18 °C to 19 °C (64 °F to 66 °F).
Fall lasts from March to May and offers warm weather and average rainfall. Average high temperatures are between 23 °C and 27 °C (73 °F to 81 °F). Occasionally it gets a bit cooler with lows between 13 °C and 18 °C (55 °F to 64 °F) and even at night it can cool down further. Average precipitation during the fall is between 50 mm and 160 mm (2 in to 6.3 in) per month.
The winter (June to August) is usually cool and dry. On average there is only 40 mm to 50 mm (1.6 in to 2 in) of rain per month. Temperatures vary between 11 °C and 23 °C (52 °F to 73 °F) during the day, while at night it can cool down more. The days are mostly sunny and clear.
In the spring, which in Sao Paulo lasts from September to November, both temperatures and rainfall rise again. The weather is warm with temperatures averaging between 14 °C and 26 °C (57 °F to 79 °F) during the day. On your trip to Sao Paulo you will experience 60 mm to 130 mm (2.4 in to 5.1 in) of rain per month.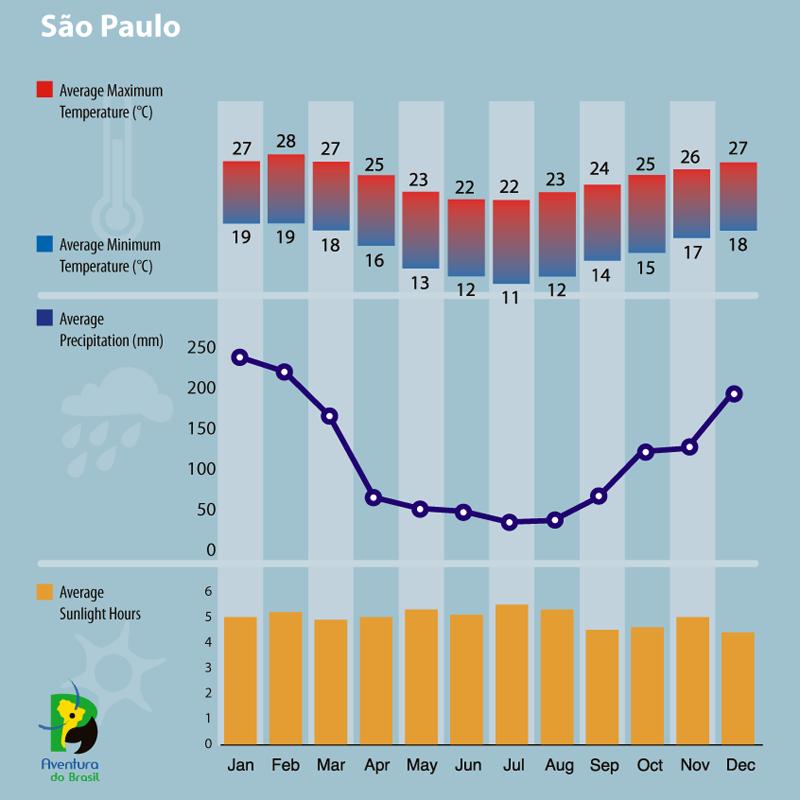 Best Time to Visit Sao Paulo
Sao Paulo is generally an interesting destination for your vacation in Brazil year round, as there is always something to see and discover, even during the rainy season, and you will not be obsessively dependent on good weather.
The best time for your trip to Sao Paulo depends on your personal preferences. For some guidance, please note the following:
The summer months have the highest temperatures and amount of precipitation. Both the hot weather and the heavy rainfall could be a hindrance to your discovery tours in and around the city.
8 Days of Culture, Nature, and Beaches
Brazil | Sao Paulo, Paraty, Ilha Grande, Rio de Janeiro
During this journey you will experience the fantastic Costa Verde during your own road trip. The green coast of Brazil with its small bays, beaches, and islands will amaze you. Discover the picturesque colonial town of Paraty and get to know the diverse surroundings on your own. Enjoy paradise and the dreamy beaches of Ilha Grande and go on excursions as you please.
9 Day Individual Tour by Bus, Train, and Boat
Brazil | Sao Paulo, Foz do Iguacu, Curitiba, Ilha do Mel
A trip to Brazil could hardly be more varied. Experience the pulsating international metropolis of Sao Paulo, the impressive waterfalls in Foz do Iguacu, the beautiful city of Curitiba, a train ride through the dense Atlantic Rainforest, and the romantic and untouched beauty of Ilha do Mel (Honey Island). This 9-day journey by land will take travelers through the South of Brazil and combine some of the country's main attractions with unique natural experiences and deep insight into Brazilian culture.
3 Days of Culture, History, and Sightseeing
Brazil | Sao Paulo
Discover Sao Paulo, Brazil's biggest city. Enjoy its various parks and historical monuments, and explore the historic city center and Japanese district on this private tour. Sao Paulo is the perfect gateway to many other destinations in Brazil. By rental car, you can drive along the coast to Rio de Janeiro, or you can take advantage of the many direct flights to any of Brazil's state capitals.