Brazil Travel Packages: Serra do Roncador
In Central Brazil, far away from the well-known tourist routes, lies the mountain range of Serra do Roncador. Located in the state of Mato Grosso between the Xingu and Araguaia rivers, the terrain runs 500 miles (800 kilometers) north from the town of Barra do Garcas on the border with the state of Goias to the hills of the Serra do Cachimbo, in the state of Para. The table mountains form a steep and rugged relief of up to 2,300 feet (700 meters) in height in the vastness of the grasslands and follow the vegetation of the Cerrado (Brazilian grasslands) as it transitions to the Amazon Rainforest.
The mountains are the scene of many myths and legends and attract researchers, scientists, ufologists and mystics from all over the world. They got their name, "Mountains of Snoring," from the sounds of the wind that bounce off the rock faces, creating a characteristic snoring sound.
Here, visitors experience the unique wilderness and unspoiled landscape of Central Brazil, full of natural attractions and great biodiversity. There are countless waterfalls, caves, archaeological sites and viewpoints to discover.
The varied landscape is also reflected in the animal world. Here, the habitats of the Cerrado and the Amazon unite, making the region a home for various species of parrots, eagles and vultures, deer, anteaters and rodents. Predators such as foxes, maned wolves, jaguars and pumas are also at home here.
Tourist infrastructure has hardly been developed so far. The best way to reach Serra do Roncador is via Barra do Garcas, on an expedition trip with a four-wheel-drive vehicle. On a hiking or trekking tour, the unknown and unique landscape can be explored best.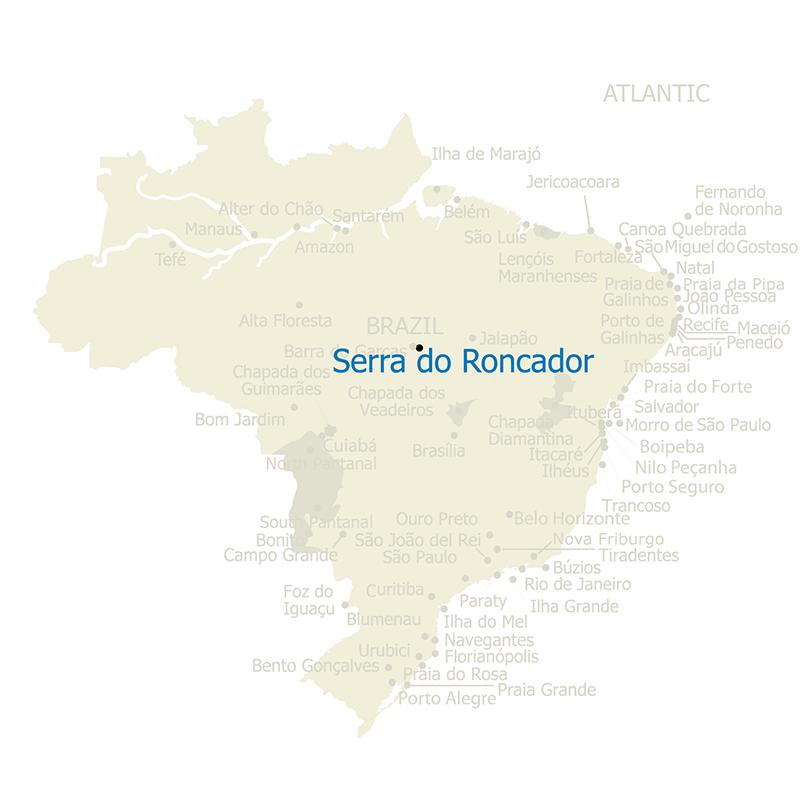 ---