Climate and Best Time to Visit Brasilia, Brazil
To help you plan your trip to Brasilia, we have compiled some important information about the regional climate and ideal times to travel.
Brasilia, like most regions in Brazil, is located in the southern hemisphere. Therefore, the seasons are opposite of those we are used to in Central Europe. The Brazilian summer is from December to February and winter lasts from June to August. Due to its close proximity to the equator, however, temperatures in Brazil's capital do not differ significantly during the year, dividing it into dry and rainy seasons. The climate in Brasilia is tropical with warm to hot temperatures.
Here you can find all the travel packages and further information about the region.
During the dry season (May to September), there is very little rainfall with an average of only 10 mm to 60 mm (0.4 in to 2.4 in) per month. The weather is consistently warm but sometimes there can be hot temperatures. Daily high temperatures average around 26 °C to 29 °C (79 °F to 84 °F). Occasionally there are also cooler days with average temperatures of 13 °C to 16 °C (55 °F to 61 °F). At night it gets colder from time to time. Throughout the dry months you will benefit from an average of 7 to 9 hours of daily sunlight on your trip.
During the rainy season, which lasts from October to April, the average rainfall is 120 mm to 260 mm (4.7 in to 10.2 in) per month. Especially in the late afternoon, thunderstorm-like rain showers can often occur. Temperatures fluctuate between 17 °C and 28 °C (63 °F to 82 °F) during these months and only very rarely does the thermometer drop below 15 °C (59 °F). The weather in the city during this time is therefore mostly warm to hot and very rainy. In the rainy season you will only experience an average of 4 to 6 hours of daily sunlight.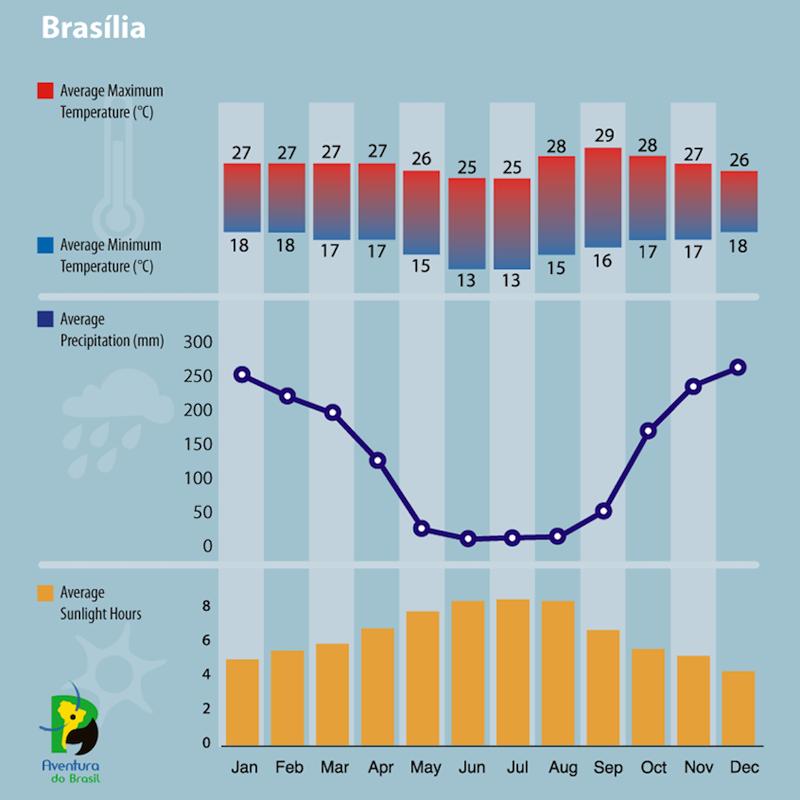 Best Time to Visit Brasilia
In general, Brasilia is an attractive destination year round. However, depending on your vacation preferences, there are some tips to keep in mind to identify the best time to travel:
During the rainy season Brasilia generally gets a lot of rain. If you have a lot of outdoor excursions on your itinerary for your stay in Brasilia between October and April, the rain might interfere with your plans. However, temperatures are very warm throughout these months.
5 Days of Nature and Hiking off the Beaten Track
Brazil | Brasilia, Chapada dos Veadeiros
On this rental car tour you will experience the wild landscape of Central Brazil in the Chapada dos Veadeiros region around its national park. Deep gorges crisscross the plateau here, allowing numerous waterfalls and canyons to line up. The natural attractions are surrounded by varied vegetation of the Cerrado (Brazilian grasslands), the second largest biome in South America and the most species-rich landscape in the world. Depending on how much you want to hike, a local guide will tailor an optimal itinerary for you upon arrival.