Climate and Best Time to Visit Chapada Diamantina, Brazil
To help you plan your trip to Chapada Diamantina, we have compiled below some important information about the regional climate and ideal times to travel.
Chapada Diamantina and the state of Bahia are, like most regions in Brazil, located in the southern hemisphere. Therefore, summer lasts from December to February and winter is from June to August. However, due to close proximity to the equator, the seasons in Bahia are not as pronounced as, for example, in the south of the country. The predominating tropical climate in Chapada Diamantina provides warm to hot temperatures on a consistent basis. However, due to the high altitude of the mountains there can be small temperature differences throughout the year, which is divided into a dry and a rainy season.
Here you can find all the travel packages and further information about the region.
The dry season in Chapada Diamantina usually lasts from May to August. During these dry months the average rainfall is only 10 mm to 50 mm (0.4 in to 2 in) per month. Temperatures are slightly lower than during the rainy season, but the weather is still warm throughout with average daily highs of 24 °C to 27 °C (75 °F to 81 °F). Occasionally, depending on the year, it can get very hot during the day, or cool down a little during both the day and night to an average of 13 °C to 15 °C (55 °F to 59 °F). Travelers can enjoy a daily average of 6 to 8 hours of daily sunlight during the dry season.
The rainy season runs from November to March with average rainfall of 50 mm to 130 mm (2 in to 5.1 in) per month. Daily low temperatures during this period settle around 16 °C to 17 °C (61 °F to 63 °F). Mostly, however, it is warmer with an average of 26 °C to 28 °C (79 °F to 82 °F). In the morning and late afternoon it can often be cloudy and rainy, but most days are clear and sunny. A vacation in Chapada Diamantina during the rainy season would allow you 5 to 7 hours of daily sunlight.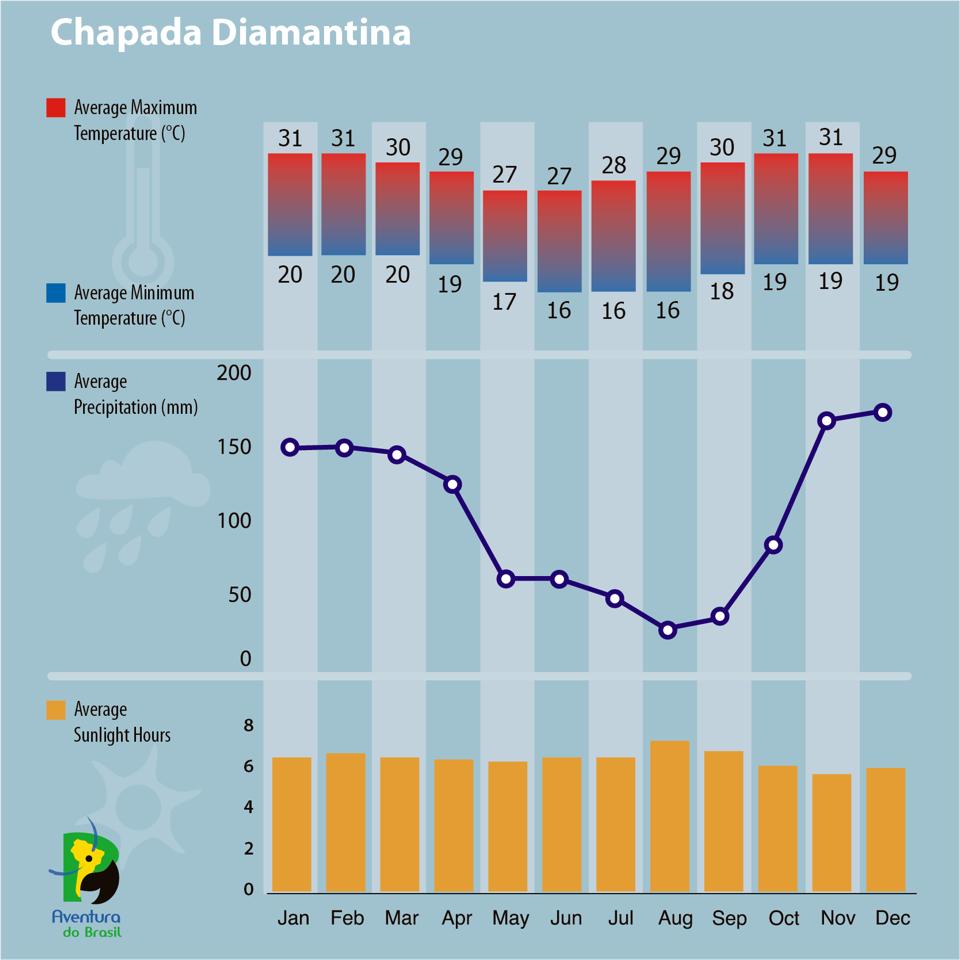 Best Time to Visit Chapada Diamantina
The Chapada Diamantina National Park is usually worth a visit year round. During the rainy season, travelers can be a little restricted due to rainfall, but it is minor compared to other regions of Brazil. Often these are rather short, strong showers, and therefore are usually a refreshing moment to cool off.
The dry season brings the advantage of much less rain in addition to the generally warm, sunny weather. This makes excursions and hikes in the mountains and in the surrounding area very doable. It can also get a little cooler, especially at night, so be sure to bring a jacket if you want to stay in the region during these months.
The best time to travel to Chapada Diamantina is generally between May and September, when it is drier but still quite warm during the day. October is usually the hottest month and considered the beginning of the rainy season.
Especially exciting is our active tour, which leads us on a 5-day trek and cycling excursion through the beautiful Chapada Diamantina region.
Pertaining to accommodations in the nearby village of Lencois, we recommend the cozy Pousada Vila Serrano, which is only a few minutes' walk from the historic center.
7 Days of Culture, Hiking, and Beaches
Brazil | Salvador da Bahia, Chapada Diamantina, Praia do Forte
This journey will expose you to the wide diversity of Bahia: the famous historical center of Salvador, adventurous tours in Chapada Diamantina National Park, and palm-lined dream beaches. Colorful little streets, waterfalls, caves, table mountains, tropical culinary specialties, and much more await you on this tour to the most beautiful places in Bahia.
5 Days of Trekking and Nature
Brazil | Chapada Diamantina
Experience and discover the most beautiful parts of Chapada Diamantina National Park during a 3-day trekking tour. The starting point for the trip is the charming town of Lencois, which has colonial architecture with calm cobblestone streets and cozy restaurants and bars. The trekking tour takes you through the scenic, beautiful Pati Valley where high waterfalls, dark caves, and wonderful views await you.