Climate and Best Time to Visit Praia de Galinhos, Brazil
A trip through the Northeast of Brazil could lead some travelers to Galinhos, along the northern tip of the state of Rio Grande do Norte, which is especially popular among Brazilians. For optimal travel planning we have summarized on this page some basic information about the weather and climate in Praia de Galinhos.
The tropical climate in Praia de Galinhos in the summer is much more rainy than in the winter. This means that there is up to 450 mm (17.7 in) of precipitation in June, but it remains very dry throughout the other months. The tropical climate gives, as in many parts of the country, a relatively homogeneous picture of the temperature distribution. The average annual temperature is around 26 °C (79 °F), with February being the hottest at around 29 °C (84 °F) on average and August the coolest at 25 °C (77 °F). The differences are hardly noticeable for Europeans, especially given that the thermometer does not drop below 20 °C (68 °F) even at night.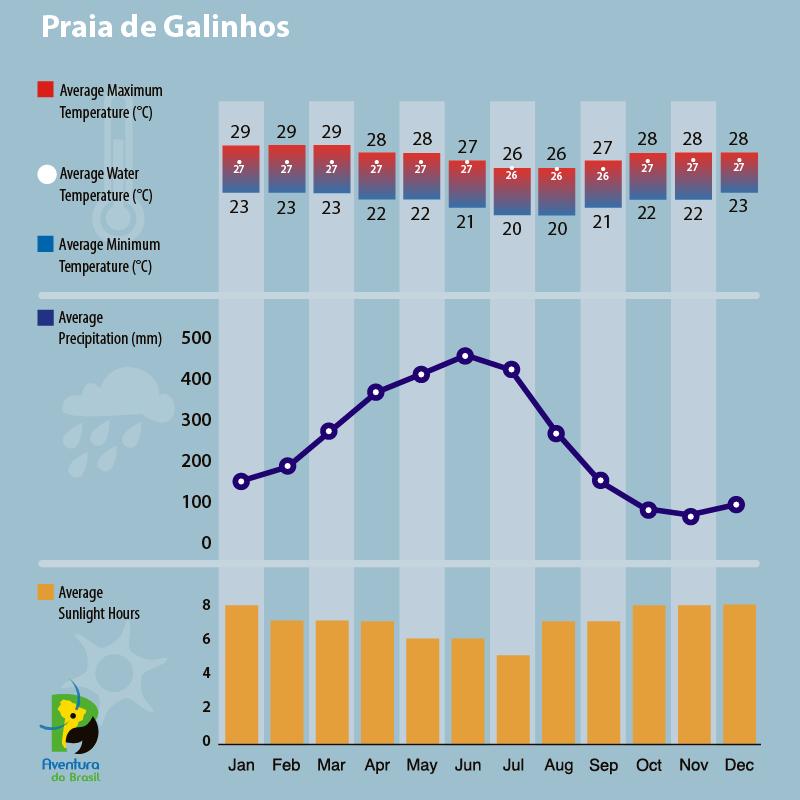 Best Time to Visit Praia de Galinhos
Visitors succumb to the charm of this small town year round. But if sun worshippers want to spend a majority of their time on the beaches, the best time to do so would be from August to February. This period also coincides with the most ideal time to travel, even though it is pleasantly warm and hot during the entire year.