Climate and Best Time to Visit Sao Joao del Rei, Brazil
Part of travel planning is ensuring that weather conditions are suitable for your vacation preferences. Therefore, we have summarized some information about the climate in Sao Joao del Rei in the state of Minas Gerais.
The tropical climate of this area is characterized by two seasons and short transition months. The rainy season ends in April and it remains dry until the end of September. Then it starts to rain more and more through December and January, with peak measurements around 250 mm (9.8 in).
Sao Joao del Rei is situated at an altitude of almost 900 m (2,953 ft) above sea level and therefore it is pleasantly fresh and cooler than in other places. It gets warmest in the summer months from October to March, rising to almost 30 °C (86 °F), but the daily temperature remains at 26 °C (79 °F) on average. In the winter, from May to September, it cools down a little and temperatures reach about 24 °C (75 °F). At night it can even get really fresh with up to 10 °C (50 °F) under a starry sky. During this time it is recommended to pack long clothes for an evening walk through the baroque-style old town.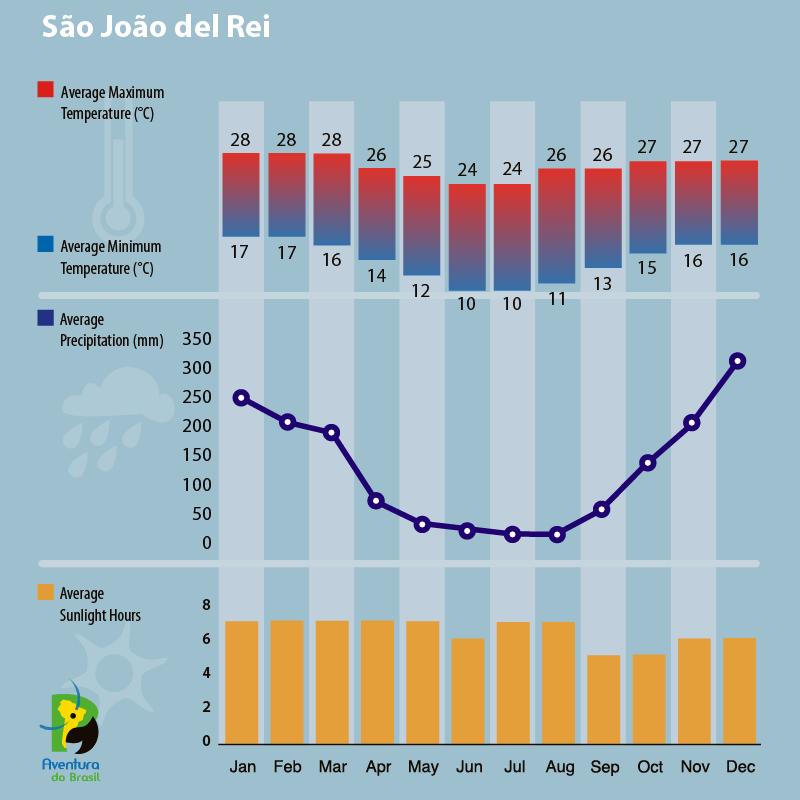 Best Time to Visit Sao Joao del Rei
A visit to the historic old town of Sao Joao del Rei and its sights is possible year round, as the tours are independent of the weather. A good option for your stay is the Pousada Beco do Bispo.
Temperatures are consistently pleasant and range between 22 °C and 25 °C (72 °F to 77 °F) during the day and settle at 15 °C (59 °F) at night. The driest months are from April to September, after which the rainy season begins and continues until March.
5 Days of Culture, History, and Nature
Brazil | Rio de Janeiro, Sao Joao del Rei, Ouro Preto, Belo Horizonte
Discover on this self drive tour the unique states of Rio de Janeiro and Minas Gerais, from the city of Rio to Belo Horizonte, on your own with a rental car. Let the lush green vegetation between imposing mountain ranges and colonial cities take you under the spell of this area steeped in history. Discover a unique local culture, which is still strongly influenced by the business of mineral resources and huge mines.