Climate and Best Time to Visit Chapada dos Veadeiros, Brazil
To help you plan effectively for your vacation in Chapada dos Veadeiros, in the state of Goias, we have collected some important information about the regional climate and ideal times to travel.
Chapada dos Veadeiros and the national park of the same name are located in the southern hemisphere. This means that the seasons are the opposite of those we know in Europe. As the differences in temperature during the year are only slight, the dry and rainy seasons serve as the distinguishing markers. The climate is tropical, resulting in warm to hot temperatures year round.
Here you will find all the travel packages and further information about the region.
The rainy season in Chapada dos Veadeiros lasts from October to April. During these months there is an average of 120 mm to 280 mm of precipitation (4.7 in to 11 in) per month. The rainiest months are December and January with over 250 mm (9.8 in) of rainfall each. Temperatures during the rainy season are fairly constant, with average highs of 25 °C to 28 °C (77 °F to 82 °F) and lows of 17 °C (63 °F) during the day. The rainy season brings warm to hot weather, but the sun does not shine too much. There is only an average of 4 to 7 hours of daily sunlight during this time.
The dry season, which lasts from May to September, offers very little precipitation. On your trip to Chapada dos Veadeiros you will experience only 0 mm to 50 mm (0 in to 2 in) of rainfall per month during this time. Temperatures fluctuate slightly more than the rainy season, but overall the weather is usually warm or even hot. High temperatures during the day are 26 °C to 29 °C (79 °F to 84 °). On some days and also at night it can occasionally cool down a little. The lowest temperatures during the day are 13 °C to 16 °C (55 °F to 61 °F) degrees on average. During these months sun worshippers in Chapada dos Guimaraes can enjoy up to 9 hours of daily sunlight.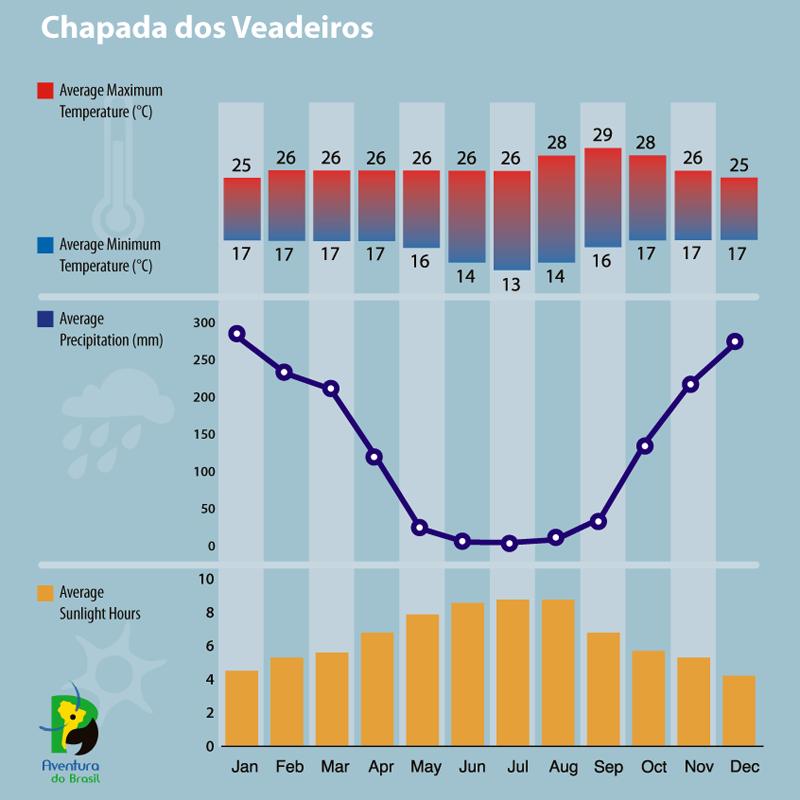 Best Time to Visit Chapada dos Veadeiros
In general, Chapada dos Veadeiros and the national park are interesting destinations for your vacation in Brazil year round. Usually the weather is very warm throughout the year with rainfall varying a lot depending on the season. To help you identify the best time to travel that suits your vacation preferences, here are some tips:
Expect heavy rainfall and high humidity during the rainy season. If you plan your trip to Chapada dos Veadeiros during these months, be sure to bring good rain protection. Also be aware that during the rainy season some roads may not be easily accessible.

5 Days of Nature and Hiking off the Beaten Track
Brazil | Brasilia, Chapada dos Veadeiros
On this rental car tour you will experience the wild landscape of Central Brazil in the Chapada dos Veadeiros region around its national park. Deep gorges crisscross the plateau here, allowing numerous waterfalls and canyons to line up. The natural attractions are surrounded by varied vegetation of the Cerrado (Brazilian grasslands), the second largest biome in South America and the most species-rich landscape in the world. Depending on how much you want to hike, a local guide will tailor an optimal itinerary for you upon arrival.