Climate and Best Time to Visit Itubera, Brazil
To help you plan your trip to Itubera, we have gathered below some information about the regional climate and ideal times to travel.
The city of Itubera is located on the coast of Bahia, neighboring the green belt of the Atlantic Forest.
Warm to hot temperatures prevail year round in this humid tropical climate. Especially from October to March, it can get very hot with temperatures of over 30 °C (86 °F). It gets a little cooler during the winter from April to September with average temperatures of 24 °C (75 °F). At night it can get even fresher as the thermometer drops below 20 °C (68 °F).
The city's location at the mouth of Rio Santarem and the surrounding mangroves result in high humidity, coming off to travelers as very humid.
The rainy season from February to July can be accompanied by storms with monthly precipitation over 200 mm (7.9 in). During the dry season between August and January, rainfall decreases to around 100 mm (3.9 in).
The tropical climate and the fertile soil bring diverse vegetation and a rich animal kingdom, making a trip to Itubera and the surrounding villages ideal year round. If your trip is combined with a stay on the beach at the nearby Praia de Pratigi, the dry season is preferable.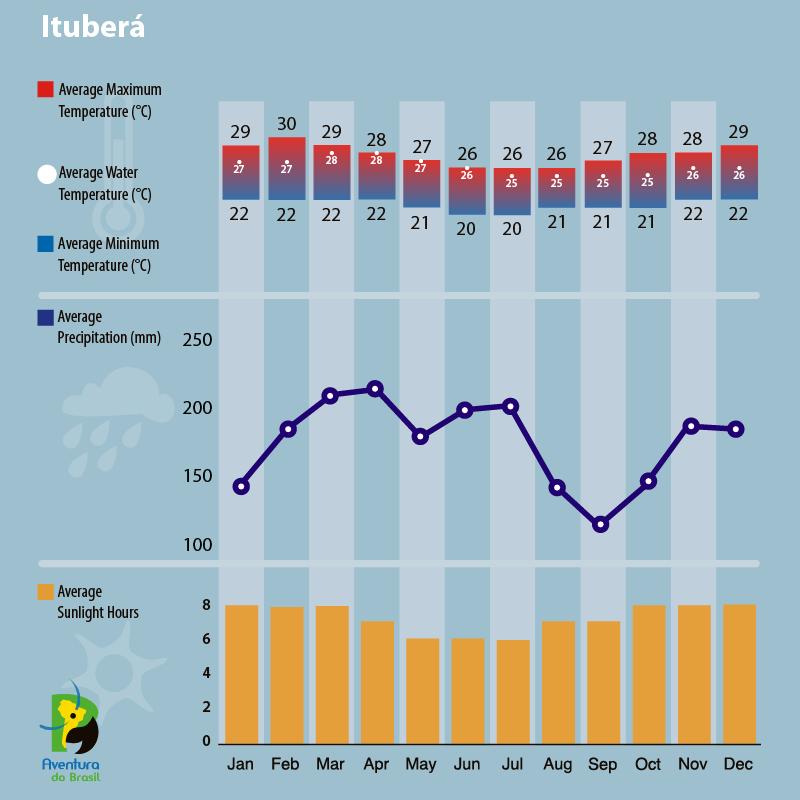 Best Time to Visit Itubera
Due to the homogeneous climate patterns in Itubera and its surroundings, the region is generally recommended as a year-round destination. The city's location within the mangroves leads to permanently high humidity. During the rainy season from February to July there can be heavy storms and cloudbursts, while precipitation is less aggressive from August to January. Convince yourself of the beauty of Itubera during our 7-day trip "Rota da Bahia.