Climate and Best Time to Visit Boipeba, Brazil
For optimal planning of your itinerary in Boipeba, we have summarized below some information about the regional climate and ideal times to travel.
Boipeba and Bahia are located in the southern hemisphere, just like most regions in Brazil. For this reason, the seasons of the year are opposite of those we are used to in Central Europe. The Brazilian winter lasts from June to August, and summer from December to February. However, the seasons are not so pronounced due to proximity to the equator and the temperatures fluctuate very little throughout the year. The climate is tropical with warm to hot temperatures.
Here you can find all the travel packages and further information about the region.
The summer months (December to February) offer travelers hot weather with very little rain. The daily temperature high in Boipeba averages at 31 °C (88 °F) and only occasionally does it drop to 23 °C (73 °F) or less. Even in the relatively dry summer, due to the city's location in the tropics, rainfall must be expected constantly. However, the average rainfall during these months is only 130 mm to 180mm (5.1 in to 7.1 in) per month. During the summer months, travelers in Boipeba can also enjoy the maximum amount of daily sunlight (6.5 to 7.5 hours on average).
Fall (March to May) is the wettest season with 190 mm to 230mm (7.5 in to 9.1 in) of rain per month. Especially in the late afternoon there are often heavy rain showers. However, temperatures remain high and fluctuate between 22 °C and 31 °C (72 °F to 88 °F). The days are mostly sunny and warm, but at night it can get a bit cooler.
In the winter (June to August), the weather can be a bit cooler, but generally the temperature stays warm to hot at 20 °C to 28 °C (68 °F to 82 °F). Only very rarely, mostly at night, does it fall below 20 °C (68 °F). Rainfall remains quite high during these months (160 mm to 230mm per month; 6.3 in to 9.1 in), but there is slightly less rain than in the fall.
Spring (September to November) in Boipeba is characterized by continuously warm temperatures and very little rainfall (140 mm to 150mm per month; 5.5 in to 5.9 in). With daily low temperatures of 22 °C to 23 °C (72 °F to 73 °F) and daily high temperatures of 28 °C to 30 °C (82 °F to 86 °F), these months usually have very good weather conditions for your trip.
Water temperatures in the Atlantic Ocean off the coast of the island of Boipeba constantly average at 25 °C to 28 °C (77 °F to 82 °F). This makes the water pleasantly warm year round and ideal for a beach getaway.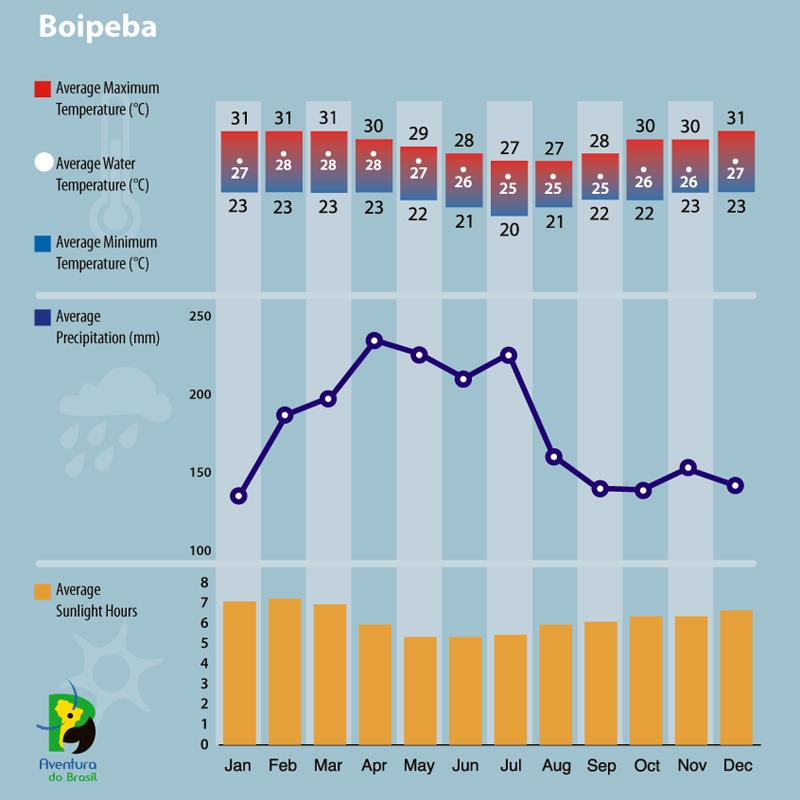 Best Time to Visit Boipeba
Boipeba is generally very suitable as a year-round tourist destination. There are predominantly warm to hot temperatures throughout the year and water temperatures are consistently pleasant.
In order to avoid too much rain during your trip to Boipeba, consider scheduling around the rainy months from February to July, if possible, so that you can enjoy a relaxed stay at the beach. The best time to travel would be from August to January, as there is relatively little rain and high temperatures during these months.