Climate and Best Time to Visit Navegantes, Brazil
For optimal planning of your trip to Navegantes, we have summarized below some information about the regional climate and ideal times to travel.
The fishing village of Navegantes lies within the humid subtropical region of South America. Therefore, the weather is characterized by a lot of precipitation during the entire year, whereby the Atlantic winds are in daily dialogue with the clouds. This can be easily understood by looking at the amound of daily sunlight that is homogeneously distributed over the year. Most rain occurs in January and February with measurements around 200 mm (7.9 in). The driest time of year is winter in June and July with precipitation below 100 mm (3.9 in).
The average annual temperature is around 20 °C (68 °F) and is therefore quite similar to the European Mediterranean climate. During the day it varies from a high of 29 °C (84 °F) between December and February to just under 20 °C (68 °F) in the winter. At night it can get very fresh because of the high humidity. Especially in the winter months, the thermometer can drop to almost 10 °C (50 °F) at night, so be sure to pack suitable if you enjoy evening walks on the beach.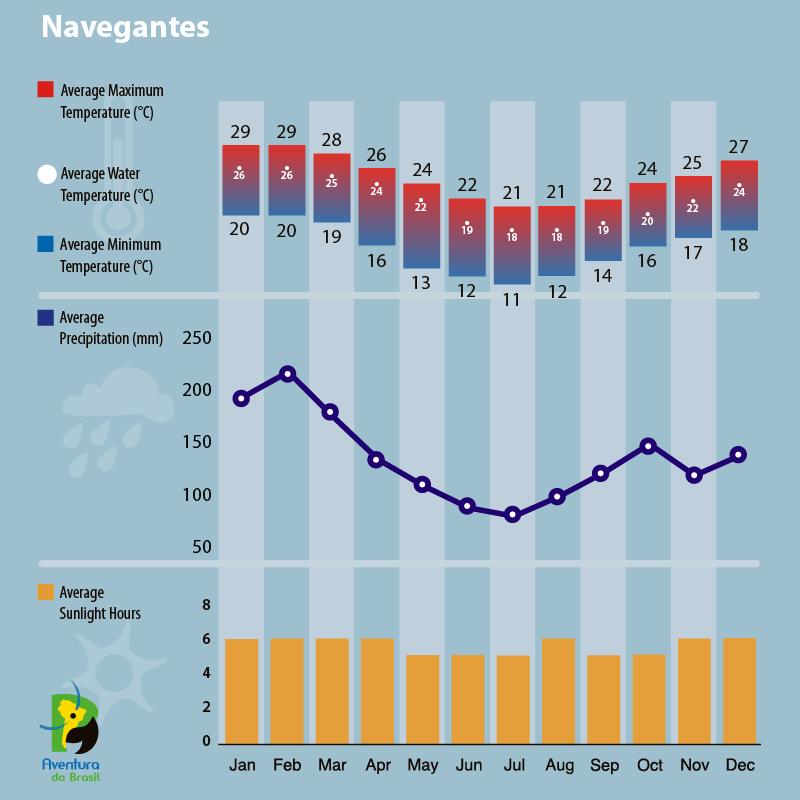 Best Time to Visit Navegantes
The coastal landscape around Navegantes offers many beautiful impressions throughout the year. The summer months from November to February are particularly suitable for sunbathing, when water temperatures are at a pleasant 26 °C (79 °F). In the winter months from May to September it rains less, but the temperatures also fall. The weather is then ideal for walks on the beach or hikes in the Atlantic Rainforest along the coast.