Climate and Best Time to Visit Chapada dos Guimaraes, Brazil
To help you plan your trip to Chapada dos Guimaraes, here is some important information about the regional climate and ideal times to travel.
Chapada dos Guimaraes is located in the state of Mato Grosso with tropical climate. Due to the city's location in the southern hemisphere, the seasons are opposite of those we know in Central Europe. However, temperatures differ so little throughout the year that the rainy and dry seasons serve as the principal distinguishing markers of the year.
Here you will find all the travel packages and further information about the region.
The dry season lasts from May to September, during which you will experience average rainfall of only 0 mm to 50 mm (0 in to 2 in) per month. The daytime temperature high averages around 25 °C to 28 °C (77 °F to 82 °F), so the weather is usually very warm. Occasionally, however, it can also cool down considerably with lows of 11 °C to 16 °C (52 °F to 61 °F). Sun lovers can experience a daily average of up to 8 hours of daily sunlight, which is considerably more than during the rainy season.
The window from October to April is the rainiest period of the year in Chapada dos Guimaraes. Between 120 mm and 260 mm (4.7 in to 10.2 in) of rainfall are registered on average during these months. Temperatures are much more constant than during the dry season. Daily high temperatures average at 26 °C to 29 °C (79 °F to 84 °F) and low temperatures rarely fall below 15 °C (59 °F) during the day. The hot and humid weather can often be perceived as sultry. During the rainy season you can experience an average of 5 to 7 hours of daily sunlight during your vacation.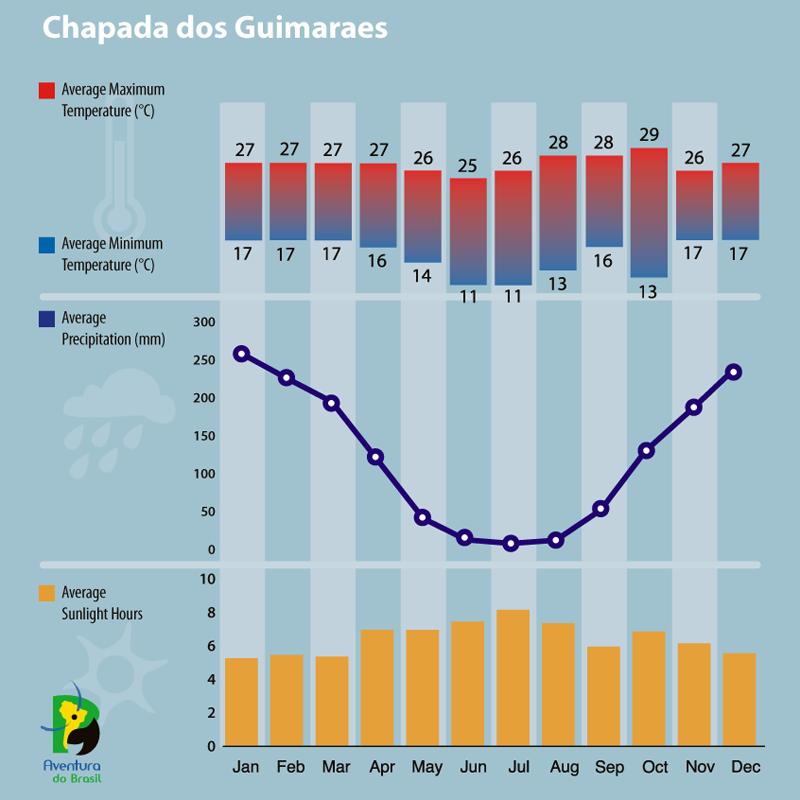 Best Time to Visit Chapada dos Guimaraes
Chapada dos Guimaraes can usually be booked as a year-round destination for your vacation. To help you identify the best time of year to travel according to your vacation preferences, please note the following information:
During the rainy season, heavy rainfall can occur constantly. This means that some roads may not be very passable. When traveling to Chapada dos Guimaraes during these months, be sure to carry good rain protection with you and inquire about which regions and roads are accessible.