Climate and best time to visit Belo Horizonte, Brazil
For optimal itinerary planning, we have compiled the most important information about the regional climate and ideal times to travel.
Belo Horizonte and Minas Gerais are located inland in the Southeast of Brazil and therefore do not have too much influence from the Atlantic Ocean. The climate is moderate but warm. The seasons of the year are different from those of Europe, as the city is located in the southern hemisphere. Summer is therefore from December to February and winter from June to August.
Here you can find all the travel packages and further information about the region.
In the summer (December to February) the weather is usually quite hot and it rains a lot. The average high temperatures during this time are between 29 °C and 30 °C (84 °F to 86 °F), but average temperatures of only 19 °C to 20 °C (66 °F to 68 °F) can also occur. Summer is the wettest time of the year in Belo Horizonte with average rainfall of 200 mm to 300 mm (7.9 in to 11.8 in) per month. In the winter (June to August) it gets a bit cooler, but not very cold. High temperatures are between 26 °C and 28 °C (79 °F to 82 °F) and even on cool days the average temperature rarely falls below 13 °C (55 °F). The weather in the winter is generally very dry, with very little rainfall. The average rainfall during this time is only 10 mm to 40mm (0.4 in to 1.6 in) per month. In the spring (September to November) and fall (March to May), temperatures are pleasantly warm. These seasons are therefore particularly suitable for excursions and discovery tours in the city itself and its beautiful surroundings. The average temperature during these months is between 15 °C and 29 °C (59 °F to 84 °F). During the day, the city is usually sunny and warm, while at night the temperatures drop somewhat. The average rainfall varies between 50 mm and 200 mm (2 in to 7.9 in) per month.
In general, the humidity is relatively high (57 to 76 percent). Summer is the time of year with the highest humidity, which is why the high temperatures during these months can feel sultry.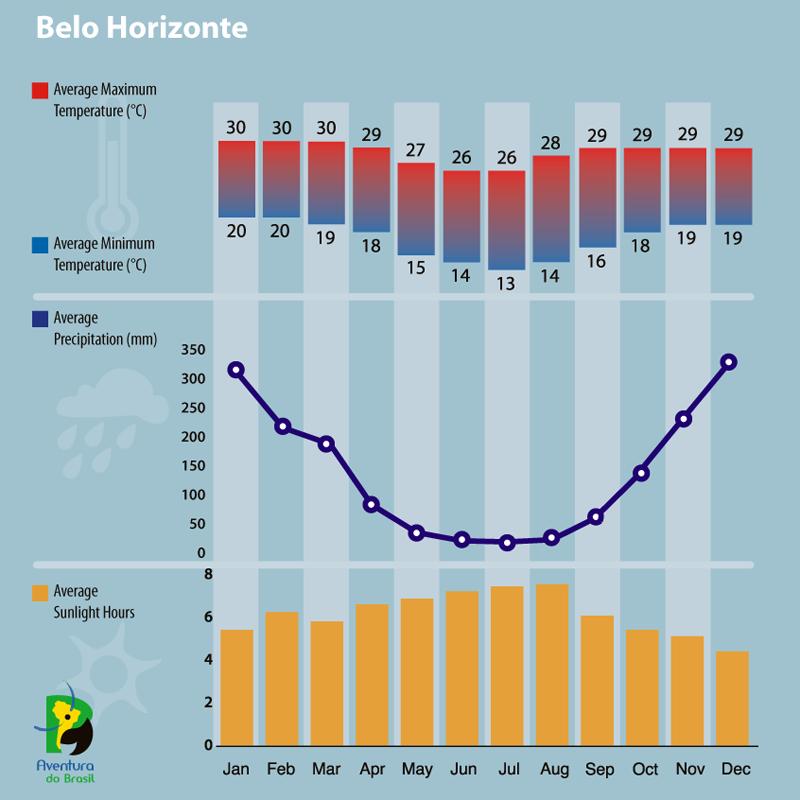 Best Time to Visit Belo Horizonte
In general, Belo Horizonte is a very good year-round destination, as the warm temperatures do not vary too much throughout the year.
As Belo Horizonte is not a coastal city, it is not regarded as a popular beach destination for tourists, but mainly for city trips. The high temperatures and heavy rainfall in the summer should therefore be avoided if travelers do not want to expose themselves to the Brazilian heat. The best time for trips and excursions to Belo Horizonte would be between March and May (fall), and between September and November (spring). During this time, travelers can expect pleasantly warm temperatures and little rainfall. The winter months are also suitable for travel, but it can be quite cool from time to time.
To get to know the beautiful surroundings of the city, our city trip to Ouro Preto is just the right thing. In addition to a historical city tour in Ouro Preto, excursions to other nearby cities are also added to your itinerary.
5 Days of Culture, History, and Nature
Brazil | Rio de Janeiro, Sao Joao del Rei, Ouro Preto, Belo Horizonte
Discover on this self drive tour the unique states of Rio de Janeiro and Minas Gerais, from the city of Rio to Belo Horizonte, on your own with a rental car. Let the lush green vegetation between imposing mountain ranges and colonial cities take you under the spell of this area steeped in history. Discover a unique local culture, which is still strongly influenced by the business of mineral resources and huge mines.
3 Days of Culture and History
Brazil | Belo Horizonte, Ouro Preto
Discover baroque Ouro Preto, a historic city that has been a UNESCO World Cultural Heritage site since 1980. Ouro Preto, literally meaning "black gold," was named after the huge amounts of gold discovered there in the 18th century. The city is a vibrant, fascinating place that oozes culture and is an important site for art history. You will also visit Congonhas, with its famous life-size statues of the prophets; and Mariana, a city characterized by Brazilian baroque architecture. Mariana is the oldest city in Minas Gerais and belongs, with Ouro Preto, to Brazil's "Golden Circle."