Climate and Best Time to Visit Sao Luis, Brazil
To help you plan your trip to Sao Luis, we have compiled below some important information about the regional climate and ideal times to travel.
Sao Luis is the capital of the state of Maranhao and is located in the North of Brazil, which is dominated by tropical climate. This means that you will have hot and humid weather during your trip there. Since temperatures do not vary significantly, the year is divided into dry and rainy seasons instead of the seasons we know in Central Europe.
Here you will find all the travel packages and further information about the region.
The rainy season in Sao Luis runs from January to June and brings high precipitation rates of 190 mm to 410 mm (7.5 in to 16.1 in). The weather is consistently hot with daytime high temperatures ranging from 30 °C to 31 °C (86 °F to 88 °F). Even the cooler periods in Sao Luis are still warm with a daily low temperature of 23 °C (73 °F). The humid and hot weather is often perceived as muggy. Water temperatures on the beaches of Sao Luis are at an average of 28 °C to 29 °C (82 °F to 84 °F) during the rainy season, which make them suitable for a beach getaway. Unfortunately, you will only experience 3 to 7 hours of daily sunlight during this season. In the particularly rainy months (March and April), the sun comes out the least, providing only 3 to 4 hours of daily sunlight.
During the dry season, which lasts from July to December, there is considerably less rain with an average of 0 mm to 150 mm (0 in to 5.9 in) per month. The months with the least amount of rain occur from September to November. Also, during the dry season the weather in Sao Luis is usually very hot with daily high temperatures of up to 32 °C (90 °F). Average low temperatures are still quite warm at 23 °C to 24 °C (73 °F to 75 °F). The ocean along the coast of Sao Luis keeps warm temperatures of 27 °C to 28 °C (81 °F to 82 °F) for a comfortable vacation, with 6 to 8 hours of sunlight.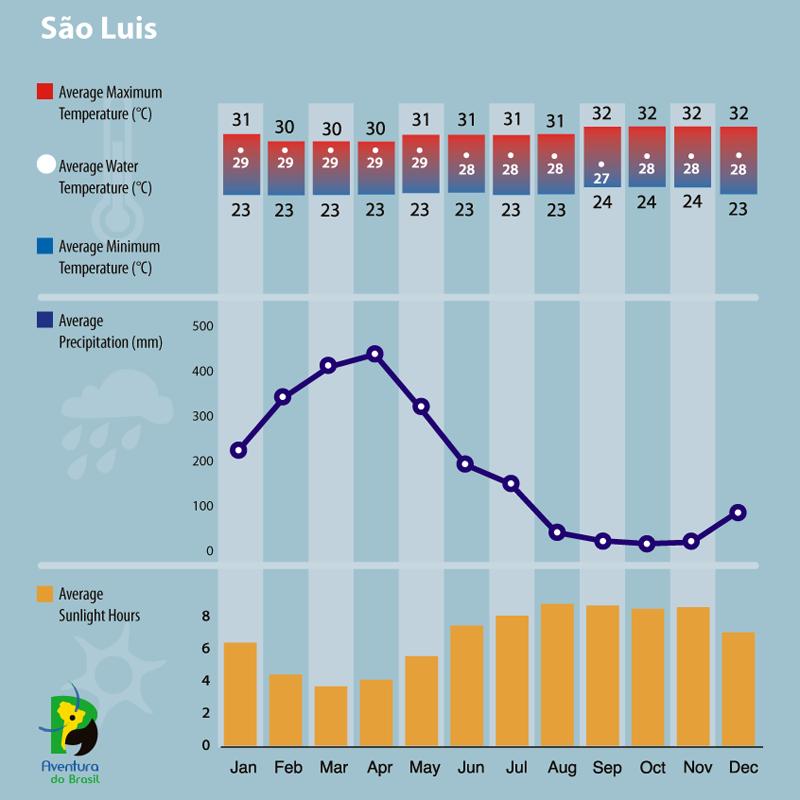 Best Time to Visit Sao Luis
Sao Luis is generally a destination that you can include on your itinerary year round. The weather is warm to hot consistently, and water temperatures on the beaches are always pleasant and suitable for swimming.
Usually, the best time to travel would be from July / August to December, as it does not rain so heavily during this time. Apart from the dry and hot weather, you can also enjoy the maximum amount of daily sunlight and relax on the beach.
On our trip "Rota das Emocoes" we will go from Sao Luis along the coast to the beautiful seaside resort of Jericoacoara. You will cover this impressive distance in different vehicles and boats.
For accommodations we recommend the 4 star Hotel Luzeiros, located in one of the more upscale districts of Sao Luis.
If you prefer smaller and more comfortable accommodations, the Pousada Casa Lavinia is the right place for you. It is located in a beautiful colonial building in the historic center of Sao Luis.
5 Days of Nature and Beaches
Brazil | Lencois Maranhenses, Sao Luis
Visit one of the natural highlights of Brazil: the worldwide unique landscape of Lencois Maranhenses National Park. The wavy sand dunes spread like an endless bed sheet and give the region its name. This remote region between dunes and the ocean is home to indigenous villages and nature along rivers such as the spectacular Rio Preguicas.
7 Days of Beaches, Nature, and Adventure
Brazil | Sao Luis, Lencois Maranhenses, Jericoacoara, Fortaleza
Experience the breathtaking Road of Emotions (Rota das Emocoes). From Sao Luis you will drive through the dunes of Lencois Maranhenses National Park, cross the Delta das Americas by boat, and follow the coast line in a 4x4 beach buggy until you reach the vital beach village of Jericoacoara. Be prepared for freshwater pools in the desert, wonderful sunsets over the dunes and the ocean, and emotional moments in a mesmerizing landscape.