Climate and Best Time to Visit Ilha Grande, Brazil
To help you plan your trip to Ilha Grande, we have compiled below some important information on the regional climate and ideal times to travel.
Ilha Grande is, like most regions of Brazil, located in the southern hemisphere. This means that the seasons are the opposite of those we are used to in Central Europe. The climate is subtropical with warm to hot temperatures throughout the year. In the summer, which lasts from December to February, the climate on the island is hot and humid, while the winter, from June to August, is somewhat cooler and less rainy.
Here you can find all the travel packages and further information about the region.
During the summer months (December to February) the weather is very warm and rainy. These are, in fact, the rainiest months of the year with an average of 180 mm to 250 mm (7.1 in to 9.8 in) of precipitation per month. In addition, there are daily high temperatures averaging at 26 °C to 28 °C (79 °F to 82 °F). From time to time it can also cool down a little, but even the lowest temperatures are between 17 °C and 18 °C (63 °F to 64 °F).
In the fall (March to May) and spring (September to November), the weather in Ilha Grande is a little more moderate with average high temperatures of 23 °C to 27 °C (73 °F to 81 °F) and low temperatures of 13 °C to 18 °C (55 °F to 64 °F). At night it can sometimes get quite cool, but during the day in Ilha Grande it is mostly sunny and clear. Occasionally, especially in the late afternoon, there can be rain showers. The average rainfall during these months is between 80 mm and 140 mm (3.1 in to 5.5 in).
Winter, which lasts from June to August, is the wettest time of the year. Only an average of 50 mm to 60 mm (2 in to 2.4 in) of rain is recorded per month during this period. Since temperatures vary between 11 °C and 23 °C (52 °F to 73 °F), The weather is much milder, but mostly sunny and dry.
Water temperatures on the beaches of Ilha Grande are pleasantly warm year round with an average of 21 °C to 26 °C (70 °F to 79 °F). In the winter the water is a little cooler than in the summer, which should be taken into account when planning your beach getaway.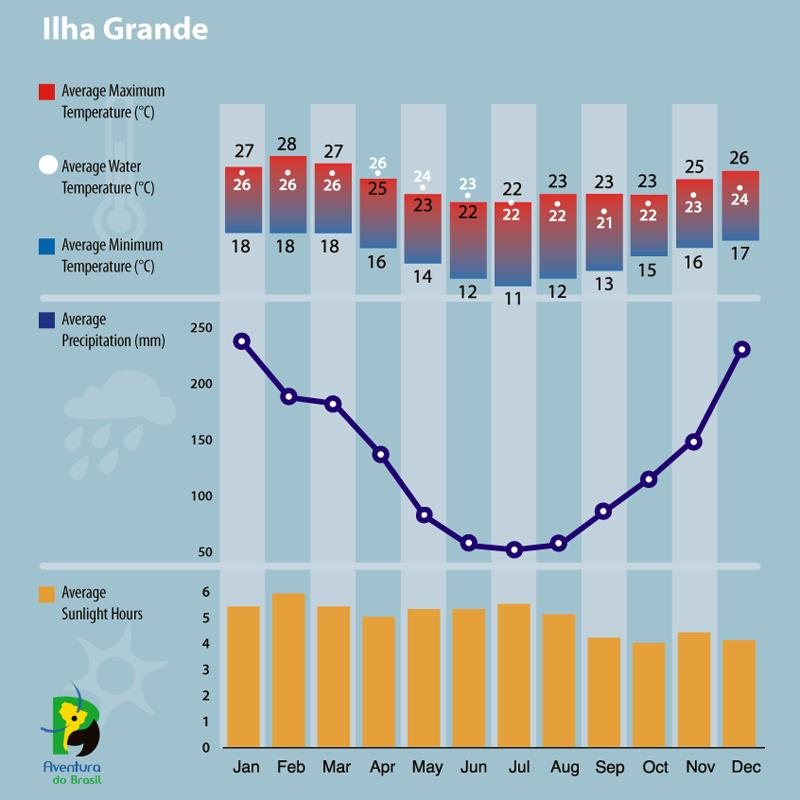 Best Time to Visit Ilha Grande
In general, Ilha Grande is an attractive destination year round for vacationers looking for beautiful nature and great beaches. The best time to travel ultimately depends on your vacation preferences. Here are some tips to keep in mind when making your decision:
The high season, due to the warm air and water temperatures, is from October to May. During the summer (December to February) it rains frequently. Furthermore, there are very hot temperatures. For a beach getaway, consider choosing one of the drier months rather than pursuing high season.
May to September would also be a suitable window for a vacation in Ilha Grande, for example, for hiking. Temperatures are lower then, around 20 °C (68 °F), but it rains less and the sun is out much more often. We recomend to spend at least 4 days on Ilha Grande.
8 Days of Culture, Nature, and Beaches
Brazil | Sao Paulo, Paraty, Ilha Grande, Rio de Janeiro
During this journey you will experience the fantastic Costa Verde during your own road trip. The green coast of Brazil with its small bays, beaches, and islands will amaze you. Discover the picturesque colonial town of Paraty and get to know the diverse surroundings on your own. Enjoy paradise and the dreamy beaches of Ilha Grande and go on excursions as you please.
4 Days of Beaches, Snorkeling, and Nature
Brazil | Ilha Grande
Explore the well preserved and one-of-a-kind nature of Ilha Grande, the most famous island in Brazil. The majority of Ilha Grande is a national park and offers its visitors heavenly beaches, the never-ending Atlantic Rainforest, and breathtaking natural scenery in all directions.