Climate and Best Time to Visit Belem, Brazil
For optimal planning of your itinerary in Belem, we have summarized below some information about the regional climate and ideal times to visit. Belem is located in the northern state of Para. Therefore, the city has a tropical, humid and hot climate. Temperatures do not differ significantly throughout the year, so you will not experience the seasons we know. Instead, you will experience a dry and a rainy season.
The dry season lasts from June to December and offers warm to hot temperatures and relatively dry weather. During these months in Belem, you will experience daytime high temperatures averaging from 32 °C to 33 °C (90 °F to 91 °F). Only occasionally does the weather cool down a little with the lowest daytime temperatures around 22 °C (72 °F). During the dry season you can enjoy on average between 6 and 8 hours of daily sunlight. Even in the driest months of the year there is still quite a lot of precipitation. The average rainfall is 90 mm to 210 mm (3.5 in to 8.3 in) per month.
During the rainy season, which lasts from January to May, there is much more. On average, 300 mm to 450 mm (11.8 in to 17.7 in) of rain are measured per month during this period. However, the weather in Belem ensures warm temperatures at all times during your trip to Brazil. During the day, you can experience high temperatures of 31 °C to 32 °C (88 °F to 90 °F) and even the slightly cooler days have an average of 22 °C to 23 °C (72 °F to 73 °F). The rainy season only allows for an average of about 3 to 6 hours of daily sunlight.
The water temperatures off the coast of Belem are very warm year round with an average of 28 °C to 29 °C (82 °F to 84 °F). Thus the ocean is very suitable for a beach getaway in Brazil.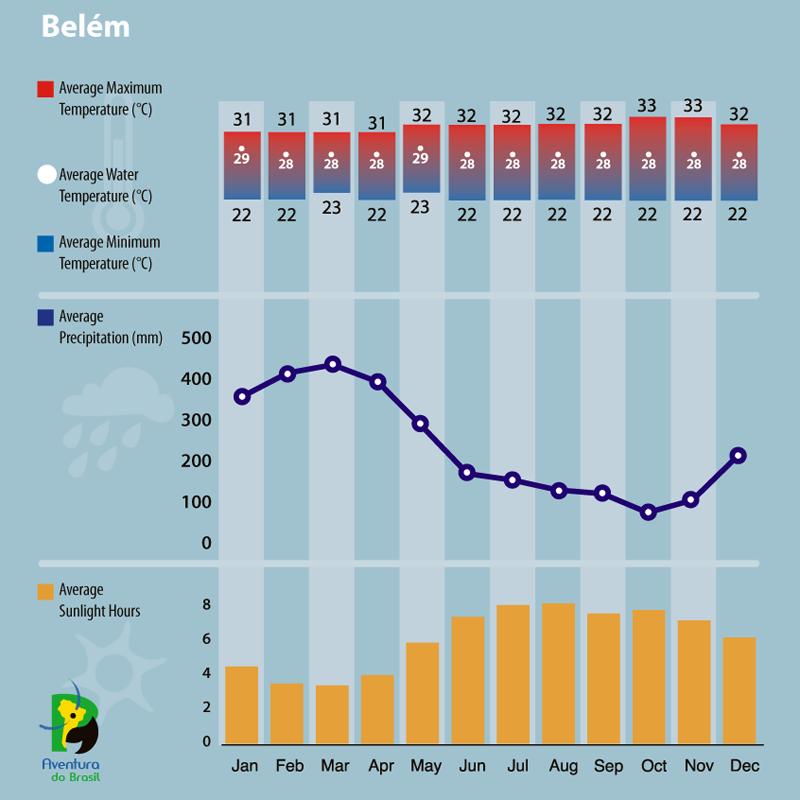 Best Time to Visit Belem
Belem is generally worth a visit at any time of the year. The beautiful city and the interesting surroundings will give you a unique experience during your vacation in Brazil.
The best time to travel to Belem is usually during the dry season between June / July and December. During these months there is comparatively little rain and you can enjoy your vacation more without always having to carry a raincoat. The dry season is also much better suited for a beach getaway in Brazil. Due to the tropical-humid climate, however, even during the dry season, constant rainfall must be expected.
In addition, during the dry season, especially between July and October, you can experience the maximum amount of daily sunlight (up to 8) and thus enjoy the sunny and hot weather with relatively low rainfall in the city.
With our Economy Package you can also get to know the beautiful Ilha de Marajo on a five-day trip. After a sightseeing tour in Belem, buffalo drives and other excursions on the Ilha de Marajo will be added to your itinerary.