Climate and Best Time to Visit Praia do Rosa, Brazil
To help you plan your trip to Praia do Rosa, we have put together some important information about the regional climate and ideal times to travel.
The state of Santa Catarina and Praia do Rosa, like most regions of Brazil, are located in the southern hemisphere. This means that the seasons are the opposite of those we are used to in Central Europe. Summer in Praia do Rosa is from December to February and winter lasts from June to August. The climate is subtropical with average temperatures of about 18 °C (64 °F). The weather throughout the different seasons can be compared to the weather in Southern Europe.
Here you can find all the travel packages and further information about the region.
Summer (December to February) can sometimes bring warm temperatures of up to 27 °C (81 °F) and can be humid. This is also the wettest time of year, with average rainfall of 150 mm to 200 mm (5.9 in to 7.9 in). Especially in the afternoons and at night, there can be heavy but short rain showers or thunderstorms.
Fall (March to May) is usually still quite warm, but there are more and more days that also become significantly cooler and, especially at night, temperatures can drop considerably. Daily low temperatures during this time are between 13 °C and 18 °C (55 °F to 64 °F), but temperatures of up to 26 °C (79 °F) can still be felt. Compared to summer, there is less rainfall at 100 mm to 150 mm per month (3.9 in to 5.9 in) and the humidity, which is very high in the summer, decreases. Mostly the days are sunny and clear, but there can be dense fog in the morning.
In the winter (June to August), the weather can sometimes be quite cold, but temperatures below 0 °C (32 °F) are extremely rare. A cold wind often blows from the ocean and, especially at night, it cools down considerably. There are, however, warmer periods in the winter when travelers can enjoy the mild, sunny weather with clear skies.
Spring (September to November), with its pleasantly warm temperatures, is an ideal time for outdoor activities and excursions in Praia do Rosa and its surroundings. Average temperatures are between 13 °C and 24 °C (55 °F to 75 °F). From time to time rain showers interrupt the pleasantly sunny weather, but measurements only range from about 120 mm to 130 mm (4.7 in to 5.1 in) per month.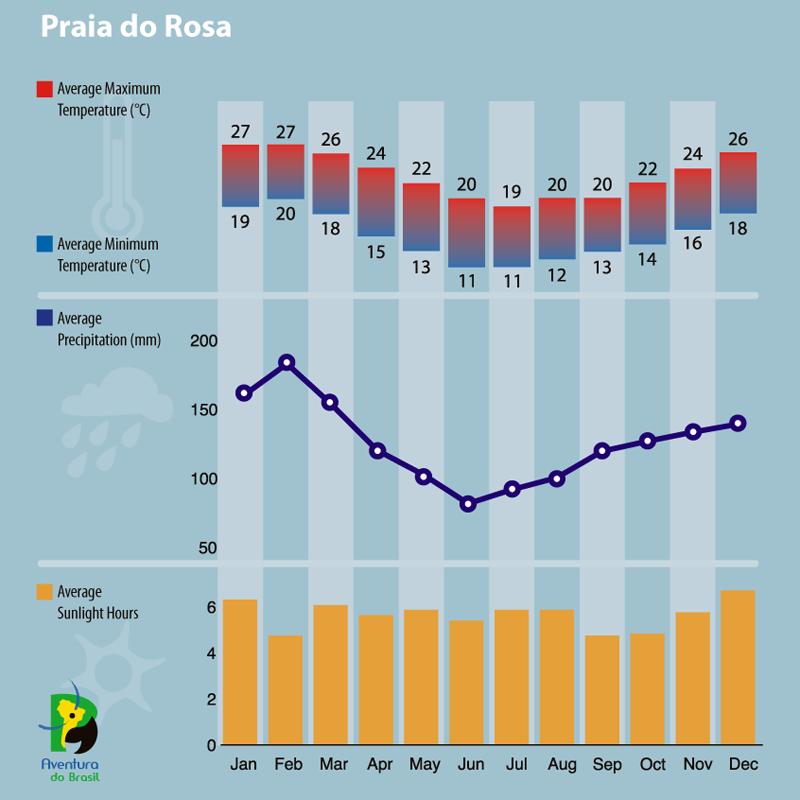 Best Time to Visit Praia do Rosa
The best time for your trip to Praia do Rosa depends, among other things, on your vacation preferences.
Beach getaway: Summer is particularly suitable for a relaxed beach getaway with lots of sun and pleasantly warm water. You can comfortably enjoy the high temperatures on the beach and lie on the sand with a cool drink in hand or go for a swim in the ocean.