Climate and Best Time to Visit Penedo, Brazil
Like many parts of Brazil, the tropical climate in the state of Alagoas is primarily determined by two seasons: the dry season from August to February and the rainy season from March to July, with the most rainfall accumulating up to 250 mm (9.8 in) in May. During the dry season, on the other hand, there is very little rainfall with measurements of less than 50 mm (2 in).
The more interior regions of the state, characterized by the hot steppe climate of central Brazil, dry out considerably. Penedo, however, is located on the green strip of the coastal Mata Atlantica, which extends up to 60 km (37 mi) inland.
Temperatures in Penedo average at 25 °C (77 °F) year round. During the dry season it can get very hot and the thermometer climbs well over 30 °C (86 °F) without much mercy at night. Even throughout the rainy season, the night will only spare you down to around 20 °C (68 °F). As the humid climate comes off to many travelers as muggy, enjoying a fresh, ice-cold coconut on the riverbank offers the best refreshment.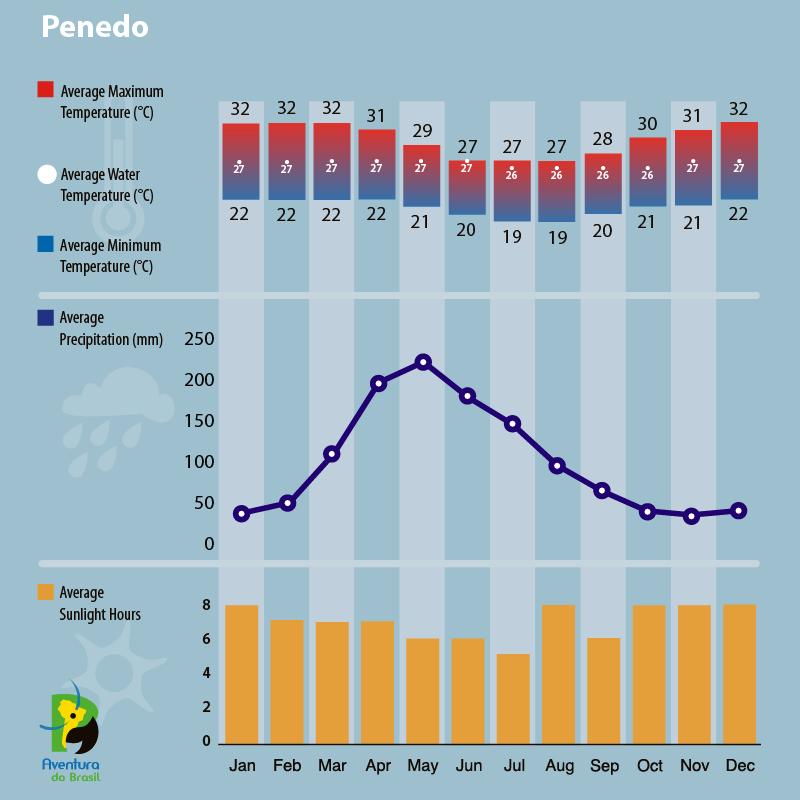 Best Time to Visit Penedo
As a cultural and artistic center, Penedo is an attractive tourist destination year round. The rainy season is quite short and lasts from March to July, while the other months from August to February witness very little rain. The driest period is in November, yet temperatures remain warm throughout the year.
10 Days of Culture, Nature, and Beaches
Brazil | Recife, Porto de Galinhas, Sao Miguel dos Milagres, Maceio, Penedo, Aracaju, Imbassai, Salvador
On this self drive tour through the Northeast of Brazil you will explore the unique coastal section from Recife to Salvador. Bask by picturesque beaches, crystal clear waters, panoramic landscapes, and colonial flair and discover the diverse surroundings and the unique Brazilian way of life on your own.